40% Rye + 60% Spelt Revisited
Tailrunner's recent post 
http://www.thefreshloaf.com/node/35029/40-rye-60-spelt-ryw-and-whey
brought my attention back to a bread I posted about here
http://www.thefreshloaf.com/node/28855/spelt-beach
and which I hadn't made for a while.
This made myfingers itch, and I made a 1000g loaf using spelt biga with a tiny amount instant dry yeast, instead of adding the yeast to the final mix.
The result is a very fragrant, pleasing bread that goes especially well with cheeses.
The dough was less difficult to handle than I expected / remembered.
The formula on the second tab of  the Google sheet
https://docs.google.com/spreadsheet/ccc?key=0AkcYHhPxccKtdFhkY1ZNMlR4VVc3ZmdwZGRWQjl1a2c&usp=sharing
and will also be published at the end of this post.
The process follows the single step detmolder published here:
http://www.thefreshloaf.com/node/23830/german-baking-day
Here some pictures and notes about the process:
The two preferments, rye sour (100%HL) and spelt biga (60%HL)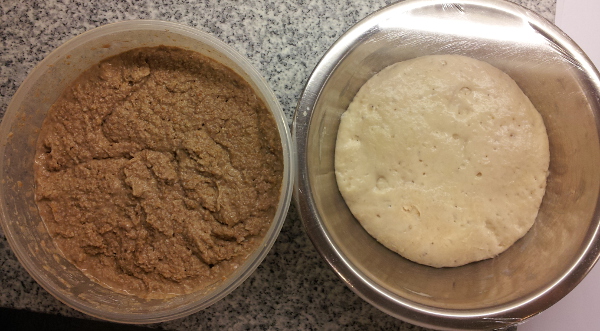 The rye sour ripened for 16 hours, the biga for 5 hours.
The dough, withsome gluten development, after 2 minutes of slap-and-fold. Ready for the bulk proof: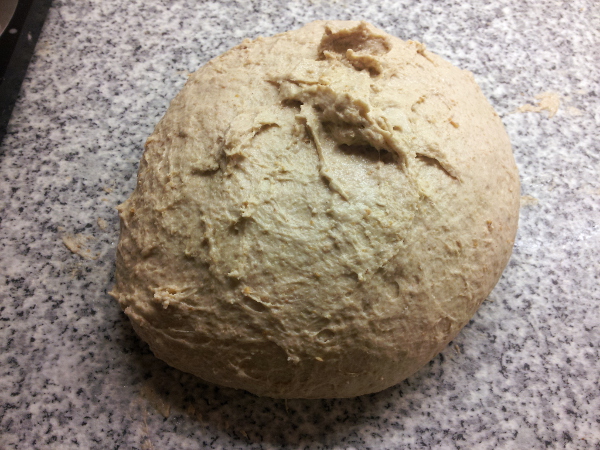 The bulk proof takes about 1 hour at 26C, I stretched and folded twice.
The dough is a bit sticky and fragile, after shaping with a light hand left to proof in a basket: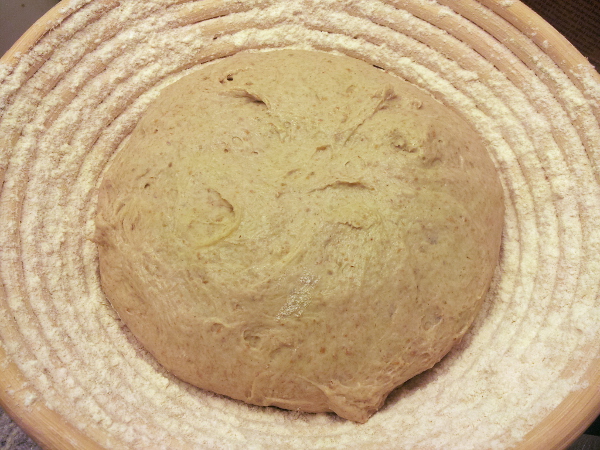 The final proof takes about 50 minutes.
After this I turn the loaf out onto a peel sprinkled with semolina, and slash: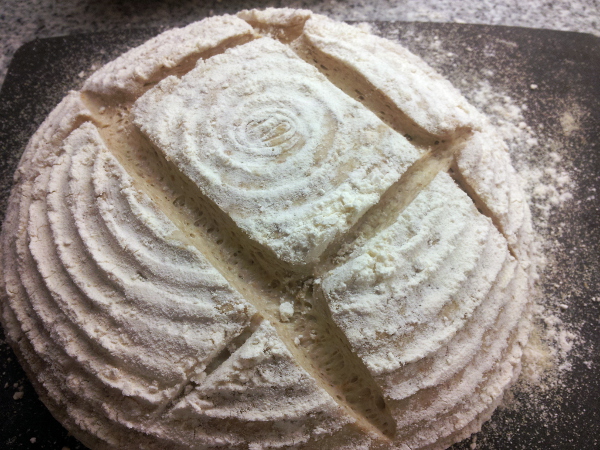 Baked with steam in a hot oven, starting at 240C, turned down after 15 minutes to 210C and baked for 20 more minutes, voila: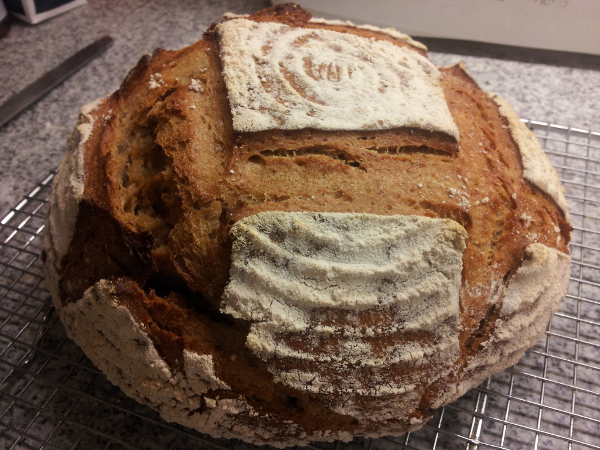 The crumb is quite closed, as usual with detmolder style breads.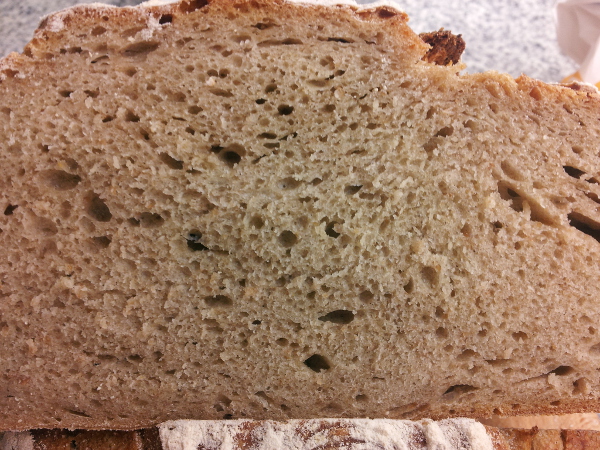 And here the formula:
| | | |
| --- | --- | --- |
|   | Bakers % | Weight (g) |
| Straight Dough |   |   |
| Wholegrain Rye flour | 20 | 115 |
| Light Rye flour | 20 | 115 |
| Light Spelt flour | 60 | 345 |
| Water | 72 | 414 |
| Salt | 1.8 | 10.35 |
| Yeast (IDY) | 0.1 | 0.58 |
| Yield | 173.9 | 1,000 |
|   |   |   |
| Rye Sour |   |   |
| Wholegrain Rye flour | 20 | 115 |
| Water | 20 | 115 |
| Mature Sour | 2 | 12 |
|   |   |   |
|   |   |   |
| Spelt Biga |   |   |
| Light Spelt Flour | 20 | 115 |
| Water | 12 | 69 |
| Yeast (IDY) | 0.1 | 1 |
|   |   |   |
| Final Dough |   |   |
| Light Rye flour | 20 | 115 |
| Light Spelt flour | 40 | 230 |
| Water | 40 | 230 |
| Salt | 1.8 | 10.35 |
| Spelt Biga | 32.1 | 184.59 |
| Rye Sour | 40 | 230 |
| Yield | 173.9 | 1000 |