September 20, 2013 - 5:59pm
Pain de Campagne from FWSY, with increased whole grains
Continuing my explorations of Ken Forkish's Flour Water Salt Yeast, yesterday I baked his "Pain de Campagne" again, but with a difference. Forkish's formula for Pain de Campagne is, basically, a white bread. It has about 10% whole wheat. However, in his introduction to this bread, Forkish encourages the reader to experiment with increased whole wheat and rye and says that his own favorite version of this bread has 70% white flour, 20% whole wheat and 10% rye. Well, that sounded pretty good to me, so I did it. 
For the 800% g of flour in the final dough, I used 100g KAF Medium Rye, 200g Organic Sprouted Whole Wheat flour and 500g of KAF AP flour. 
This dough was quite sticky, and I was concerned whether I could develop enough dough strength. But the boules shaped up pretty nicely. They didn't expand much during proofing but had satisfactory oven spring.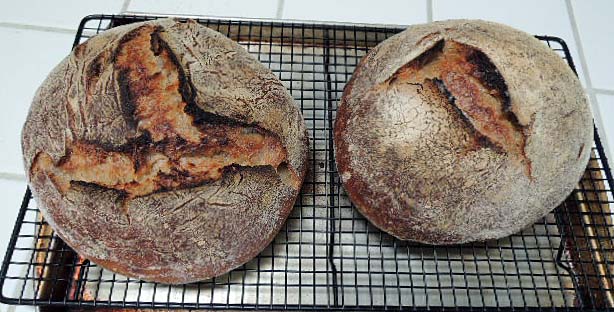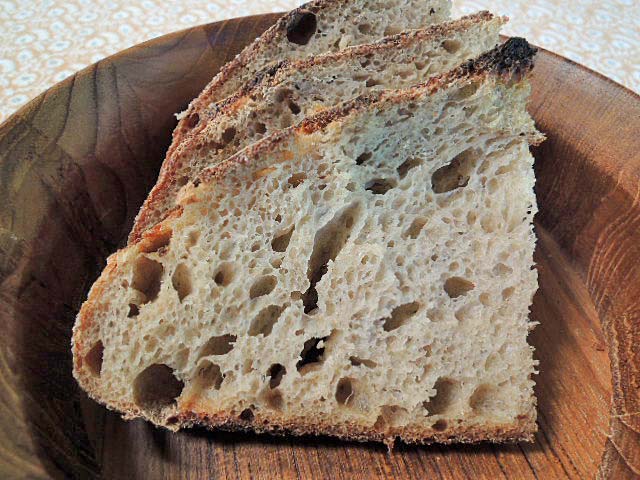 I had some of this bread for dinner last night when it was almost completely cooled. It tasted okay, but with a lot of grassiness. The sourdough tang was quite mild.  Today, the flavors had melded,  and the bread was really delicious, both toasted for breakfast and un-toasted for lunch.  The flavor was similar to the "Field Blend #2," not surprisingly. 
I will happily make this bread again when I want a Pain de Campagne.  I will try to remember to make it a day before I want to eat it though. It really improved a lot with an overnight rest.
David