September 19, 2013 - 3:43pm
Ken Forkish's Walnut Levain bread
Wow is this EVER a TASTY loaf!!!  I proofed this in a plastic bowl lined with fine linen.  I only used 1 layer of linen and when removed from the proofing container the linen was wet and clinging to the dough.  I used enough rice flour that it removed well and didn't damage the dough, but the seam never opened and there is a large nose blister on the right and some holes where the baker sleeps on top.  Note to self:  for these wet breads at least 2 layers of linen in the bowl and perhaps 4.
Baked this in the covered DO for 30 minutes @ 475F and the full 20 @ temp with convection off and turning every 5. 
In his book Ken mentions he sells this bread to restaurants who pair this with cheeses.  He also mentions it is tasty toasted with honey.  TOTALLY RIGHT on both of those calls.  Lunch today was a lightly toasted, (still warm from the oven!) buttered slab with old cheddar melted and buttered with honey for dessert. Very yummy stuff.  No photos of lunch, but here is a crumb shot: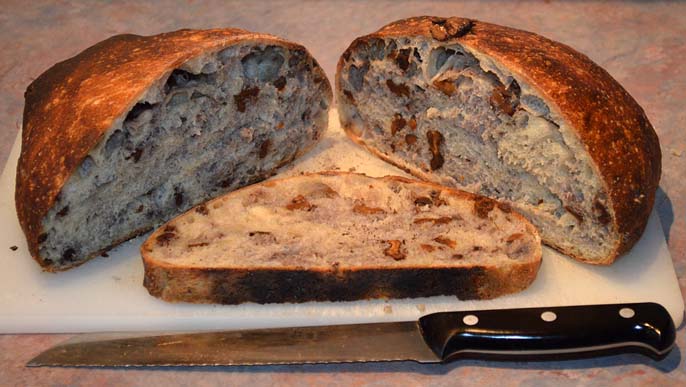 The volume I am getting on HALF of a Forkish recipe is such that I will either have to go to 1/3 of his formulas or get a longer bread knife. My 8" Henckels was barely able to slice this beast of a loaf.  I followed this recipe to the letter and it makes mighty fine tasting bread.
I had enough starter left over to make a 1/3 overnight levain pizza dough which was mixed yesterday and bakes for dinner tonight.
Well so far a BIG tip of the hat to Ken Forkish for an excellent and compelling book -- particularly for 'sourdough' or levain bakers as he likes to call it. I really like the idea of being able to change the flavour profiles of your bread by manipulating the hydration and other aspects of your starter. Very cool stuff indeed to this old ski bum.