September 13, 2013 - 6:49pm
Batard with 'toadies' . . .
Today's SD batard included about 2% toasted wheat germ as 'toadies.'  These add a really nice and subtle, nutty flavour enhancer and you can definitely taste the toadies in the finish. 
I baked this at 75% hydration, autolysing the flour and water over night, mixed and developed the dough as per my previous post.  I baked this in the new Lodge combo cooker for 8 minutes covered @ 500F and surprisingly 12 minutes 450F convection.  Next bake I will go 10 minutes covered and then judge.  A pretty satisfying small loaf.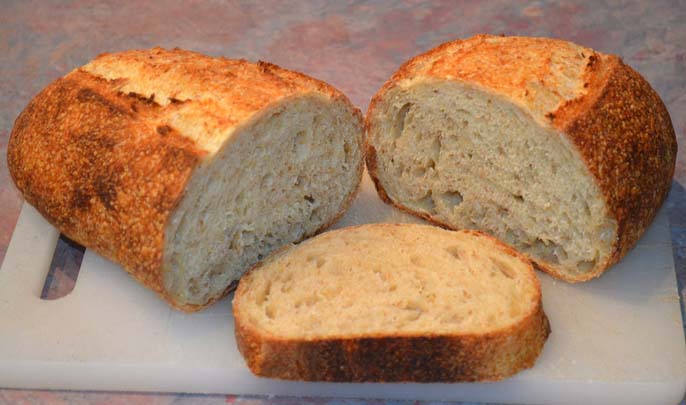 I received Ken Forkish's book WFSY from out library system today and have been waiting all summer for it. A most interesting read and a very interesting take on life and baking!  I will be baking 2 or or 3 of his recipes shortly and may actually have to drive into the big city for some Caputo 00 for the pizza dough . . .
My most interesting take is his target of 78F for the autolyse and his opinion that the temperature of your autolyse has a big impact on the bread flavour.  Okay, this one is a totally unique take on an eye opener! I can't wait to try his techniques.
I have a batch of SD cinnamon buns going from this interesting site provided here by another poster, can't find the link or I would shout out:
http://sourdoughsurprises.blogspot.ca/2013/07/sourdough-cinnamon-rolls.html
Happy baking!  Brian