September 8, 2013 - 8:43pm
Overnight Country Brown from FWSY, with modifications
Overnight Country Brown with modifications
September 8, 2013
My exploration of Ken Forkish's breads from Flour Water Salt Yeast continued this week. Hoping to get my timing closer to the ones he describes in the book, I needed to slow down fermentation. I made another large loaf of Forkish's "Overnight Country Brown." I used filtered water at 63 ºF rather than at 80-90 ºF which Forkish prescribes, and I used 8% pre-fermented flour rather than the 12% called for in the published formula.
I fed my levain at 11 AM. By 5 PM, it was quite mature. I mixed the dough at 6 PM. Now, this dough is supposed to ferment at room temperature for 12-15 hours and expand by 2 to 2.5 times. My kitchen temperature was running in the high-70's. Even using the cool water and decreasing the levain by 25%, the dough had doubled by 11 PM, that is, in 5 hours. So, before going to bed, I refrigerated the dough. 
At about 8 am, I removed the dough from the refrigerator and shaped it as a boule about a half-hour later.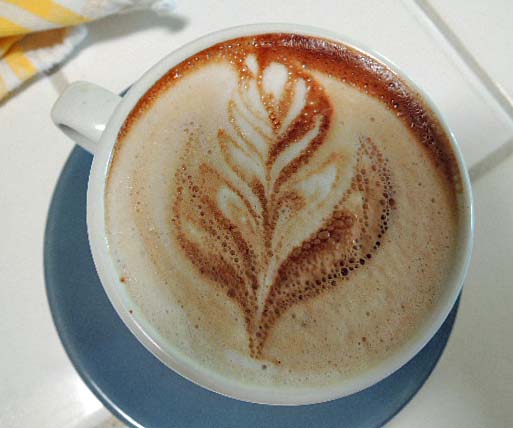 While the dough rests ...
I proofed it in a floured, linen-lined banneton placed in a plastic bag. To my amazement, it was fully proofed by the "poke test" criterion an hour later, but it had to wait while I baked some baguettes.
By time I could get it in the oven about 40 minutes later, it was very gassy. It deflated somewhat when scored, and I was really afraid it was so seriously over-proofed it would collapse. Because of this concern, I baked it in a cast iron combo cooker that had not been pre-heated as usual, except for the lid which got about 10 minutes at 455 ºF (convection), during the last part of the baguette bake. However, the loaf sprung like crazy and turned out pretty darn good. I just had to bake it about 5 minutes longer than last time, presumably because of the cold cooker.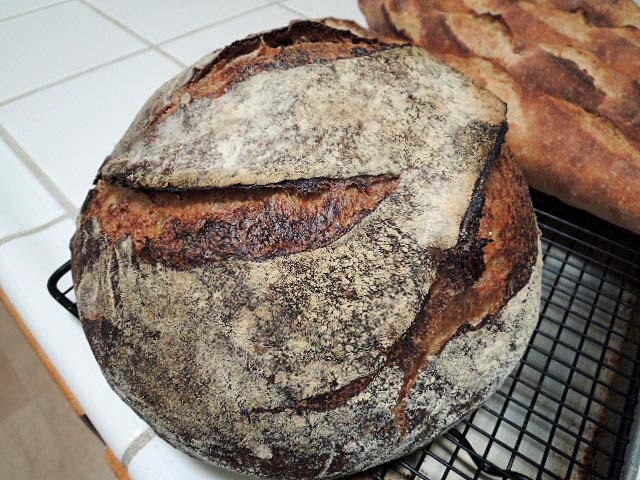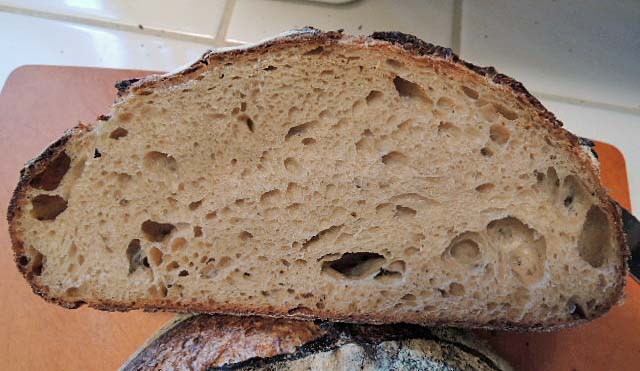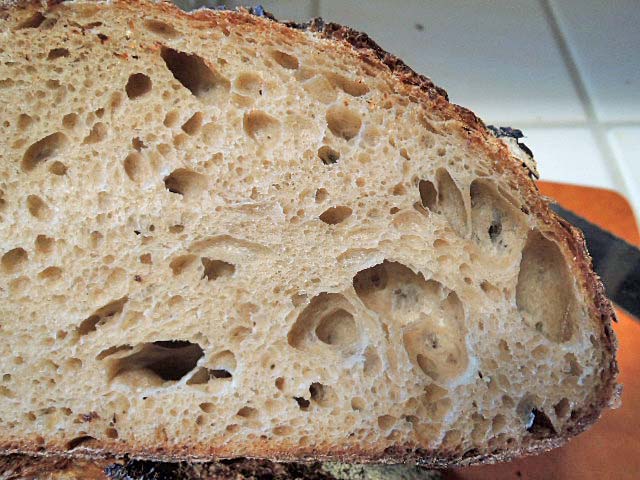 Compared to the last bake, I'd say the crust and crumb are about the same. The flavor had significantly more acetic acid tang than my last bake of this bread. In other words, it is a really good bread, but I really don't know how closely it resembles, in flavor, Forkish's intention.
The San Joaquin Sourdough baguettes turned out really well, too.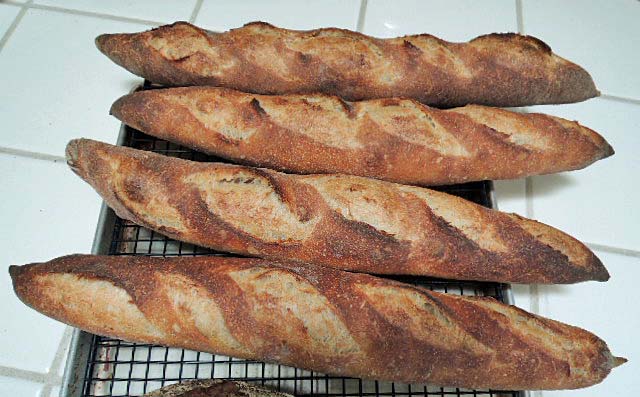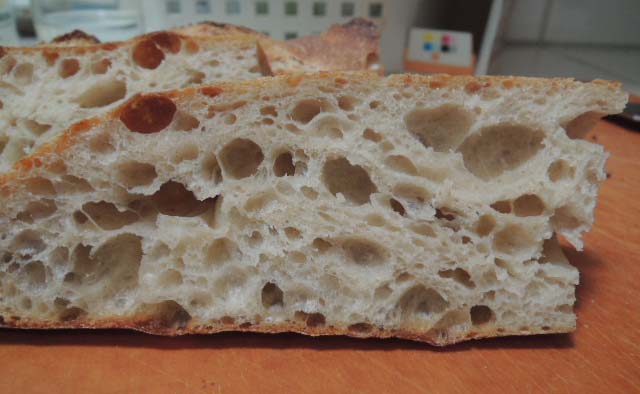 Happy Baking!
David