September 8, 2013 - 10:32am
Date Bread, Challah, Market Day
One of the great things about TFL is that when I see an ingredient at the store, even though I've never used it before I know it will be good because of all the posts I've read.   So it was the other day while shopping at Costco, when a bag of Deglet Noor dates jumped into my basket and came home with me.   I've only eaten dates a few times, and don't like them so much as I find them too sweet and sticky.   Nonetheless, there they were and so had to be used.    The next day, I built up my rye sour way too much getting ready for market day and was on the verge of tossing the extra as I already had enough baking to do.   But then I remembered the dates.   So I pulled them out, cut them in half, and computing madly, made up a bread around them.    I made two loaves, a pan loaf and a hearth loaf.   The hearth loaf was so pretty I decided to sell it at the market the next day, but we ate the other one.    When my husband tasted it, he announced that if I only wanted to make breads like that, it would be fine with him.    And really it was delicious.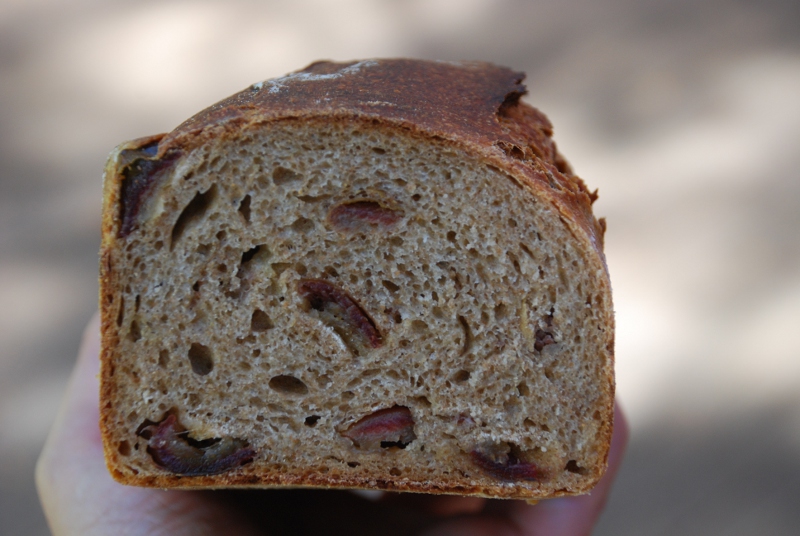 I may not like dates in general, but apparently I like dates in bread. 
Then my real baking for market day got going.   I made crown challahs, cherry almond whole wheat loaves, baguettes, Hamelman's Pain au Levain with mixed starters, and rolls made out of the same dough.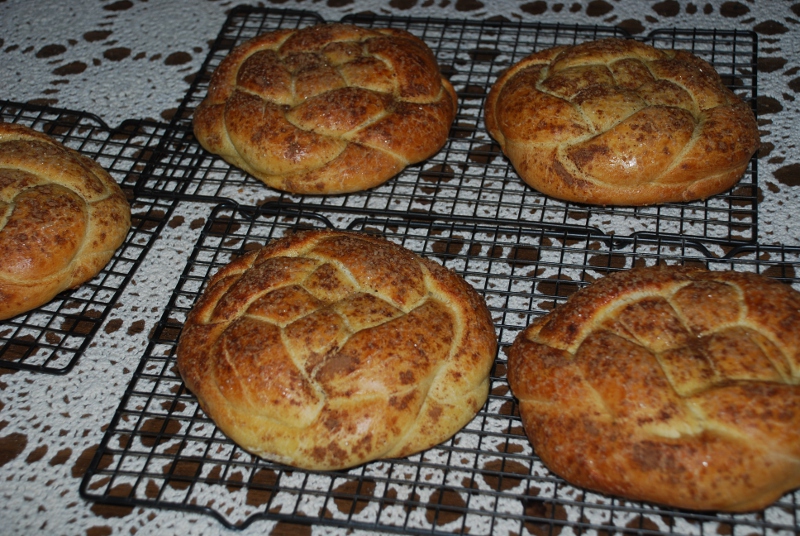 The market was as slow as can be, but I still sold almost everything.   I traded two of the leftover loaves - one for corn, and the other for quiche.   Then had one baguette left to take home.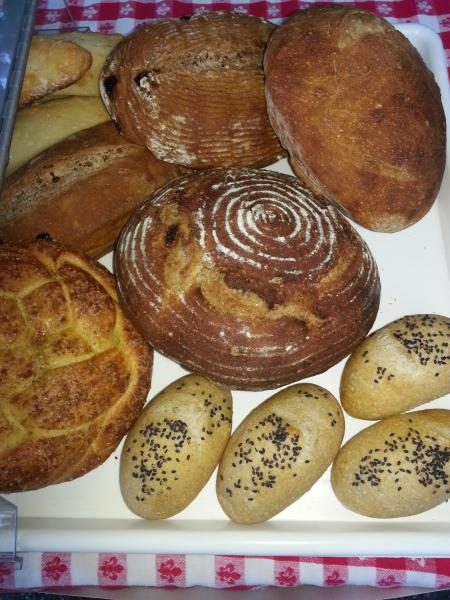 I've learned a lot about baking larger quantities since I last posted using a lot of the great advice I got here.   Friday-Saturday I made 26 loaves and 10 rolls.   It is a lot of work, but easier as time goes on.   My last bake before running off to the market was a load of baguettes (8) and the rolls.   For some reason, my oven was just not hot enough and I couldn't get either the baguettes or the rolls properly browned before I had to go.   But they sold anyhow, and no one seems to mind a paler loaf or roll except for me.  
Date Bread
 
 
 
 
 
 
 
 
 
     Final
      Starter
        Total
          BP
KAAP
400
 
400
46%
WW
300
 
300
35%
Rye
 
162
162
19%
Water
510
133
643
75%
Salt
16
 
16
1.9%
Dates
146
 
146
17%
Rye Sour
295
 
 
19%
 
 
 
 
 
Flour
862
 
 
 
Dough
1667
 
 
 
 
 
 
 
 
Mix all intensely in mixer - dough is very wet
Bulk Retard at 10pm
 
 
 
Remove after 10 hours
 
 
Shape
 
 
 
 
Proof
 
 
 
 
Bake at 450 for 45 minutes with steam
 
Cherry Almond Whole Wheat
 
 
 
 
 
 
 
KAAP
 
43
43
14%
Rye
 
41
41
14%
WW
218
 
218
72%
Water
153
63
216
71%
Salt
6
 
6
2%
Broken almonds
35
 
35
12%
Dried cherries
50
 
50
17%
Yeast
2
 
2
1%
Starter
72
 
 
 
Sour
75
 
 
 
 
 
 
 
 
total flour
302
 
 
 
total dough
611
 
 
 
Preferment %
28%
 
 
 
 
 
 
 
 
 
 
 
 
Autolyse flour and water 1 hour
 
 
 
Mix all until  relatively strong 15 minutes
 
BF 2 hours
 
 
 
Shape
 
 
 
 
Retard 8 hours
 
 
 
Bake at 450 with steam for 45 minutes
 
Date Bread
 
 
 
9/5/2013
 
 
 
 
 
Final
Starter
Total
BP
KAAP
400
 
400
46%
WW
300
 
300
35%
Rye
 
162
162
19%
Water
510
133
643
75%
Salt
16
 
16
1.9%
Dates
146
 
146
17%
Rye Sour
295
 
 
19%
 
 
 
 
 
Flour
862
 
 
 
Dough
1667
 
 
 
 
 
 
 
 
Mix all intensely in mixer - dough is very wet
Bulk Retard at 10pm
 
 
 
Remove after 10 hours
 
 
Shape
 
 
 
 
Proof
 
 
 
 
Bake at 450 for 45 minutes with steam