September 3, 2013 - 9:56pm
Two more breads from "Flour Water Salt Yeast"
Ken Forkish's "Pain au Levain" and "Overnight Country Brown"
September 2, 2013
I continued my test baking of the formulas in Ken Forkish's Flour Water Salt Yeast last weekend. I baked two new (to me) formulas. One calls for an overnight bulk fermentation and the other for overnight cold retardation of the shaped loaves.
I have yet to bake anything from this book that works according to the prescribed schedule. This is so different from my experience with any other bread baking book, and I still haven't figured out exactly why there is this systematic difference. On the other hand, I do understand what Forkish is after and how he adjusts his formulas to achieve a long fermentation, either in bulk at room temperature or of formed loaves under refrigeration. And, on the third hand, even though it's frustrating to not be able to bake according to the author's intentions, every single bread or pizza I have baked from Forkish's formulas has been outstanding. Except, if the timings are so far off, they are really not his anymore. <sigh>
Forkish's take on pain de campagne is a 10% whole wheat pain au levain, spiked with instant yeast. 20% of the flour is pre-fermented. After an autolyse, the dough is meant to be fermented in bulk for about 5 hours, then divided, shaped and cold retarded for 12-14 hours before baking in a hot oven.
My dough had doubled in 3 1/2 hours, so I shaped it and retarded it overnight at that point.
His Overnight Country Brown contains 30% whole wheat and 12% pre-fermented flour. It is supposed to be bulk fermented at room temperature for 12 to 15 hours (overnight), then divided, shaped and proofed at room temperature for about 4 hours.
My dough had grown 2.5 times in volume and was very gassy after 5 hours. It clearly wasn't going to survive an overnight at room temperature. I shaped a boule at that point and retarded it overnight.
 In summary, both doughs fermented much faster than Forkish's procedures called for. They ended up being treated very similarly. I was not surprised, from my previous experience, but I did want to see what kind of bread the very long bulk fermentation would produce. I think the only way I am going to be able to stick with Forkish's times is to radically reduce the levain.
The breads that were produced were quite similar. I would generally expect the bread with more whole grain flour to be more sour, especially with the long bulk fermentation called for, but the much greater amount of levain in the pain de campagne made it significantly more sour than the Country Brown. I would rate the latter as mildly sour and the former as mild to moderately sour. Both breads had a crunchy crust and soft, tender-chewy crumb. The flavor was delicious, especially the boldly baked crust.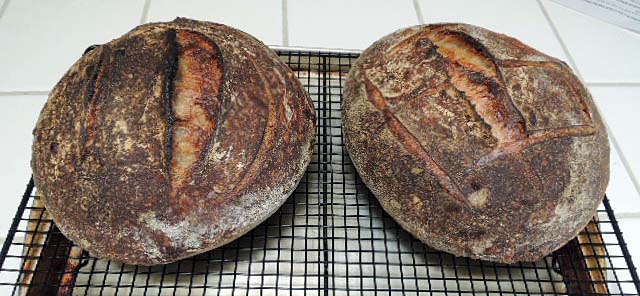 Overnight Country Brown and Pain de Campagne from FWSY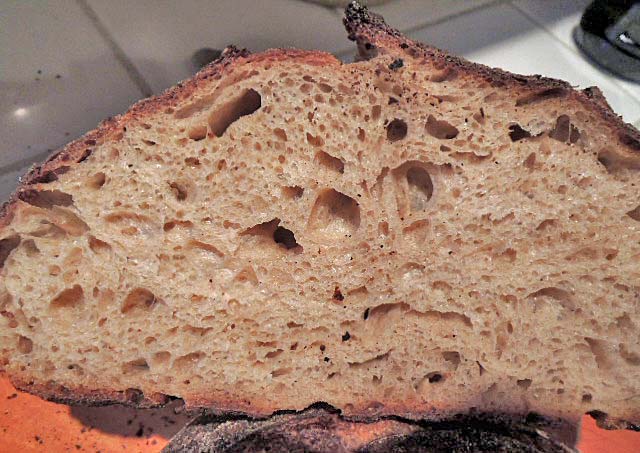 Overnight Country Brown crumb
Pain de Campagne
I am delighted with the eating quality of both these breads. They are wonderful. But I sure would like to be able to taste them as Ken Forkish meant them to be. Maybe in Winter when my kitchen temperature runs in the mid-60's (Fahrenheit) I will.
David