Sourdough Honey Whole Wheat Multigrain Bread with PEF
Sourdough Honey Whole Wheat Multi-grain Bread with PEF
August 26, 2013
About three months ago, I baked a multi-grain sourdough bread based on my San Francisco-style Sourdough that we really liked. (See Sourdough Honey Whole Wheat Multigrain Bread) That bake used the last of the multi-grain mix I had ordered from King Arthur Flour. I waited for one of KAF's "free shipping" deals and, last week, got a new supply of "Harvest Grains."
In the meantime, I was intrigued by Franko's bake of a beautiful bread that used a sprouted spelt flour product from British Columbia. (See Local Flours) I was surprised and delighted to find that my local Whole Foods Market carried both sprouted whole wheat and sprouted whole spelt flours from the same source.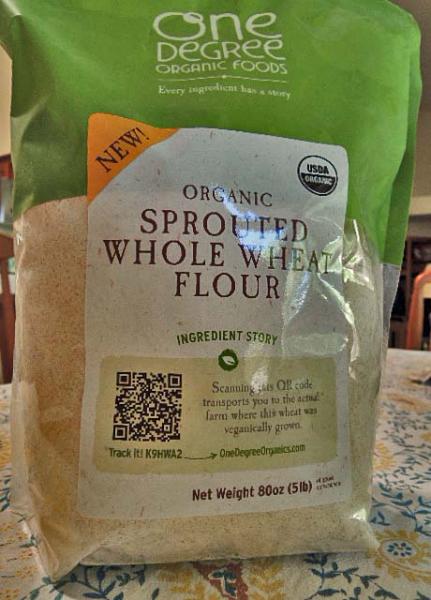 Today I baked a couple boules of SD Honey Whole Wheat Multi-grain breads using sprouted whole wheat flour from One Degree Organic Foods. Oh, what does "PEF" mean? It is an abbreviation for "performance enhancing flour." I'm sure if bread baking followed the same rules as sports, it would be banned.
I used exactly the same formula as I had on my last bake of this bread, except that I substituted the One Degree sprouted whole wheat flour for the Giusto's Fine Whole Wheat Flour I used previously. I found that the sprouted wheat flour absorbed less water than the non-sprouted WW flour, and it fermented much, much faster. These differences were entirely predictable from the caveats provided by Andy (ananda on TFL) in Franko's topic, cited above. Flour made from sprouted grain has less protein (because protease enzymes  are activated) and generates free simple sugars from starch faster (because amylase enzymes are also activated).
 It was clear, once the final dough started mixing, that what had been a "rather slack" dough was now downright gloppy. I gave it some thought but decided not to add more flour. I did mix the dough for 10 minutes rather than 6 minutes to get partial gluten development. I had planned on fermenting for 2 1/2 or 3 hours, but, by 1 hour in my 75 dF kitchen, the dough was gassy and expanded by over 50%. I did one more S&F in the bowl, gave the dough another 30 minutes and then divided it, shaped two boules and retarded them overnight to bake the next morning. I baked the loaves 5 minutes longer than previously to make sure the wet dough was well-cooked inside and because the crust color was not as dark as I expected after 30 minutes baking.
| | | |
| --- | --- | --- |
| Total dough | Bakers' % | Wt (g) |
| AP flour | 34 | 192 |
| Bread flour | 14 | 79 |
| Medium Rye flour | 2 | 14 |
| Sprouted WW Flour | 50 | 281 |
| Water | 93 | 528 |
| KAF "Harvest Grains" | 18 | 100 |
| Honey | 3 | 17 |
| Salt | 1.9 | 11 |
| Total | 194.9 | 1222 |
| | | |
| --- | --- | --- |
| Stiff levain | Bakers' % | Wt (g) |
| Bread flour | 95 | 79 |
| Medium rye flour | 5 | 11 |
| Water | 50 | 45 |
| Stiff starter | 80 | 66 |
| Total | 230 | 201 |
Dissolve the starter in the water. Add the flours and mix thoroughly until the flour has been completely incorporated and moistened.

Ferment at room temperature for 6-12 hours, depending on starter vigor, room temperature, etc..
| | | |
| --- | --- | --- |
| Soaker | Bakers' % | Wt (g) |
| KAF "Harvest Grains" | 100 | 100 |
| Water (Boiling | 100 | 100 |
| Total | 200 | 200 |
Just before mixing the autolyse, put the "Harvest Grains" blend in a medium-sized bowl and pour the boiling water over it. Cover.

Allow to soak during the autolyse (see below).
| | |
| --- | --- |
| Final dough | Wt (g) |
| AP flour | 169 |
| Sprouted WW Flour | 274 |
| Water | 350 |
| Salt | 11 |
| Honey | 17 |
| Soaker | 200 |
| Stiff levain | 201 |
| Total | 1222 |
Method
In a stand mixer, mix the flours and water at low speed until they form a shaggy mass.

Cover and autolyse for 30 minutes

Add the salt, honey, soaker and levain and mix at low speed for 2-3 minutes, then increase the speed to medium (Speed 2 in a KitchenAid) and mix for 10 minutes. The dough should be very slack.

Place the dough in a lightly oiled bowl and cover tightly.

Ferment at 70º F for 1 1/2 to 2 hours (or until expanded 75% and gassy) with a stretch and folds in the bowl every 30 minutes for the first 2 hours.

Divide the dough into two equal pieces.

Pre-shape as rounds and rest, covered, for 10 minutes.

Shape as boules or bâtards and place in bannetons. Place bannetons in plastic bags.

Proof at room temperature (68-70º F) for 30-60 minutes.

Cold retard the loaves overnight.

The next morning, proof the loaves for 1 1/2 hours.

45-60 minutes before baking, pre-heat the oven to 480º F with a baking stone and steaming apparatus in place.

Transfer the loaves to a peel. Score the loaves as desired, turn down the oven to 460º F, steam the oven, and transfer the loaves to the baking stone.

After 15 minutes, remove the steaming apparatus, and turn down the oven to 435º F/Convection. (If you don't have a convection oven, leave the temperature at 460º F.)

Bake for another 15-20 minutes.

Leave in turned off oven with the door ajar for 15 minutes.

Transfer the loaves to a cooling rack, and cool thoroughly before slicing.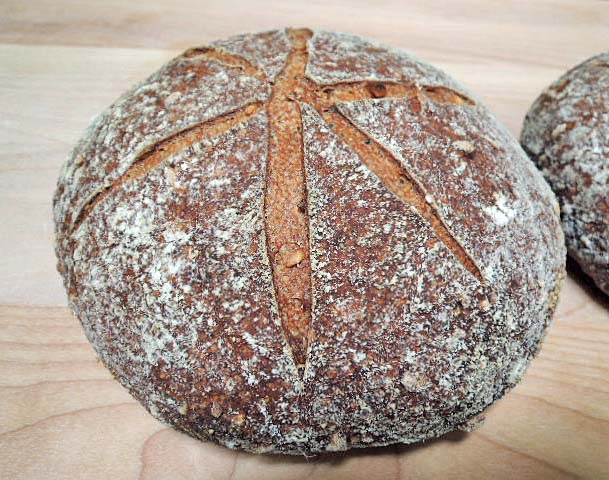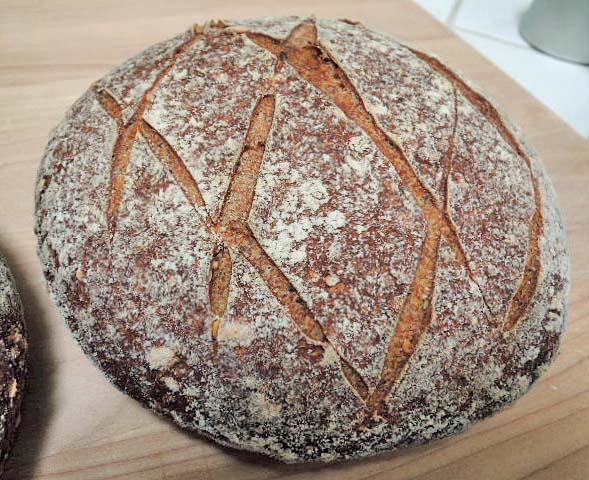 The loaves had rather little oven spring. Since I do not think they were over-proofed, I wonder if they were over-fermented. This would also explain the lighter crust color than when un-sprouted whole wheat flour was used. With a slightly longer bake, they did develop the nice reddish-dark brown crust color I favor in sourdough hearth loaves. 
Addendum 8/27/2013: The morning after they were baked, I sliced and tasted one of the loaves.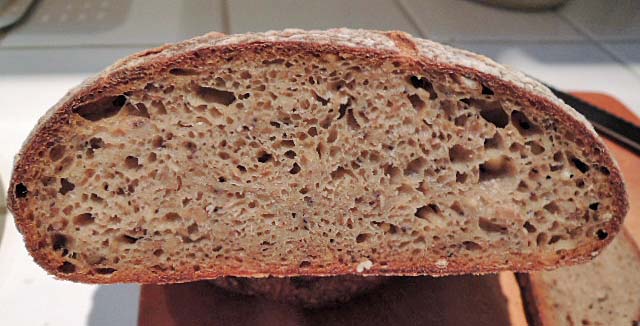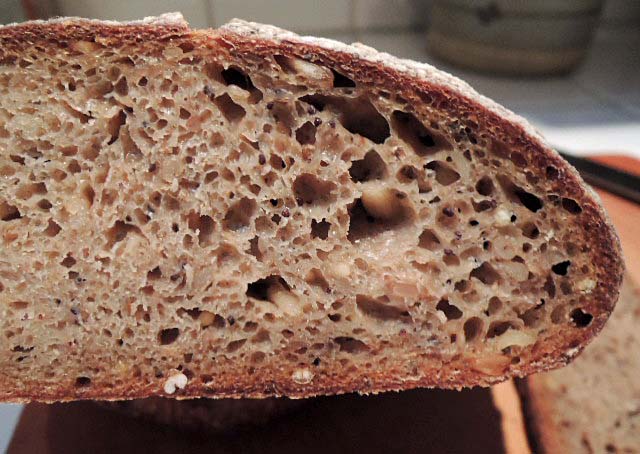 The bread was tasted un-toasted and toasted, with almond butter and almond butter plus apricot preserves, by two independent jurors. 
DMS: On slicing, the crumb was denser than expected, although still reasonably open for a 50% WW with all those seeds, flakes and cracked grains. The crust was pretty thick and crunchy. The crumb was moist. Un-toasted, my first impression of the aroma and of the flavor was "sour rye." I would never have identified this as a whole wheat bread on a blind tasting. When toasted, the bread had an unique flavor - no longer really reminiscent of sour rye, but not of whole wheat either. There was a moderate sourdough tang. There was less sweet flavor than with non-sprouted WW. With almond butter and preserves, it was pretty good but didn't knock my socks off.
SGS: First impression on slicing: "Whoah! Substantial." On first tasting un-toasted, she commented on some un-identifiable flavor which she didn't really like. She thought it might be the sunflower seeds in the Harvest Grains mix. When toasted with almond butter, she remarked on the sourness, which was more than she liked. When she added apricot preserves, she pronounced it improved. "Okay, but I'd prefer it less dense. ... Don't stop making it!"
Conclusion: This bread has a really unique flavor that is quite different from breads made with un-sprouted whole wheat flour. Whether this flavor is really from the sprouted grain or is partly from the Harvest Grains, I'm not sure. There are other whole wheat breads we prefer to this one, but it may be worth tweaking.
I am thinking that, if I bake this bread again using sprouted WW flour, I will use a smaller levain inoculation to prolong the bulk fermentation and substitute a stronger bread flour for the AP flour. But before that I should  make a yeasted 100% whole wheat bread with the sprouted WW flour to see how that tastes. And before that, I should see what I can find out from other's experience with this product.
David