August 24, 2013 - 12:31pm
I have baked this in the past as a yeasted recipe and thought I would try a half recipe using my SD starter.  I fed the starter 1:1:1 and 4 hours later it had more than doubled, so I mixed as per the recipe only using dabrownman's sourdough process:  knead for 5 minutes, 5 rest then knead for another 5.  Bulk proof on the counter with S&F's at 30, 60 and 90 minutes, 11/2 hours on the counter then into the fridge to retard overnight.  An hour to warm up this morning, then divide and scale the dough, pre-shape and bake.  I baked about 25 minutes @ 400F on convection, using steam for the first 10 minutes, which is something I have never done with pulla.  The steam seemed to help.
This bake nearly turned into a gong show as I ran out of bread flour before the dough was mixed and ended up using about 5% each cake & pastry flour and durham semolina.  The result is some of the best tasting pulla I have ever baked!  Fantastic with strong, fresh coffee!
I also let the dough tell me when to bake and proofed for 40 minutes, rather than the suggested 20 in the original recipe.  I had 2 loaves, so I proofed the 2nd for 60 minutes and saw no difference in the loaves, so 40 minutes is right.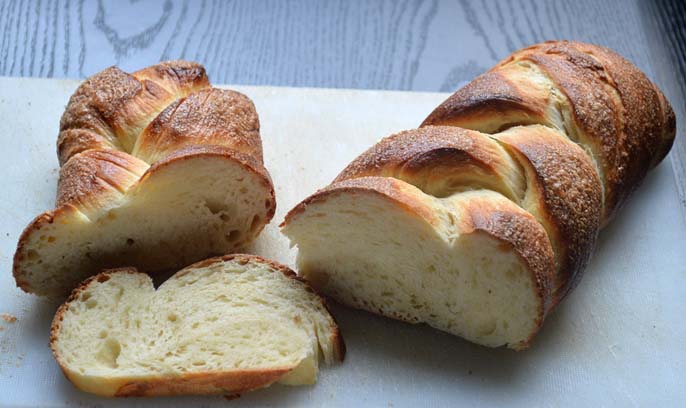 I paid a visit to http://jkbakery.ca/artisan-breads/ this morning and gifted the head baker a half loaf and was able to purchase another 20 kg bag of Bakemark Deluxe Strong Bakers Flour for $20 and that should keep me out of trouble for another 4 or 5 months.
Happy baking TFLers!
Brian