Preferment dough in warm water "bath tub"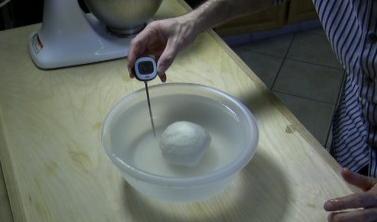 Does anyone know this method of SOAKING a prefermented dough in WARM WATER? i came across this method from the video clip (http://vivalafocaccia.com/en/2012/03/15/ricetta-croissant-cornetti-sfogliati-fatti-casa/). The prefermented dough is left in a tub of warm water and let it slowly ferment. Once the dough floats to the surface of the water, it will be used to mix with the remainder ingredients.
I wonder what is this technique? wonder if by using this method, it will give better texture to the bread.
Will give this method a try as i love to try out new method to achieve better bread texture (without the use of bread conditioner/improver).