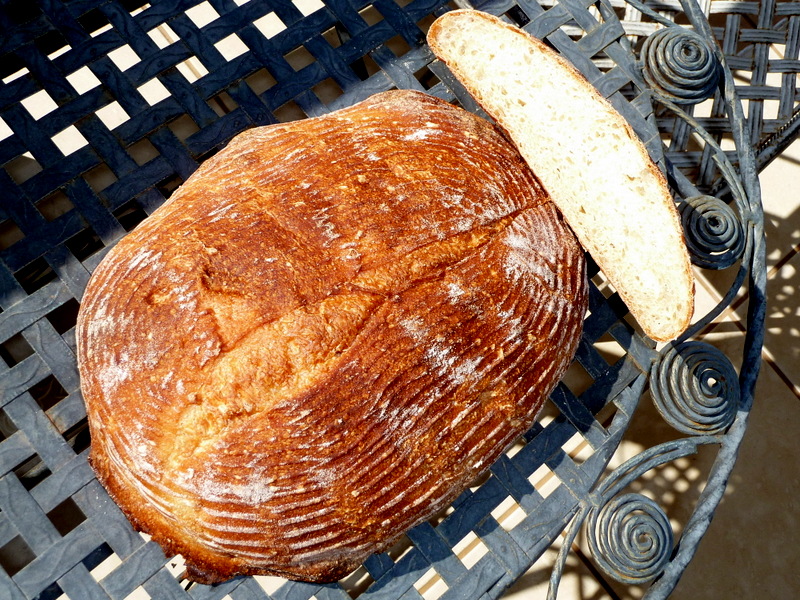 These embarrassing loaves are Hamelman's Country Bread recipe. 68% hydration and 50% pre-fermented dough. I measured carefully by weight, but even at the mixing stage the dough was very sticky. I added a quarter cup of flour, which helped the dough pull away from the bowl a bit. It still seemed incredibly sticky to me, but I forged on.
I've baked with some moderate success before, but even lifting carefully with the scraper and flouring the board a bit, the dough stuck like an octopus. The bulk fermentation seemed OK. I used Bertinet's slap and fold to try and get some gluten strength, but even with three folding sessions I wasn't able to get the dough to completely let go of the board (or my hands).
When I dumped the dough out to shape it, it flattened out right away. I unstuck it from the board, scraped it together, tried to tighten the skin (hah!) and plopped it into bannetons. It rose moderately in the banneton, but when I emptied the banneton on a peel, the loaf took the shape seen in the photo. No oven spring that I could detect.
So, help please, fellow bakers. What might have contributed to this fiasco? I'd like to manage high hydration breads as my skills increase, but if they work out like this I'm already discouraged.
Thank you very much.
GregS