So as all of us who love to make bread, I too, am on the quest to make a perfect baguette.  I've made oodles of variations that are quite good and even great but not "the baguette".  On the same notion I believe there is more than one "perfect baguette".  In fact after working in a few bakeries I've adapted the notion that a well written bread formula can be approached from so many ways.  And in many instances they are all good ways of handling the said formula.  Its in the eye of the beholder and what they are after.  This thought came at a production bread bakery when mixers, bakers, and shapers, although all trained to do things in a relatively specific way, over time adapt "their way".  This is a major problem for me as I believe at a single bakery everything should be approached as close to the same in order for consistency.  Even if it is true that there are hundreds of different ways to approach the same formula.  
This was not my bakery and the changes although drastic at times were mostly unnoticed by the masses.  I was able to learn a great deal from this.  I saw what the minor/major changes brought to the table.  To share some examples: there was the obvious variation of shapes that over time you knew who shaped which loaf.  Not too much variation here as this was one of the few things all did very similarly.  We all shaped following the same technique.  So some of us shaped a bit tighter, some had a specific taper.  All in all not much other than minor cosmetics affected here.  Next the mixer.  This was where things got interesting.  Some stuck with the trained plan (as I called par, and i suggested all go par to be most consistent)  but 1/2 of the mixers did not.  Over time some would adapt.  Some would change yeast quantities slightly based on the state of the levain in the recipe, some would adjust hydration at the autolyse, and others would adjust at the finishing mix.  This played a huge role in variation.  The best results came from those that followed "par".  Boring as it may be this business had multiple mixers, and so much overturn, it was best to follow the formula and procedure as trained.  Finally there were the bakers.  Some liked lots of steam, some less, some like hotter oven, some cooler.  This was a huge play in the final loaves and the most notable from the outside.  It also played a huge role on finished interior.  Since I was trained with all the variation, I too adapted my own style.   
So I too will play this game with baguettes at home.  Maybe not the prettiest baguettes (that can come later).  I'm not used to scoring such little loaves (these are only 250 g each)  In fact next test will just increase the size to 300 and follow same formula and see results.  I wanted an open crumb but not a very high hydration.  Once you get the dough up to 80% the overall finish is a bit like a ciabatta even if formed as a baguette.  There is something missing when I make baguettes this way.  I chose to lower the hydration (69%) and use cold bulk fermentation.  I wanted to go straight to retarder after the mix so I developed the dough completely in my mixer.  I've heard numberous times of cold ferment and chose to start with the most functional time of 12 hours.  This means you mix before you leave and 12 hours later you pull the dough and proceed.  Once pulled I let the dough rest 30 minutes and then gave 2 s+f's back to back, which the dough took with ease.  I let this rest for another 1 and divided.  Preshaped and rested 30 minutes.  Then I shaped.  The first three I proofed at room temp for 1 hour, the second I put in fridge for 1 1/2 hours.  Room temp 1 hour baguettes opened up better ears (although my scoring was poor and I didn't get much for ears on most).  The colder dough was much easier to score and I believe would have opened better had I let my oven reheat a bit longer. 
Anyhoo after all that nonsense heres some pics.  I'm quite happy thus the only change will be scaled dough. Once I am happy with that I will probably play with bulk retarding times in increments and see the differences and where the sweetest spot is.  
Happy Baking
Josh

nicest of them all from looks.  From first set proofed 1 hour at room temp.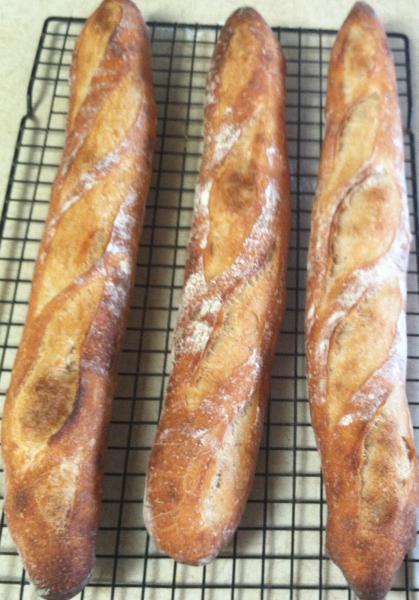 First set all proofed at room temp for 1 hour.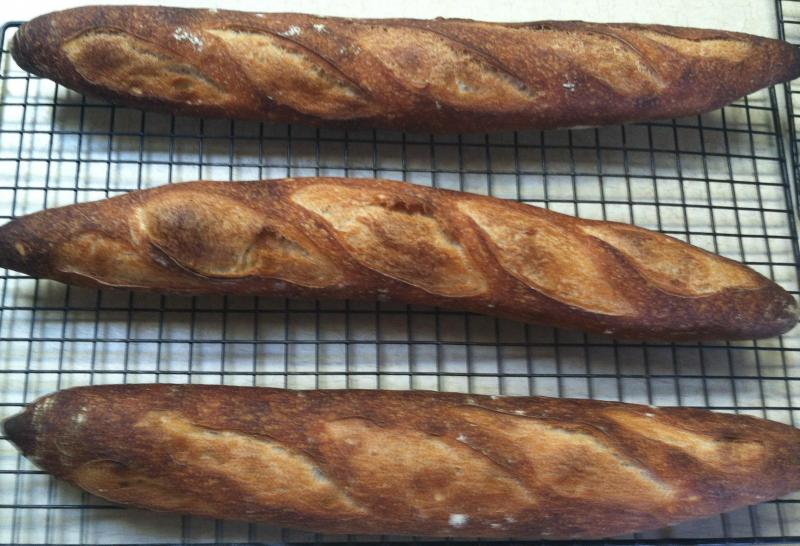 Second set proofed in fridge for 1 1/2 hours.  Baked a touch darker.  Didn't open as nicely. 
Crumb photo is from first set.  I will add a second from second set. 
Happy baking
Josh