Baguette making: second attempt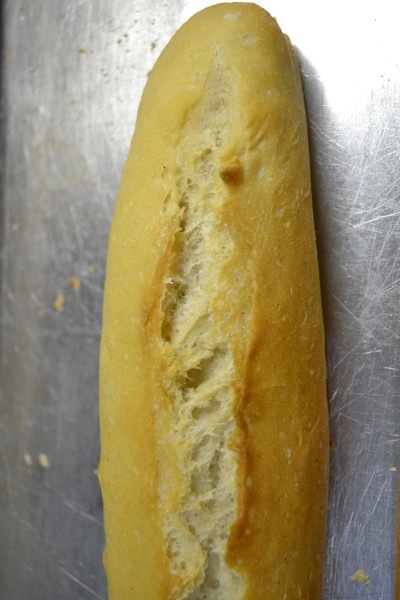 In my first ever two-bread day (!?!?!?!?), my second bake involved some tasteful Poolish Baguettes.
Note: the preparation of the two breads was done intercalating phases from the two processes.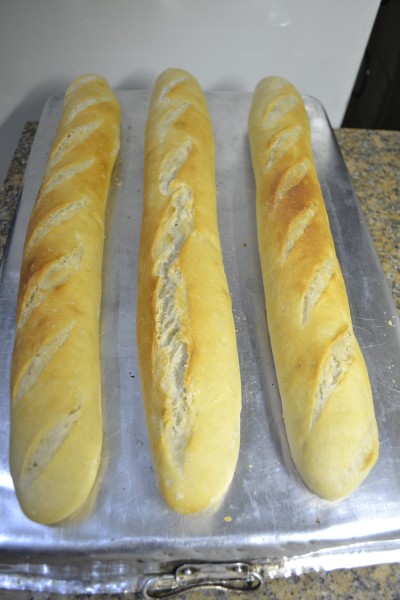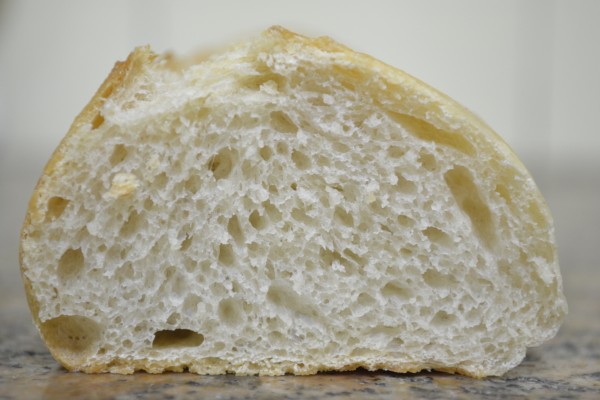 Thanks to a tip from barryvabeach (the KAF`s video collection you indicated was incrediby enlightening technique-wise) and to a whole bunch of invaluable pieces of advice from dabrownman, the result was of an incomparably higher level of quality than the one achieved in my first attempt.
Curiously, this time around, the scoring was clearly of inferior quality, due to my experimenting with an improvised lame that seems to be very popular: a curved razor blade attached at the end of a wooden hashi. The much better scoring performed in my first baguettes was executed with a very sharp 3-inch-blade knife with a short handle. Next time, I`ll have to think about which instrument I`ll resort to for the scoring.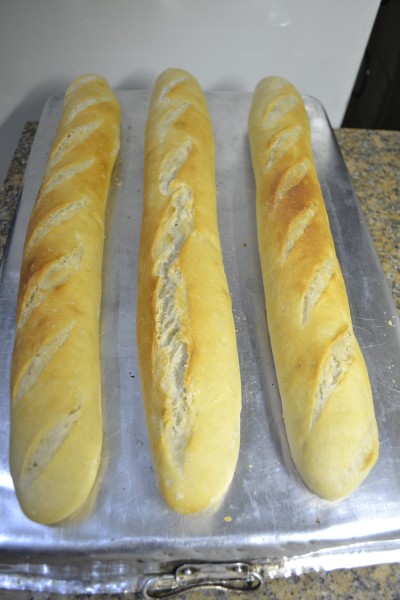 Following dabrownman`s suggestions, the final dough`s hydration was increased to 75% (from 67%), while the poolish`s hydration was decreased to 87.5%. Both worked extremely well, even though the higher hydration might be partially responsible for the poorer scoring this time around.
The additional flour in the final dough was autolysed at 65.6% hydration. Mixing the poolish with the autolysed flour was a bit of a problem since the latter was a rather firm dough, while the former was a very wet dough. A lot more handmixing than probably advisable was necessary to incorporate the poolish into the autolysed flour. Fortunately, it eventually came out right.
Incorporating the remaining 10 g of water with the salt dissolved in it was quite easy (using dabrownman`s suggested technique).
Slapping-and-folding (another dabrowman`s suggestion) was fun, easy and incredibly effective. 
[included on July 27, at 3 pm GMT] Bulk fermenting took 2 hours with one stretching-and-folding at the 1-hour mark. [included on July 27, at 3 pm GMT]

Preshaping (as cylinders, not rounds), dough relaxing and final shaping were done following Hamelman`s instructions from the videos indicated by barryvabeach. The 3 shaped baguettes were a little over 16 inches (40 cm) long and quite thin (immediately after shaping).
[edited on July 27, at 3 pm GMT] Proofing took a little over 90 minutes 2 hours with one stretching-and-folding at the 1-hour mark since room temperature was a cool 70 oF. [edited on July 27, at 3 pm GMT]
The steam machine (thanks again, dabrownman!) included a lot of small lava rocks (yes, I discovered I had a bunch of pebble-like ones in my garden!) in an aluminum tray and two pans containing rolled-up kitchen cloths covered with boiling water. These contraptions worked great!
I found it necessary to extend the baking time to 35 minutes (instead of the recommended 25) as the baguettes still seemed too pale. At the end, I added another 5 minutes in a steam-less oven.
It all worked wonderfully, with the exception of the little glitch mentioned above.
The baguettes were quite good looking, even though the scoring was of poor quality. The crumb looked quite nice, with a fair amount of small-ish holes. The crumb was also very light and tasty. The crust was good looking and great tasting! It was quite crisp but fairly thin!
Well, ... this is (almost) the whole story! Thanks again, barryvabeach and dabraownman!!!
Note: all pics were taken with artificial lighting (but no flash)!