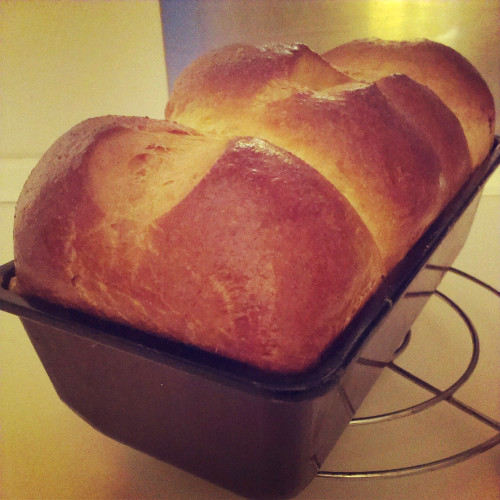 "Let them eat brioche!", said Marie Antoniette when she was told that the French populace had no bread to eat. This is a "pain brioché", which is the poor version of the regular brioche, because we're gonna add less butter and less eggs. We're gonna give it a twist adding the zest of a lemon and almond meal, almond flour or ground almond, however you call it. As a result we're gonna eat an amazing brioche, so we will have breakfast like kings, and we won't be afraid of the guillotine.
- 3 medium eggs (150 gr)
- 120 ml milk
- 400 gr strong bread flour
- 50 gr almond powderl
- 3 tbsp brown sugar
- 5 gr salt
- 75 gr softened butter
- Lemon zest
- Vanilla extract
- 6 gr instant yeast or 18 gr fresh yeast
- One egg for egg wash
Mix eggs and milk in a bowl, and flour, almond powder, salt, sugar, lemon zest and yeast in another bowl. Mix everything, and knead. You can use an electric mixer, or you can mix it with your own hands. In ten minutes the dough should be smooth and silky. The add butter little by little. Knead until dough becomes smooth and silky again. Let it rest about 1 hour and 30 min.
Put the dough on a floured surface. Shape four or five buns. Put them into a greased tin. Let them rest about 1 hour. Brush the buns with egg wash and using a bread lame or a razor blade, score each bun.
Bake about 35 minutes. First 15 minutes the temperature should be about 190C (375F), and last 20 minutes reduce heat to 160C (320F). Cover with aluminium foil the last 20 minutes to avoid it becomes roasted.
Let the brioche rest two or three hours before you slice it. If you want to keep it tender, keep it into plastic bag.
More info: http://breadgallery.wordpress.com/2013/07/26/brioche-de-limon-y-almendra-lemon-and-almond-brioche/