SFBI Miche - 2kg version 1.2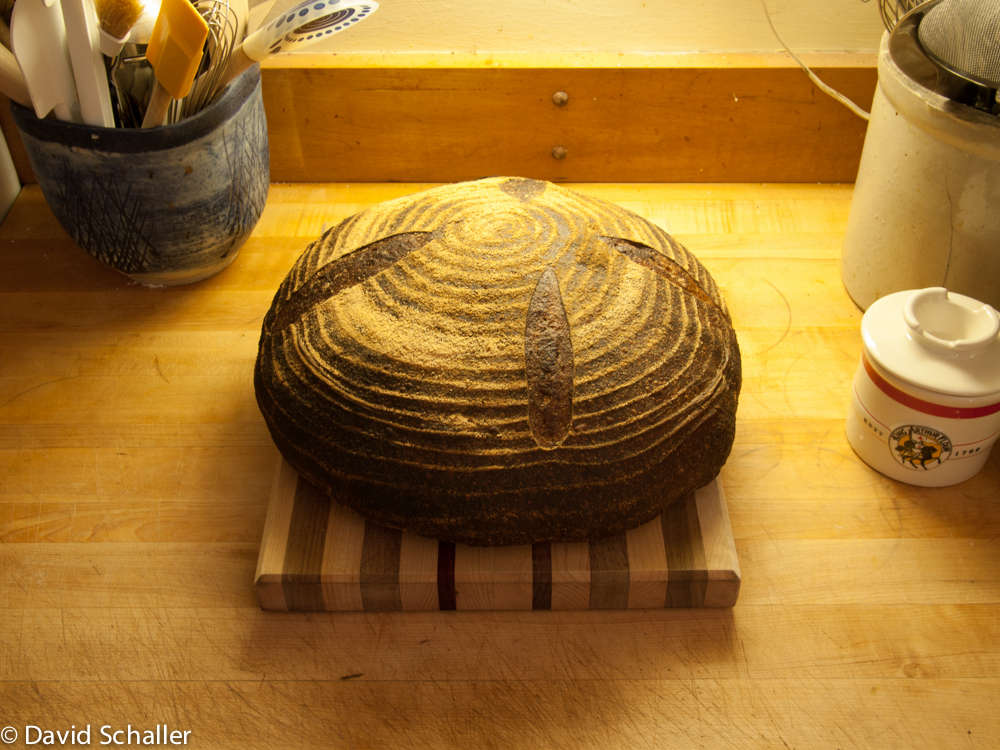 With a couple of rainy days in the forecast, and nice weather to follow, I attempted another miche.  I followed dmsnyder's formula again, but with two changes.  First my baking timetable was different.  I had my liquid starter ready to go from a previous bake, so I made up the preferment in the morning, let it work all day, then mixed, bulk fermented and so forth in the evening, putting the shaped loaf in the refrigerator after midnight.  Secondly, I replaced about 18 percent of the AP flour with half whole wheat and half whole rye in the final dough.  I added a bit of extra water, and one more stretch and fold to account for the increased whole grains.
I took the loaf out of the refrigerator at 8:30 a.m. and pre-heated the oven.  Since it was very warm and humid in my kitchen (like 95% humidity!), I loaded the loaf at 9:30, after an hour at probably 80F.  Again I had trouble getting the wet dough out of the brotform, and this time it created a tear, even with heavy rice/AP flouring.  So definitely the next time I try this I am going to do the final proof in a heavily-floured, linen-lined colander!
I baked in my ordinary oven with steam for 20 minutes at 450F, then 20 minutes more, then lowered the oven to 420 for the final 20 minutes as the loaf was already very dark.  Again I waited 24 hours before slicing.  The results are in the pictures.  My question for the experts is, does the big hole underneath the crust indicate under proofing?  Whereas my first attempt was probably in the refrigerator for 16 hours, then an hour at room temperature, this was in the frig for 8 hours only.  
The bread tastes great of course;  I like the taste impact of the added whole grains.  But I would like to correct the large holes underneath the crust.
Thanks again for this wonderful site!
Dave