Farmers Market Week 9 (Cracked Wheat Sour)
So local grain has slowly started to make its way back into the market and I chose to use a local Red Winter Wheat grown in Honeydew, Ca about an hour and a half from here.  I splurged and bought 7 lbs to make a 60% Whole Wheat Sour w/ Cracked Wheat.  
I've opted to push the envelope with whole grain with this project and my setup requires retarding of formed loaves so I can get through the multiple bakes.  I have just devised an alternate route in which if final retarding won't work I can shape and preheat my oven (takes 2 hours plus) so that its ready as the bread is.  But I will retard loaves when they are about 75% proofed just to slow them enough to get through the bake.  I will experiment with this maybe next week.  Then instead I can bulk retard the whole dough if desired. 
Back to this loaf.  So I made two builds of wheat on a touch of my white starter.  The first was more to change it to wheat and the second the levain.  The first build was 12 hours and looked really happy and healthy when I fed it again.  I expected a 5-6 rise but it was doubled in 2 hours.  Since I couldn't mix for a few hours I retarded it at this stage.  I autolysed the final dough flour for 6 hours.  I soaked the cracked wheat with hot water 6 hours as well.  The first loaves I baked I pulled from retarder an hour before baking.  Not liking the spring or results so much i followed baking straight from the retarder with much better results   I'm not sure where to place the blame on the spotting of color.  I think I coulda have shortened the bulk ferment and I probably should have added some malt.
Finally on my steaming progress.  I went to the beach and collected a bunch of rocks instead of paying for lava rocks.  This works nicely and you can hear the steam continue for longer.  I need another beach run for more and I think I'll have a good thing going.  
Build 1 (12 hours) Makes 1 - 1 kg loaf
30 g freshly milled red winter wheat (actually a few weeks old)
27 g H20
3 g  white starter (100%)
---------------------------------
Build 2 (2 hours for me and then retarded until needed but watch yours)
49  Wheat Starter (90% hydration)
98  Fresh milled red winter wheat
85.75  H20
-------------------------------------
Soaker: Soaked for 6 hours
50  cracked Wheat
37.5  Hot H20
--------------------------
Dough
167 Fresh Milled Hard Red Winter Wheat
200 Bread Flour (11.5 % protein)
323.3 H20 (hold out 10 percent)
11  Salt
----------------------------
Autolyse Dough at least 30 minutes before finish mix.  
(I went for 5 1/2 hrs)
Add levain and mix on speed 1 to incorporate.  (5 mijnutes)
Add salt and continue mixing on speed 1 for until mixed in.
Mix on speed 2 (low medium on my 4 speed machine)
Mix until medium development.  Add grain soaker and additional h20 and mix in on speed 1( This took about 5 minutes).  Finish on speed 2 for a minute.
Bulk Ferment 4 hours with 5 S+F at 30 minutes. 
*this is what I did and I think I would shorten the bulk ferment by at least 30 minutes if not an hour.  Also I'd do the s + f's at 15-20 minute intervals.  
Shape, proof at room temp for 1 hour and retard for 8 hours.  Bake cold with steam.  
Pictures to come after market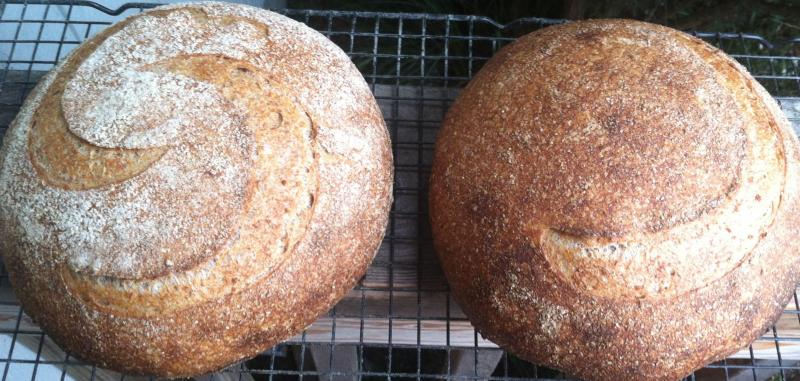 First loaves here.  The ones I pulled from retarder for an hour pre bake. Not great spring very little blooming and no grigne.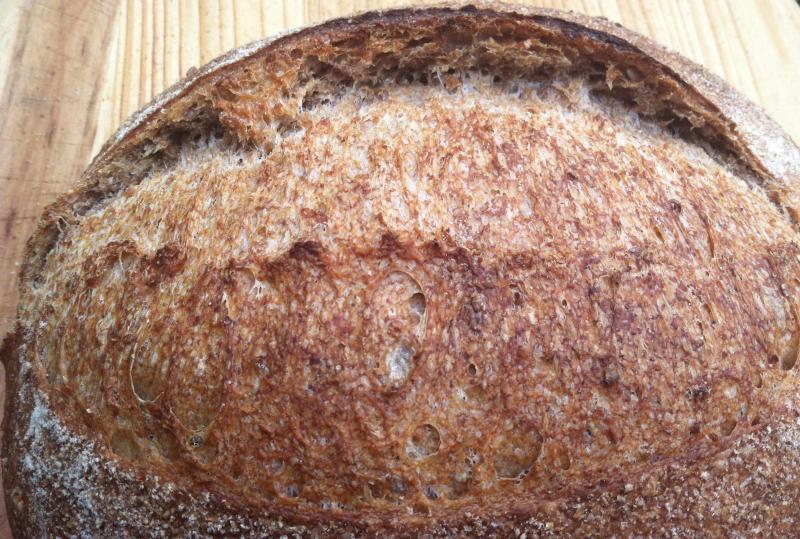 Now for the remainder I baked straight from retarder and got great spring.  Good Bloom and some serious grigne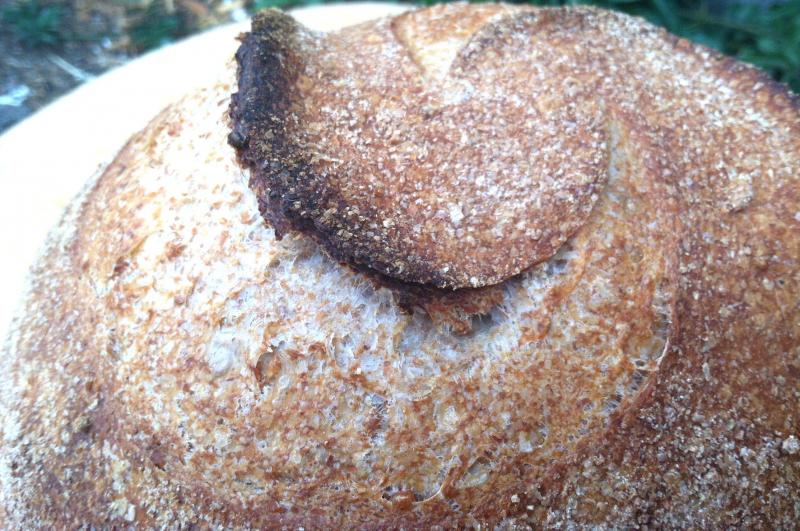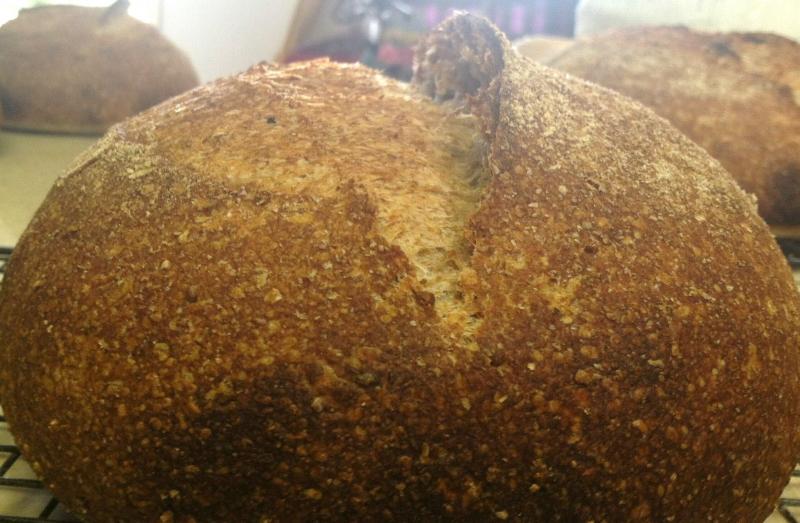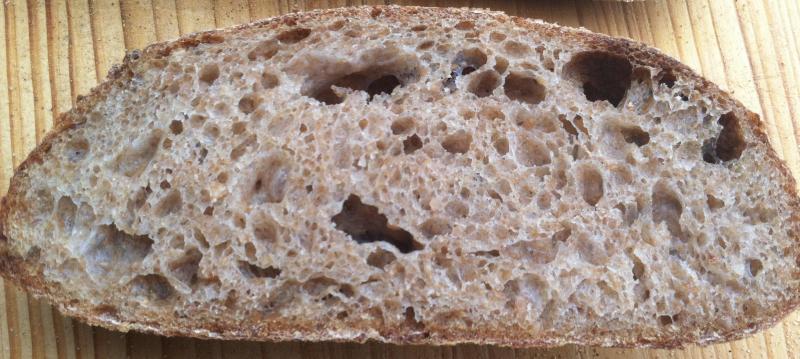 This is the crumb from the first set that didn't pop as much.  I sliced a nicer loaf later and forgot to take a picture but it was even better.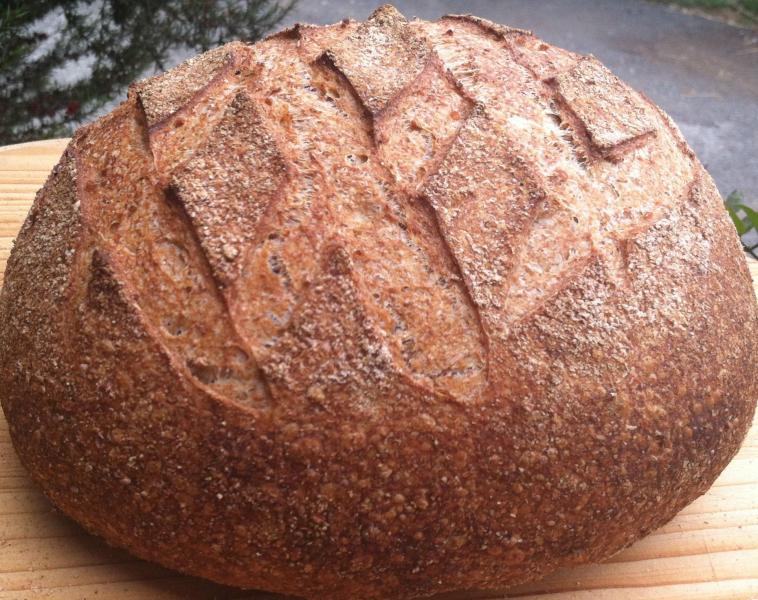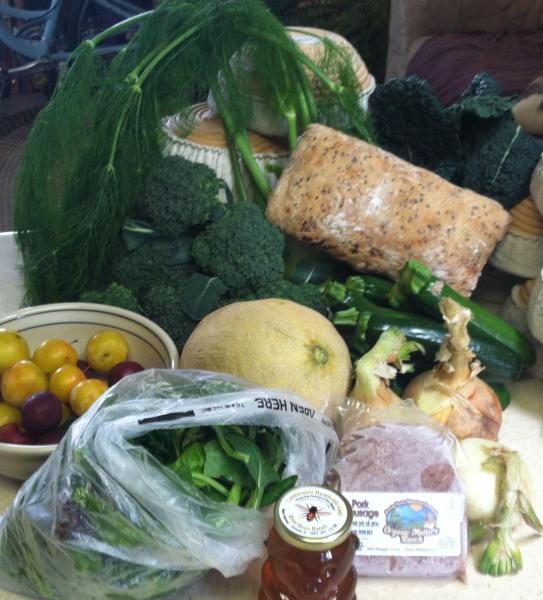 So we got some plums (2 types), local honey, salad mix, breakfast sausage, walla walla onions, brocolli, fennel, kale, zukes, fresh cantelope, and a loaf of 25% wholegrain flax seed cranberry ciabatta.  
Happy Baking 
Josh