Sorghum, Rice & Quinoa SD Bâtard
My last sourdough starter had an unfortunate accident in which it ended up all over my kitchen floor, along with pieces of its glass container. So, I started a new one and yesterday it was ready to use. I fed it about 2 hours before making this recipe. It turned out really great! Nice and reasonably light with a good amount of sour flavour.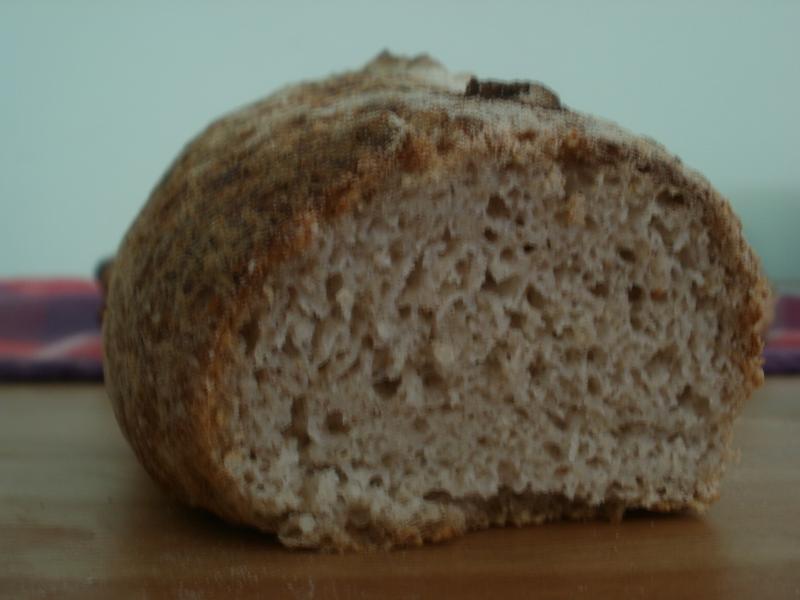 150g 100% hydration starter (mine is mainly rice and sorghum flour, with a little red teff)
400g water
21g psyllium husks
11g salt
110g corn starch
110g stone-ground white rice flour
150g sorghum flour
40g very coarsley ground quinoa (I just bashed it up in a mortar and pestle)
Brown rice milk, for glazing (optional, but gives a more attractive finish)
Dilute the starter in the water and whisk in psylliu until emulsified.
Leave covered for 30 minutes.
Sprinkle over salt.
Mix together the flours and quinoa.
Add to the starter mix and knead until it comes together to form a dough.
Note: You only need to knead until it comes together, as gluten free bread does not require development of the gluten strands through kneading - just make sure it's well mixed and smooth.
Form a ball and leave to rise in the fridge overnight in a covered and oiled container.
The next day, knock back the dough and form into two bâtards.
Cover and leave to prove for an hour.
While the bread is proving, preheat the oven with a stone to full temp (This is 250c on my oven).
Uncover the loaves, brush with a little brown rice milk, slash and transfer to the oven.
Bake for about 25 minutes, turning halfway through if neccassary, until a dark reddish brown colour is acheived.
Leave to cool COMPLETELY before cutting the bread, otherwise the texture will be gummy.