Thanks to the outstanding help and wonderful pieces of advice I got from Karin (hanseata), Khalid (Mebake), Juergen (Juergen Krauss) in my previous thread about Schwarzbrot (http://www.thefreshloaf.com/node/33787/schwarzbrot), my (actually, I should say our) tweaking of the original recipe produced a delicious, much improved black bread!
Very tasty, with a very deep, distinct rye flavor, it provides a delightful munching experience. Its crumb looks incredibly nice. In all these aspects, and many others, this version showed marked improvement with respect to the original recipe.
Additional notes: (a) this version had a much slighter hint of sweetness than the original one, (b) black coffee and dark chocolate were totally dropped from the original formula, (c) the amount of dark molasses was halved, (d) the introduction of new techniques (biga, autolysis, retarded fermentation) in the method also permitted a drastic reduction of the amount of active dry yeast: from 8.5 g in the original for-bread-machine version to 1.0 g in this tweaked hybrid-method version (besides imparting the bread a much better, deeper rye flavor).
I believe this version is perfectly suited for some smørrebrød!!! I guess I'll try this tonight!!!
Here are some shots of this Schwarzbrot!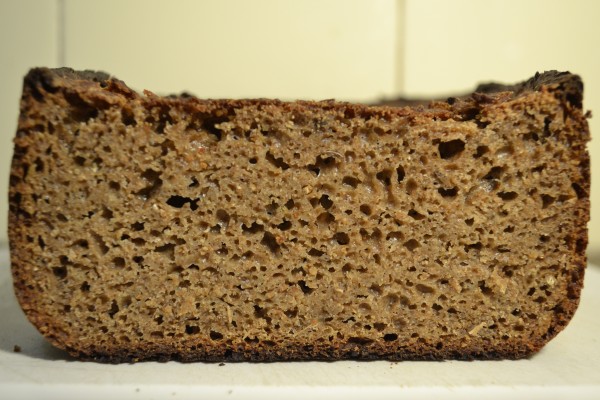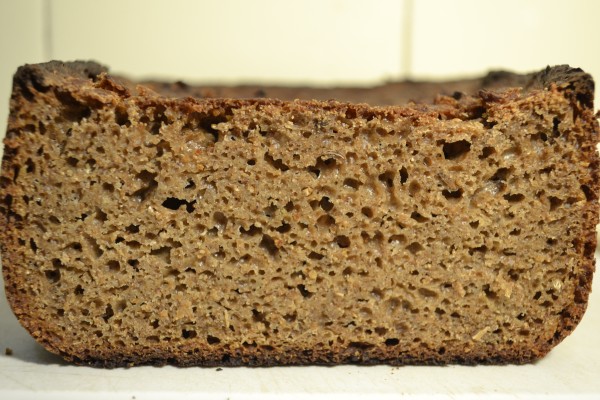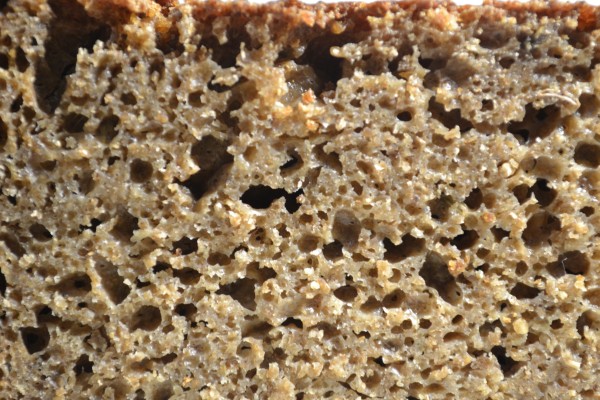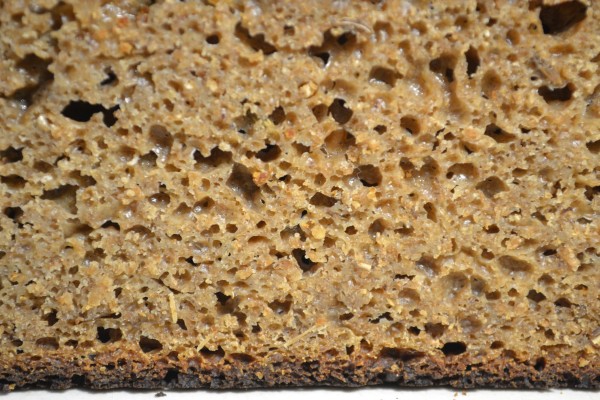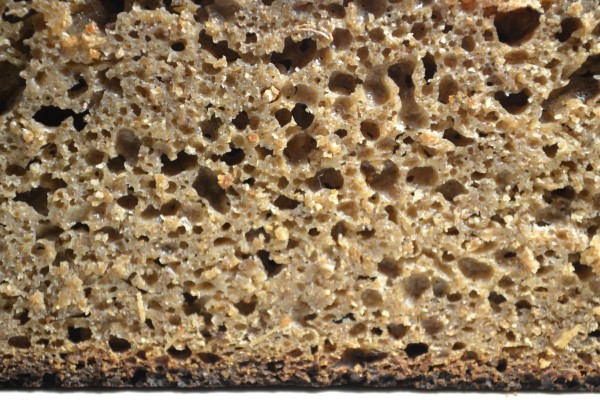 The new, tweaked formula, that incorporates several ideas provided by Karin, Khalid and Juergen, is the following:
BIGA-BASED SCHWARZBROT (FOR BM) (TWEAKED RECIPE)
final dough: 62,5% rye, 75,0% hydration
yield: one 700-g loaf
Ingredients
Biga (65,0% hydration)
200 g rye flour
130 g water
0.5 g active dry yeast
Dough
110 g lukewarm water
120 g unbleached white flour
1 tsp salt
2 tbsp dark molasses
1.5 tbsp vinegar (or buttermilk or yogurt)
3 tbsp soft butter
0.5 g active dry yeast
1 tbsp caraway seeds
0.5 tsp fennel seeds
Note: in another thread (http://www.thefreshloaf.com/node/34043/biga-flourwater-autolysis), I've been dealing with the possibility of scaling down the above biga.
Here are shots of slices (using different, improved lighting for the shots):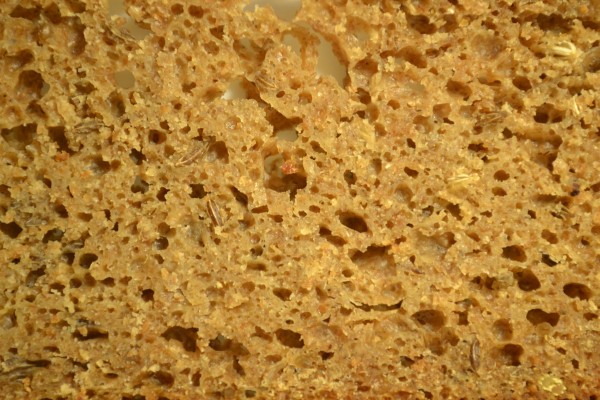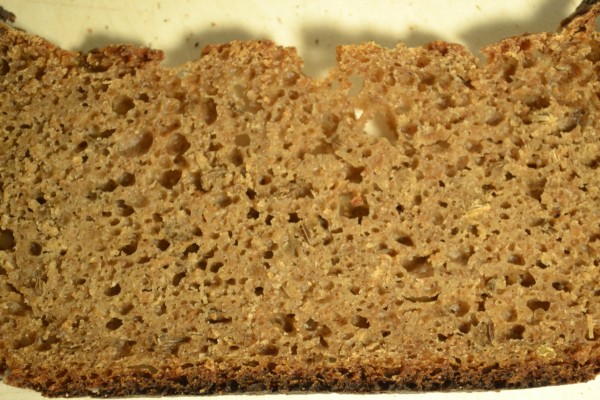 As to the method, it started with the biga that rested for exactly 8 hours. This was then incorporated into a 30-minute autolyzed mix of white flour and water. With the help of the Dough cycle of my bread machine (yes, ... here it goes again), I incorporated the remaining ingredients (the salt was gradually sprinkled all over the dough after 5 minutes into the Dough cycle; the same was done with the seeds after 10 minutes into this cycle). The final dough was then retarded in the fridge for 17 hours (chosen to fit my Sunday schedule). [edited on July 10] After a total of 2 hours that were needed to get the dough back to room temperature and to go thru a 75-minute proofing period [edited on July 10], it was baked for 1 hour in the bread machine. Another 15 minutes in a preheated 220 degrees C conventional oven were necessary to give it a nicer crust. Finally, the resulting loaf sat untouched (before any slicing was done) for 18 hours.
My take on this experiment: "Learning is always a great, rewarding experience! Learning from you girls and guys here, at TFL, is moreover easy and fun!"
Thank you all. Have a great week! Bruneski.