Pullman 5 Grain Loaf Tasty, But Not What I Expected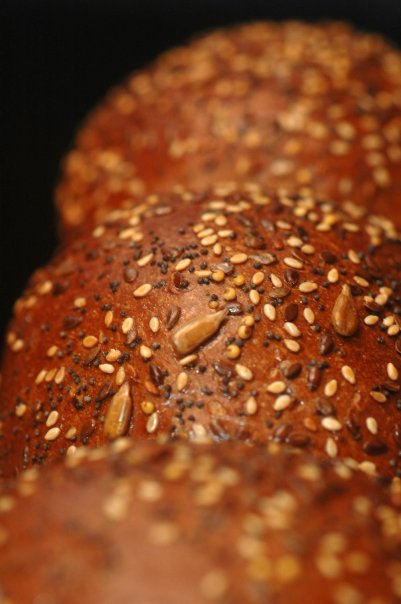 Today, I baked a 5 Grain Pullman loaf in my oven for the first time. My goal was to create a similar loaf the the Breadbar 5 Grain Pullman (picture included), a soft, delicate loaf with a medium fine crumb. While the result was a fantastic, similar tasting loaf, there were a few unexpected results. I'd like to get some feedback about what I can do differently to yield the results I want.
Ingredients:
2/3 cup milk (I used Goat Milk)
1 cup water (mixed in dry yeast first with a pinch of sugar to proof)
6 tablespoons unsalted butter (melted slightly in the microwave)
2 1/4 teaspoons kosher salt
3 tablespoons powdered sugar
1/4 cup nonfat dry milk
3 tablespoons King Arthur unbleached Cake Flour
4 3/4 cups King Arthur unbleached Bread Flour
2 teaspoons instant yeast
Added Poppy, Millet, Sesame to the dough, kneaded dough for 5-8 minutes.
Glazed the top with goat milk and sprinkled above seeds plus sunflower and flax on top. Used unsalted butter on the sides/bottom of the Pullman pan.
Left dough covered in a bowl for 2-3 hours to rise. Rolled into a rectangular loaf and added to pan. Allowed it to rise just below the lip of the pan (30 minutes).
Baked at 350F for 50 minutes in a USA Pans 13x4x4 Pullman pan (without the cover) until core temp was 190F.
The above recipe was a modification of this recipe found on King Arthur Flour's website: 
http://www.kingarthurflour.com/recipes/pain-de-mie-recipe
I substituted Cake Flour for Potato Flour and Bread Flour for All-Purpose. Goat Milk for Cow Milk. I really wanted to use fresh yeast but couldn't find any locally so I went with the dry.
There were two unexpected results after baking:
1. The goat's milk glaze didn't seem to do much, the top was either light brown or slightly darker than the original dough color, nothing close to the carmely, dark brown goodness in the photo above. Even the sides and bottom of the loaf never got dark, just a light, pale brown. There was no gloss/shine to the crust either.
2. The crust was hard. I was expecting a soft crust.
How do I get a rich, brown, shiny glaze on all sides of the crust like the photo? How do I get a soft crust?