100% Sprouted Wheat Flour - Bread - Pizza
I have been very interested in baking with an organic sprouted wheat flour.  
I've read so many good things about it's health benefits and it's exceptionally delicious flavor.  
I ordered a few small bags of Arrohead Mills Organic Sprouted Wheat Flour.  The price is a bit dear for these little bags of flour.  I'm so happy with the flour.  I can't wait to make a carrot cake.  Free shipping from Amazon.com and the flour had excellent reveiws.  
I won't feel to guilty at all baking and eating a whole grain sprouted flour that digest as a vegetable.  I have a new book that has some lovely recipes.  'Essential Eating - Sprouted Baking' - with whole grain flours that digest as vegetables, by Janie Quinn.    
This bake was an experiment using the formula by Peter Reinhart discribed as his Master Formula on 'Real Baking' with Rose L. Beranbaum's, baking site.  You might like to read what Rose has to say about this flour.  The pizza SW dough by PR has a link on Rose's blog..just scroll down.
I made some changes adding powdered milk and brown rice syrup for a little more added sweetness.  This flour has plenty of it's own natural nutty delicious sweetness.  Oh, I know it would make wonderful nutty, cinnamon-sticky buns or rolls : )
Baking my first loaf was a very interesting experience.  I had no idea what to expect and changes I would like to make.  Most important though...it's taste great ,and I'm not disappointed I ordered the flour.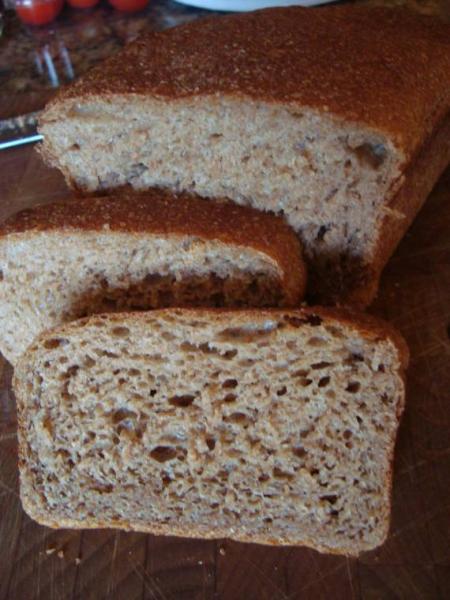 http://www.realbakingwithrose.com/2012/sprouted_wheat_flour-thebest.html  
Pizza is wonderful with this flour to say the least.
I'll have to call this my 'spent dough'  It sat in the frig for 3 days before I baked the pizza.  It browned up crispy, tender and very delicious.  
I made a very, very thin crust.  The dough handled beautifully and stretched easily.  Olive oiled hands help a lot in handling this wet 90% hydrated dough.  I had no problem stretching it into a pizza.  Just use wet or oiled hands.
I baked the pizza in the oven with just some chopped tomato and then after it was done in apx. 10 minutes.  I topped it with sauted challots, shrimp.  Sprinkled on some parmesan, fresh basil, pepper and drizzled with pesto.  It was delicious and that's what I had on hand.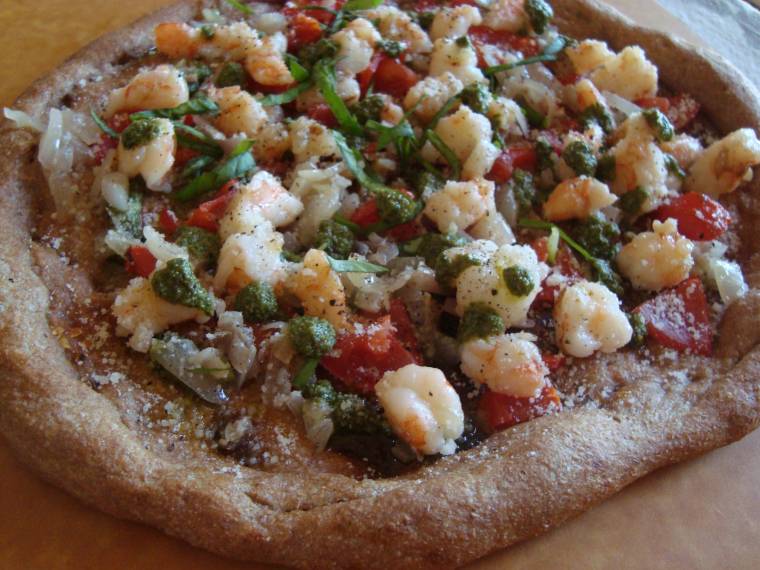 Link to P.R. Sprouted Whole Wheat Pizza Dough  http://www.fornobravo.com/pizzaquest/instructionals/59-written-recipes-/223-sprouted-dough-html
The crust was almost paper thin with a wonderful crunch and a tender crown.  It held up very nicely to the heavy topping.  Delicious! I like to think I'm eating all veggies with a little shrimp..kinda guilt free pizza and healthy too!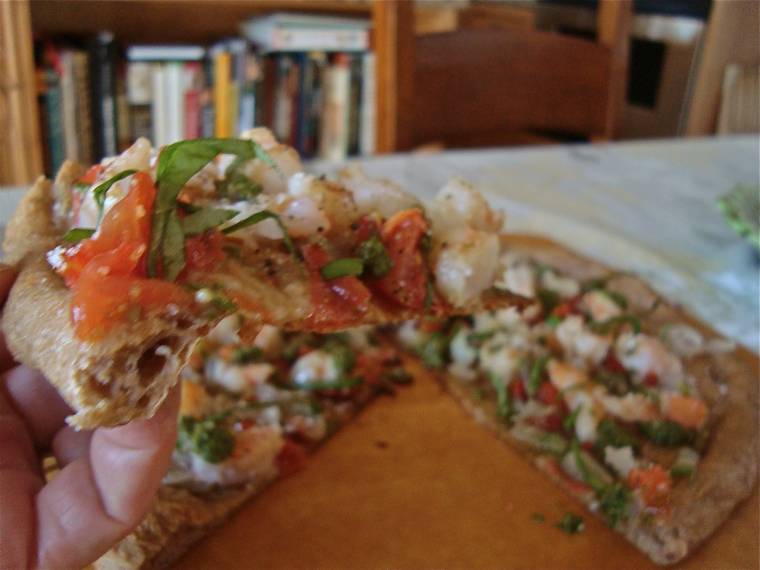 Now that's thin crust..with a nice crumbed crown : ) next time it'll be a little thicker but with just as nice a bite and crunch.
And that was cool...I clicked something here and the picture shrank a little.
Nicely browned bottom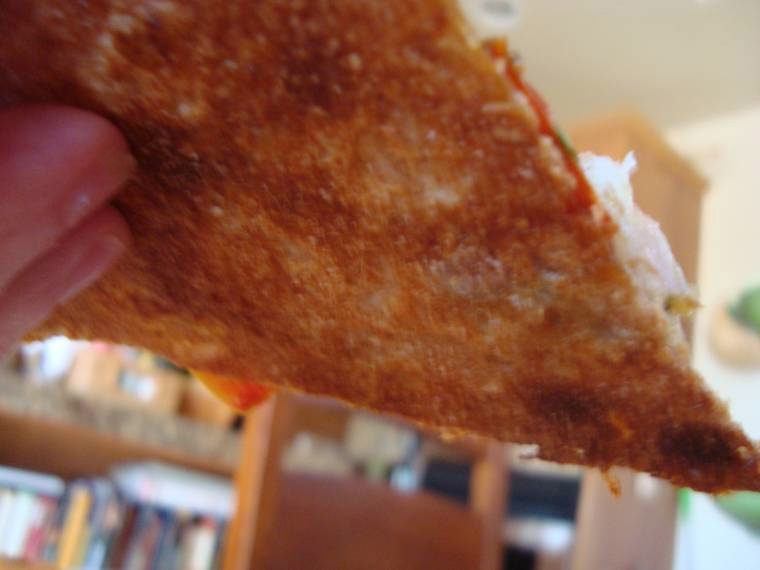 Since we were snacking on pizza's.  I threw in a mexican pizza.  It had a Bread flour crust, I had frozen and thawed out..for a couple of days.
What the heck.  I'm also testing out my new little oven.  I wanted to see how it worked for baking pizza's.
To my surprise I was delighted.  
Apx. 10 minutes in the oven and out comes a browned lovely pizza.
I take the pizza out a couple of minutes before it's done and add the cheese, put it back in the oven till the cheese melts nicely.  I think this keeps the cheese from over cooking or browning.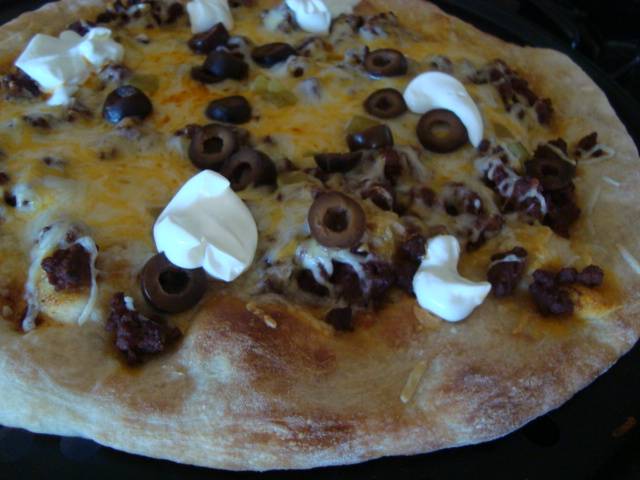 Wonderfully browned pizza crust with a nice little crunch.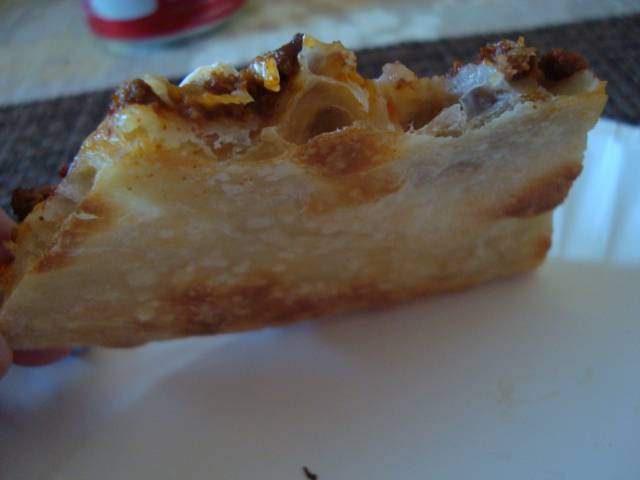 These pizza's were baked in my Breville Toaster Oven..not to be an add ... but it's everything and more than I expected...just look how nicely it baked these pizza's!  I had ordered the extra pan with holes..worked wonderfully.
All in less than 15 minutes and that includes the pre-heat.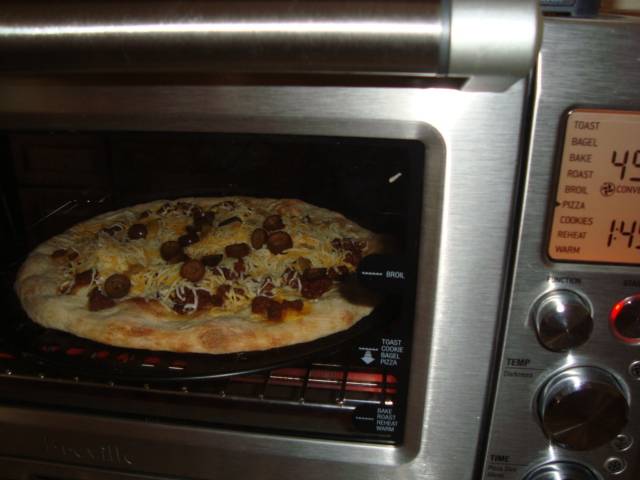 Sylvia