Yay, That's It! Or so.
/* Update: Photos of the finished panned loaf at the end */
This is the crumb I am looking for! Quinoa sourdough bread, gluten free!
Unfortunately -
closer to the centre of the bread I get this crumb: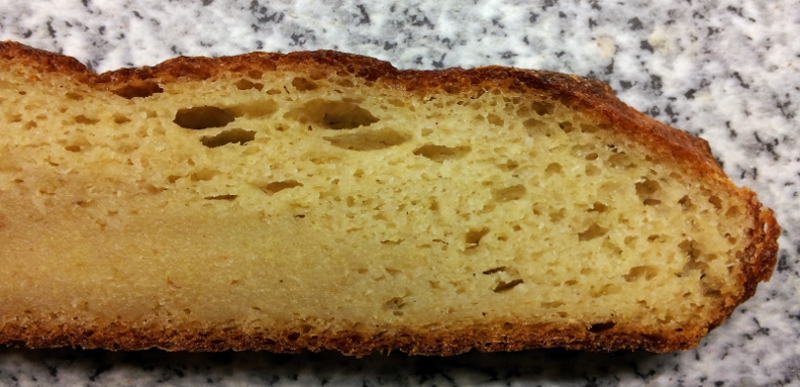 The gummy bit near the bottom tells me that something is wrong with my baking. Right now I have another Quinoa loaf in the oven, panned, on a lower heat. We'll see what happens.
But first about the bread above.
The formula is on this Google spreadsheet:
https://docs.google.com/spreadsheet/ccc?key=0AkcYHhPxccKtdEVQSXJJUWt4ZVdQa044dlkyQzhNZ2c&usp=sharing
or here in cleartext:
Quinoa Sourdough #1
 
 
 
Expected Yield
600
 
Factor
2.521008403
 
 
 
 
 
Bakers %
Weight
Straight Dough
 
 
Quinoa
60
151.26
Tapioca
20
50.42
Potato Starch
20
50.42
Psyllium
6
15.13
Salt
2
5.04
Water
130
327.73
Yield
238
600.00
 
 
 
Psyllium Soaker
 
 
Psyllium
6
15.13
Water
100
252.10
 
 
 
Quinoa Sour
 
 
Quinoa
30
75.63
Water
30
75.63
Mature Quinoa Sour
6
15.13
 
 
 
Final Dough
 
 
Quinoa
30
75.63
Tapioca
20
50.42
Potato Starch
20
50.42
Salt
2
5.04
Psyllium Soaker
106
267.23
Water
0
0.00
Quinoa Sour
60
151.26
Yield
238
600.00
The quinoa sour ripened for about 8 hours at room temperature. The mix is quite quick, once the ingredients (photo below) are well incorporated and the mass gets smoother we're done.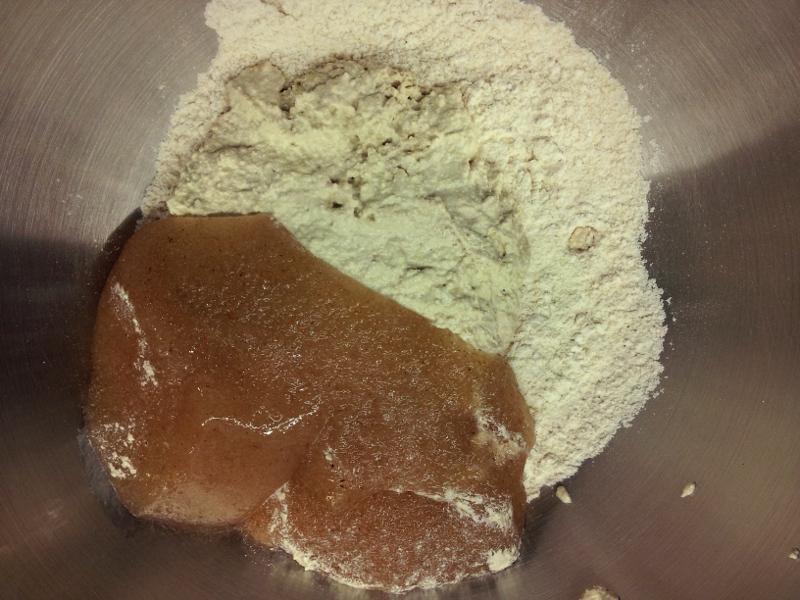 Shaping works best with wet hands. I wanted to proof and bake this loaf freestanding - maybe not the greatest idea. 
The bread proofed on a baking sheet for about 1.5 hours.
It then baked in a preheated oven (240C) on a baking stone, the oven was turned down to 210C immediately. Baking time 50 minutes.
Here a photo of the finished loaf (1100g), glazed with potato starch roux just before and after the bake: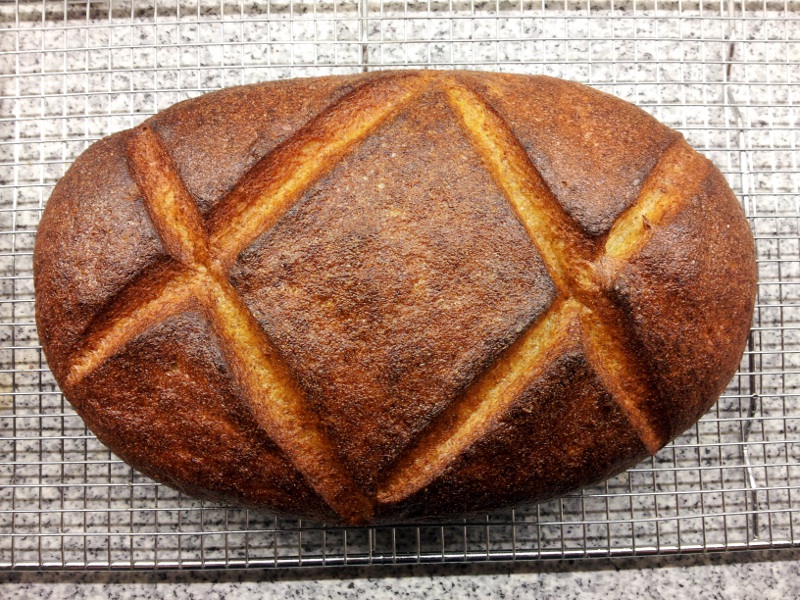 It spread considerably, turned out tobe quite flat and sank even more in the middle while cooling. You saw the crumb in the photos above.
I had similar issues with the Black Bread from ITJB, which makes me now believe that the fault is in my baking process.
I think that this very wet bread drains my baking stone of heat faster than my oven manages to replenish it, with the net effect of undercooked bottoms. I don't have this issue with drier, well aired breads.
Therefore I started another bake, same formula.
This time I took the quinoa sour a bit earlier, after 5 hours. It tasted and smelled more fruity at that point.
This time I panned the loaf (500g) and proofed at 26C for 2.5 hours, see the following photos.
The panned loaf: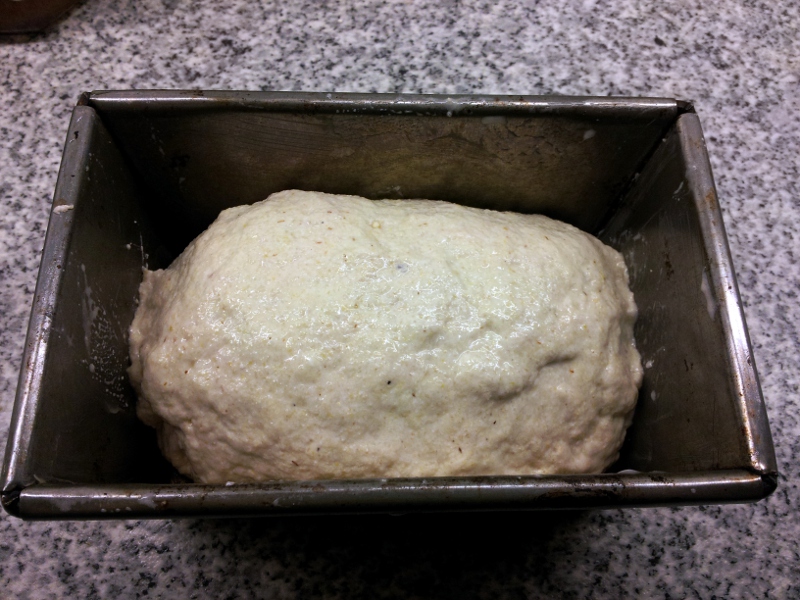 And here the proofed loaf:
This loaf is in the oven right now, starting at 210C. After 30 minutes I turned it down to 175C. I intend to bake well over one hour.
Stay tuned.
Juergen
/* Update */
Almost there. 
I baked this loaf, starting at 210C, finishing at 175C, fot about 80 minutes. After 60 minutes I unpanned the loaf.
After torning off the oven I let it cool in the oven for another hour.
The crust was very beautifully brown and crisp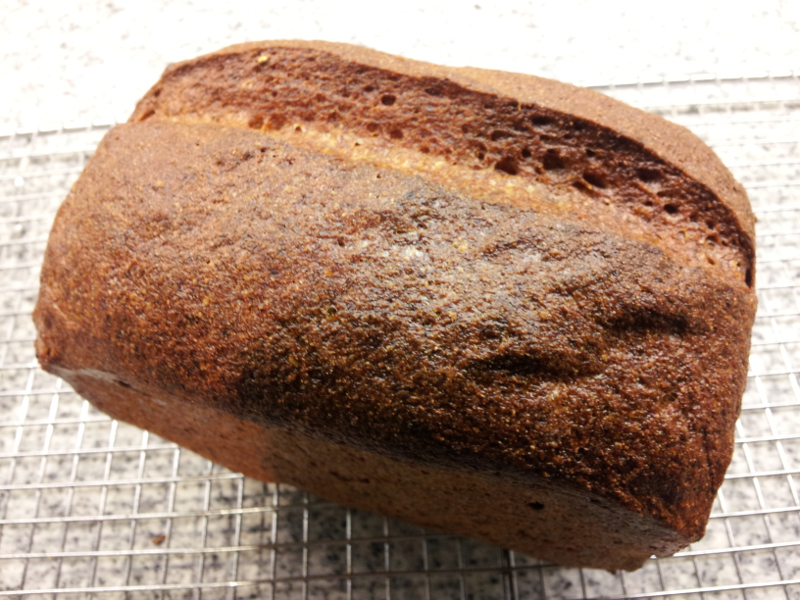 but for Quinoa almost at the burnt side.
After unpanning the sides of the loaf started to cave in. You will notice it in the crumb shot, where there are some gummy patches.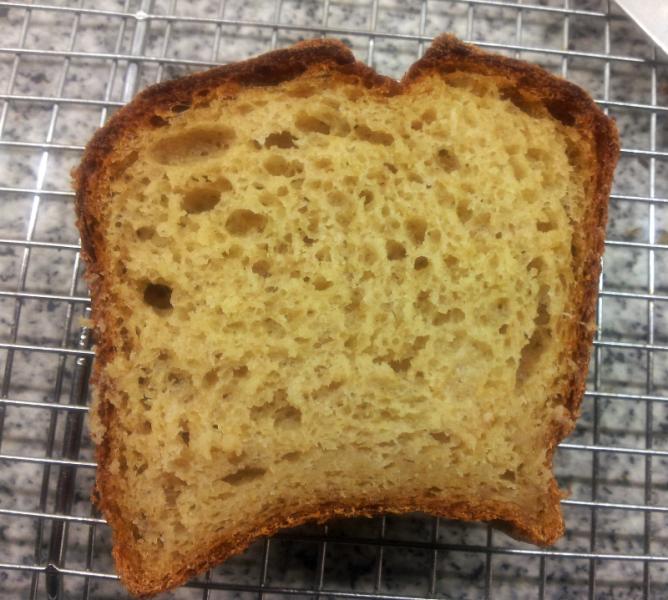 All in all I am very pleased with my progress. For Quinua I will try baking longer at even lower temperatures. I might also try reducing hydration a bit. 130% seemed to be OK for the yeasted variant, but the sourdough feels quite different.