Hi folks 
i recently wanted to test the amount of yellow colour that i could obtain from a natural source for a future bake , We are going to host a Cancer Council fundraiser  Australia's biggest  cuppa and the Cancer Councils colour is yellow!
i decided to try using Tumeric  so i mixed my usual sour dough  3-2-1 flour- water - culture with 2% salt and 1% tumeric the results are seen below the idea was to also see if the tumeric was detectable as on the day i am making cinnamon scrolls and some fruitless sweetbuns.
The day is next MONDAY 27th May,  with a come in early 3.00am start, i even have a volunteer to come in to help with bun production, the idea is for staff and students to give a gold coin donation for a cuppa and a fresh cinnamon scroll for Cancer research. It is particularly poinyant for the Hospitality area as we have recently lost a goood friend to skin cancer that was particularly agressive  and cut down the technician  who was just 50 odd years of age from a little mole that was behind his ear.
So firstly there is the new ovens and proover set up
thats one of the ovens sitting atop of the proover with the second oven alongside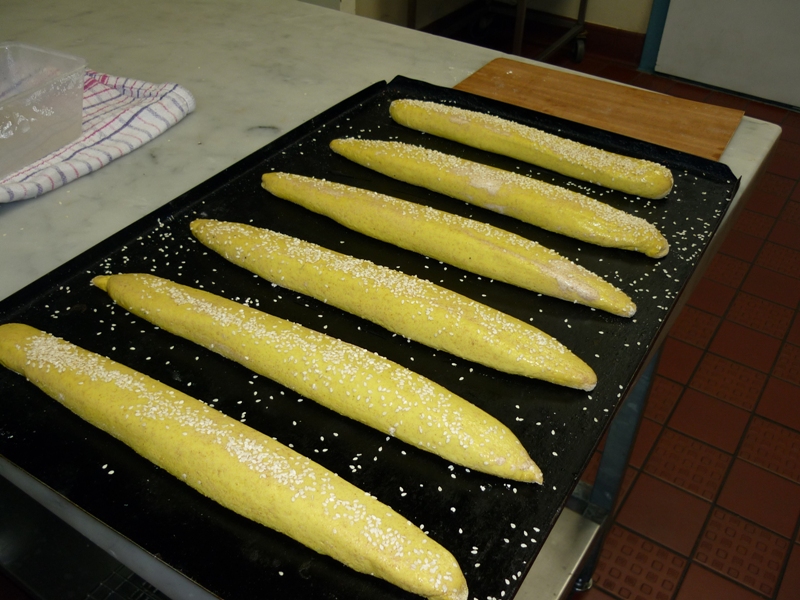 the dough was given the usual mix stretch and folds every hour x 3  shaped and put on the couches and placed in the retarder overnight . Next morning brought out placed onto trays and washed with a boiled cornflour wash  seeded and slashed 
 you can see my little transfer board on the bench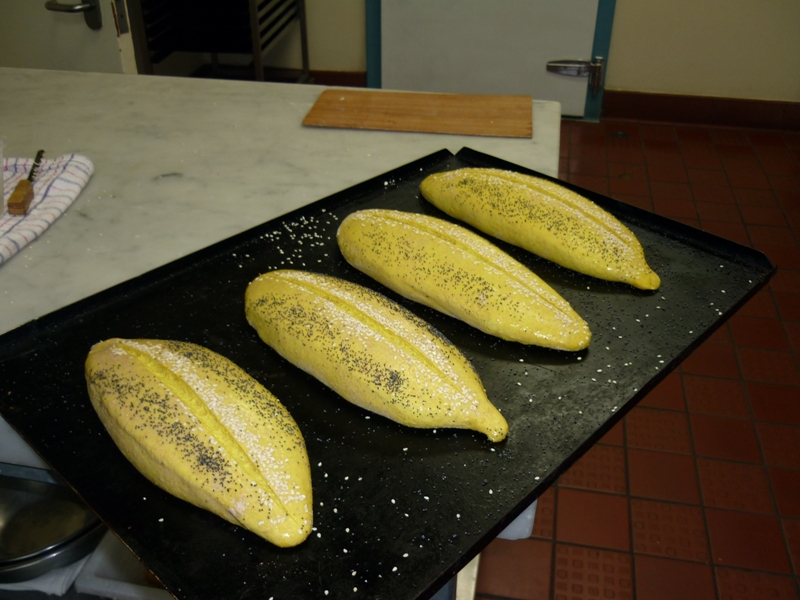 Placed into the oven at 200 with steam for the first 5 to 10 minutes until the loaves have set .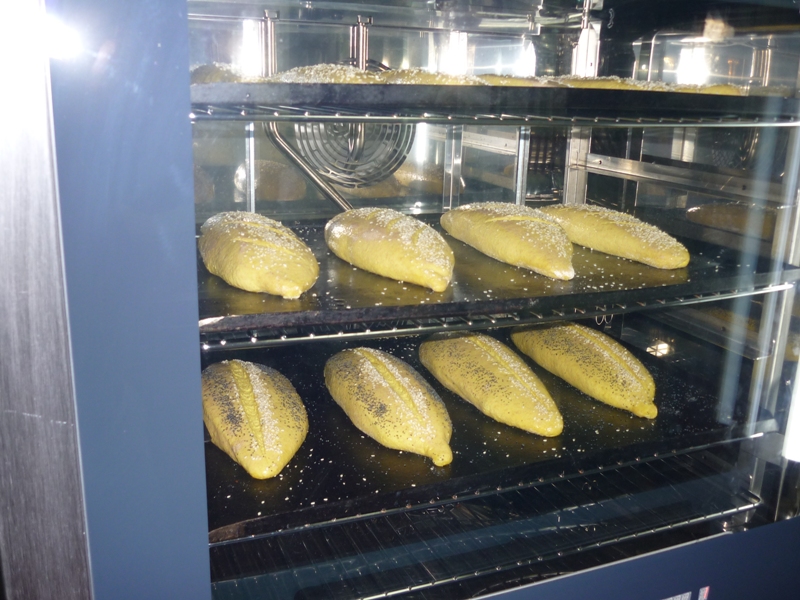 you can see through the glass doors how the oven spring has picked them up nicely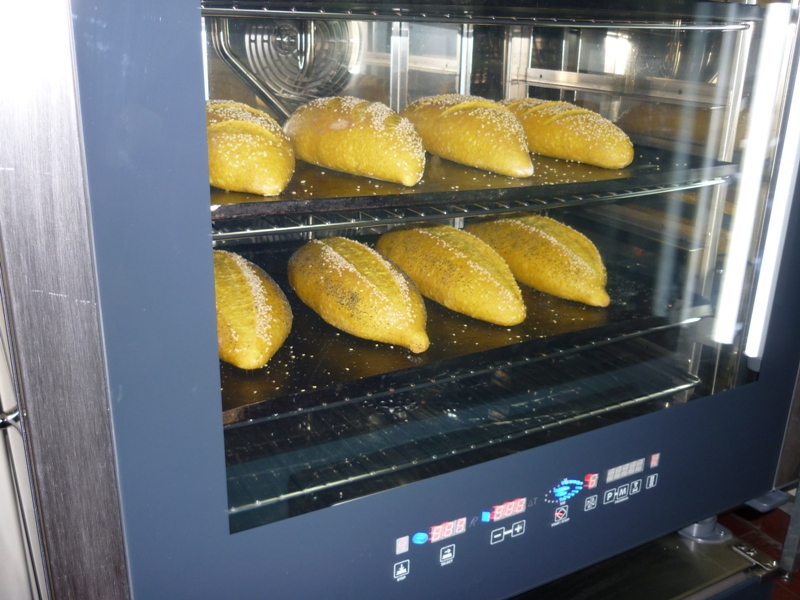 the steam comes off when the loaves have set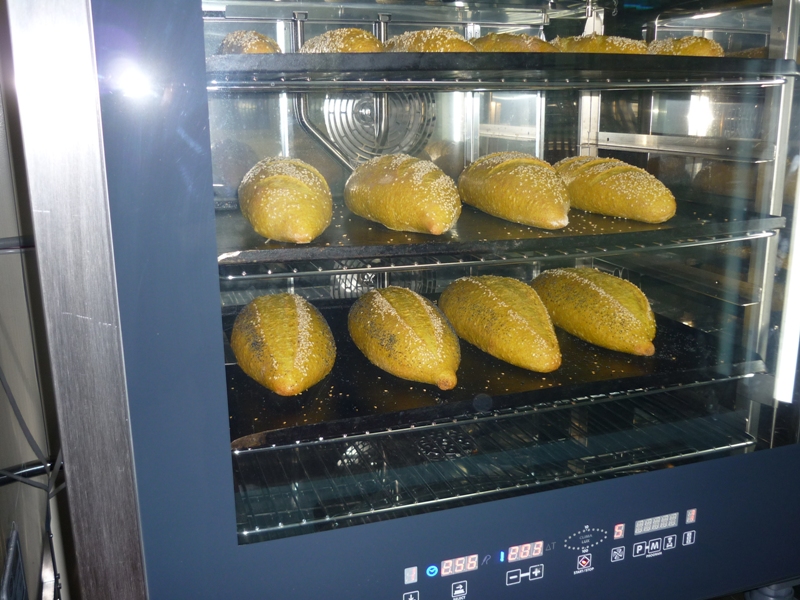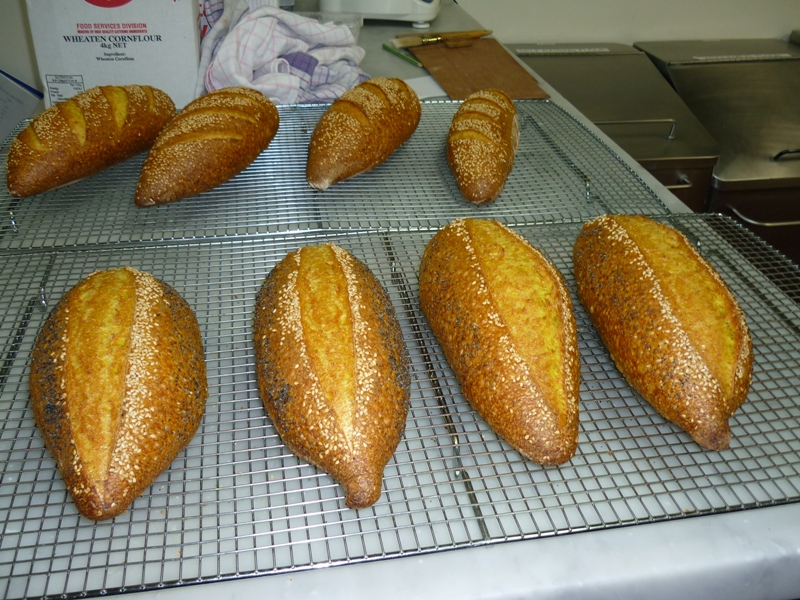 out of the oven and starting to cool
sorry didnt get any cut open shots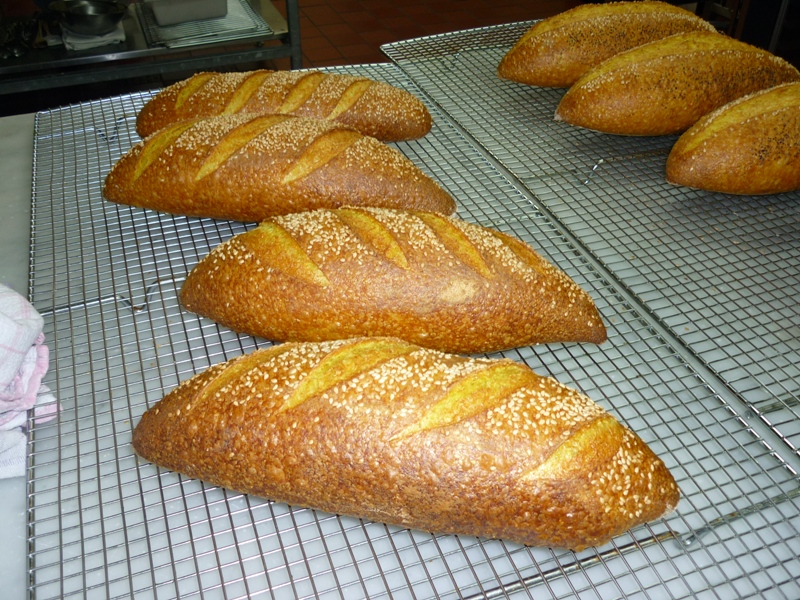 So there we have it  another successful batch for my tasters verdicts which were  very yellow inside and most could not detect any flavour from the Tumeric. i think i could cut the tumeric to 0.5% and still get the yellow i was after
However on the day i have been told i can use Safron so that will be good. i anticipate making a couple of 5kg batches  and the buns scaling off at 100g.  
 so if you are down Fremantle way call in between 9.00 and 11 for a big cuppa and a nice fresh cinnamon bun all for a gold coin donation.   
I will try to record the day for those of you who cannot make it !
kind regards Yozza