Rye and whole wheat and spelt berries and....
There were so many wonderful looking breads with lots of stuff in them posted in the last week that I decided I wanted to play too.
I had picked up a bag of spelt berries and ground some into flour to use when I was trying to get a whole wheat starter starting.  The bag and the leftover flour have been just sitting in the pantry and when I saw a couple of posts using "toadies", I thought that maybe the spelt berries would work out well like that.  I dry toasted spelt berries, which was really cool - they popped in the pan!  And then toasted some rolled oats, and some pecans, and sesame seeds. 
I made a poolish with rye flour, left out overnight.  I had been putting rye starter discards into my everyday bread in place of a poolish, but I did not have any discards, so I thought that a rye poolish would impart some of that rich flavor to the bread.  I tried breaking down the toasted spelt berries in my small food processor, but that did not work, so into my Krup coffee grinder for a few spins around.  I tossed the oats and the pecans into the food processor and buzzed them around a bit as well.  All of that went into the bowl with AP flour, WW flour, some spelt flour, the toasted sesame seeds, water, honey and yeast. 
The bread is very tasty, but I am not sure that I like the feel of the spelt berries.  They have a great flavor, but they are a bit clunky in the bread.  Maybe I could try soaking or scalding them next time.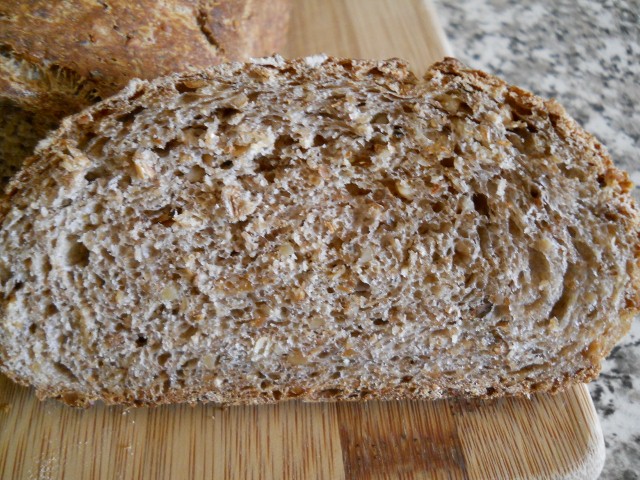 I think that this bread should grill up really fine - so far its tasty just as it is.
Theresa