Looking For Bagel/ Pretzel Boiler- Need Help
Hi all,
I'm looking for a way to increase the quantity of pretzels I can boil at one time. Currently I'm using just a pot that is big enough for one pretzel at a time. If I have big batches to make, I find that the pretzels boiled first sit out much longer and change the surface of the pretzels. I need a way to boil as many pretzels as possible at one time. Ideally looking to do some where between 8-6 at a time. Also, was trying to come up with some type of wire board to place the pretzels on so they can be dunked and retrieved all at once. I feel like i've seen doughnut and bagel shops have a similar set up. I will also need to figure out how to remove the freshly boiled pretzels in a timely manor so they don't stick to the metal mesh board and can be arranged quickly onto the baking sheet with the least amount of touching. I've thought that I could just drain the board quickly and tilt it so they slide off onto a baking sheet, but I also felt that would be clumsy.
My searching of the internet has led me to some devices such as these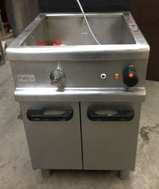 i honestly don't know if this is even something that boils, but I like its size and depth. Ideally I would want it to be countertop and slightly shallower.
This one seems like its too small, but it's just for reference anyways.
I'm also not opposed to just buying two hot plates and using some type of rectangular pan that's around 4-8inches deep. Kind of like chaffing dishes, but they need to be stainless steel because aluminum reacts with one of the ingredients in the bath.
This is really me just brainstorming, so any ideas would be appreciated. I'm open to any suggestions.
Thank you in advanced,
Mike