The other day I was baking a lot of bread, and had excess white starter on my hands.   I knew that I had (or would have) too much bread on hand to make more, but what about later in the week?   Maybe I would run out and wouldn't have time to bake.    So I took my excess starter, added flour, water and salt, mixed it up, put it in a lidded tub and stuck it in the refrigerator.   Two days later, sure enough the bread had run out.   So I removed the tub from the refrigerator.   The dough was totally aerated, but did not have a sour odor.   I took that as a good sign.   I scraped out the dough, cut it and shaped it.    Talk about enzymatic autolyse - oh forget the autolyse part.   The dough was extremely sticky and would not unstick.   I figured less handling would be better than more, so I just got it shaped without trying for much form, and floured it very well, so it wouldn't stick to the couche,  Then let it proof while I preheated the oven and stone.  Then in it went.    The resulting bread was certainly not the best I've ever made, but really not bad.    And no surprise here, very tartly sour.   I don't generally strive for sour bread, but this was a nice change of pace. 
Here's the insides: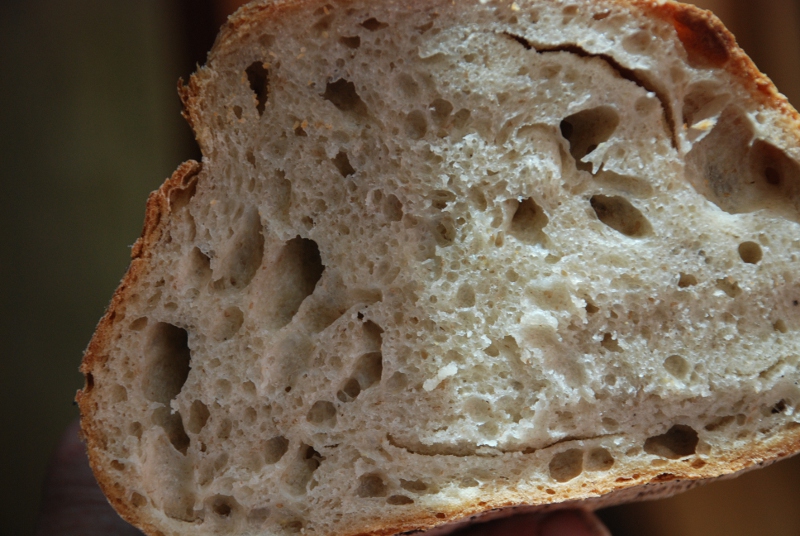 From these pictures you can spot two issues:   separation in the crumb.   I'm not sure what that's from.   And a somewhat pale crust undoubtedly due to the long refrigeration.   However, despite the paleness, the crust was quite crisp and good. 
Since I just threw this together, computing in my head at the counter, I'm not 100% sure what this is.   Here is my best guess:   100% KAAP, 67% hydration, 20% prefermented flour, 2.5% salt.   I was going for 2% salt, but as I recall, accidentally put in more, and then thought, that was just fine given that I didn't know when this was coming out of the refrigerator.  
For a bread that took less than 15 minutes of work altogether, I will declare this a success.