Today for our 3 pm dinner of Pork Kabob's, excuse me, that's Pork Kabab's with a Cucumber, Yogurt Sauce.  Inspired by a Saveur magazine recipe.   I wanted a nice easy Naan/Pita bread on the thickish side to enjoy with the PK's.  This was a first for me making a Naan and, I quickly settled on a recipe I found surfing around.  I changed the whole wheat flour addition to an organic white whole wheat, I had been wanting to use up.  I added quite a bit more AP flour.    
After dinner I looked more into the orginale recipe.  I also found that there had been a discussion on tfl and the recipe was changed or maybe it wasn't, I still can't figure it out.  Anyway, it just opened up a whole can of worms 'lol' and I decided not to go there with a recipe.  
I should have done my math first and saved myself the grief.  I was just having to much fun mixing up my wine marinade for the kababs and that wonderful greek yogurt sauce I love so much.  So no post for the recipe.
I would love to see some of tfloafers favorite Naan/Pita's recipes..on the thickish side.  I also like to bake them in an iron skillet for a little extra crunch and char taste.
Dinner at 3pm  or is that Supper...no I'm pretty sure it's Dinner time!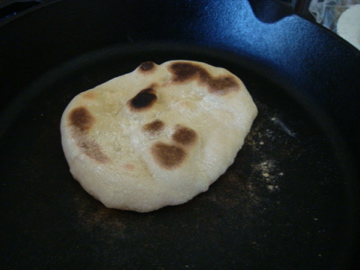 Rotisserie Pork Kababs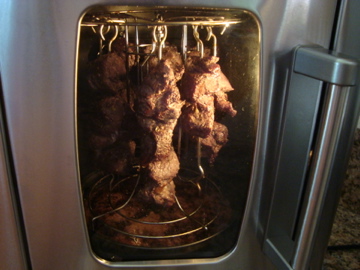 The Naan was delicious and went perfect with dinner.  The texture and thickness was just right and the touch of honey was a plus.  I ate the first one off the grill, just meaning to have one bite.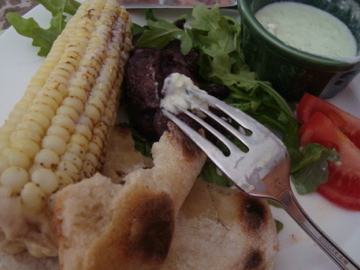 Sylvia