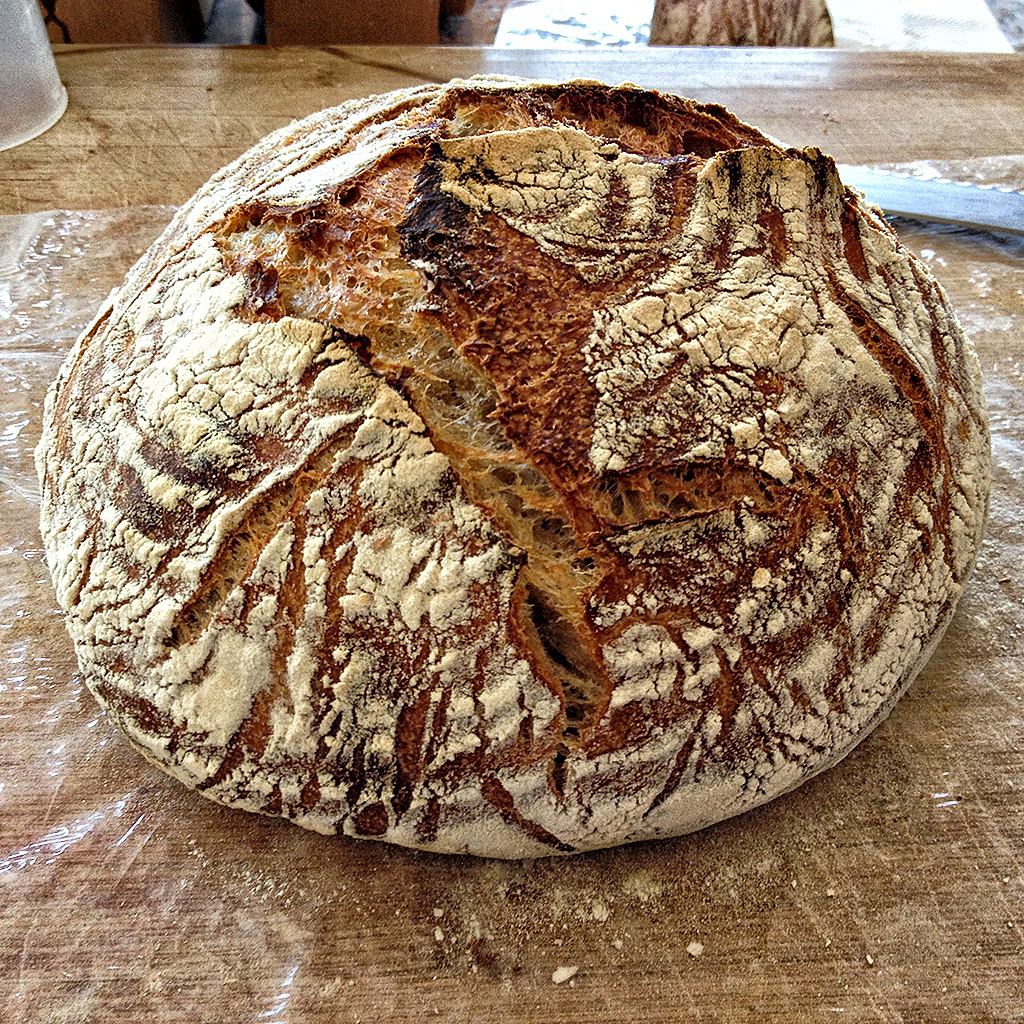 Well, I've finally created my most perfect sourdough bread with such a rich flavor that I will probably never make anything else. Forget store bought bread, even from a good bakery. La Brea, eat your heart out! I started with the basic no-knead Sullivan Street recipe. Mix only the flour and water together, nothing else, and let sit in a covered container for 12 hours at room temperature. You could call this a 12-hour autolyse. Next, sprinkle the dough in the container with salt (2% of the flour weight) and add 10 grams (only TEN - not a typo) of active, refreshed sourdough starter. Now get your hands dirty and mix this all together for about five minutes until well incorporated. Coat the dough with some olive oil and let rise in the same covered container for another 8-12 hours. If your ambient room temperature is above 75 degrees, you probably want to stick closer to 8 hours on the 2nd fermentation. Those with lower temps can ferment longer. Your dough will more than double in size during the 2nd fermentation.
THESE IS ROOM TEMPERATURE, COUNTER-TOP FERMENTATION - NO REFRIGERATION
After the 2nd fermentation is complete, place the dough on a floured surface and stretch/fold a couple of times to tighten the gluten and allow the bread to retain its shape. After the second stretch/fold, form the dough into a ball with your hands and place into a floured banneton to rise for another couple of hours until almost (not quite) doubled in size. Invert the banneton onto a pizza peel, cook in a cloche or on a covered pizza stone pre-heated to 450F for 30 minutes covered, then uncovered for another 10-15 minutes or until you see a nice, caramel colored crust.
This bread will smell absolutely heavenly while baking, give off a fruity yet pungent aroma, and should leave you with a silky smooth, moist and soft crumb. I think most recipes can be adapted to this longer fermentation process to give you more flavor and a deep, well rounded tanginess. They keys to this bread tasting so good: 1) almost obscenely long fermentation time, and 2) very small amount of sourdough starter (total starter weight is only 2% of total flour weight). You will be impressed!