My greedy baguette with sun-dried tomatoes, pine nuts and olives
    I made this bread because my whole family love Italian food and baguettes and homemade sun-dried tomatoes are just heaven! I dry them in my oven and soak them in olive oil with Italian spices. I use them in everything and one day I heard someone was using them in bread and I designed this recipe so I could put everything I love in it.
    I love baguettes and for me,holes are not the ultimate goal. Good baguettes should have a crispy crust, nice taste and a bouncy crumb, not necessarily having lots of holes. I had one of the most delicious baguettes in England and it didnt even have many holes but the texture was merely light with a thin crust, full of flavour. One of my husband's quotes is" I dont like my baguettes full of holes. How would I put my buttter on it ? I'd get hungry in a minute with them holes!" You know, English people just have to eat their bread with butter. Obviously, everything is better with butter. Anyway, my point is, good baguettes should always taste nice and that's it.
    I call this baguette greedy baguette because I couldnt help putting loads of things in it and it ended up looking bloated. It was a hit with our family though and if you tried it, I believe you would agree with us. It has a very strong flavour and the crust is very crusty, largely thanks to the olive oil in the sun-dried tomatoes. With one bite, you're ensured the tastes of pine nuts, tomatoes, olives and Italian spices. Can you imagine all  the flavours explode in your mouth? We simply had one piece after another, nonstop. 
    Ok, after all the waffle, here is the recipe. I made two baguettes out of it and they are best when enjoyed fresh.
Sourdough starter  136g( 100%hydration)
AP flour 263g
Water 154g
Sun-dried tomatoes and olives 99g(I put in 69g tomatoes and 30g olives)
pine nuts 50g
Salt 5g
1. mix sourdough starter with water and put in the flour
2. autolyse for about 30mins
3. mix in all the other ingredients.
4. ferment for 4 hours, stretch and fold at the first, second and third hour.
5. rest for 30 mins and shape into baguettes
6. proof for 2-4 hours( you can even retard it overnight in the fridge)
7. bake with steam at 247°c for ten mins and then decrease the heat a bit, bake for 35mins in total
8. cool and enjoy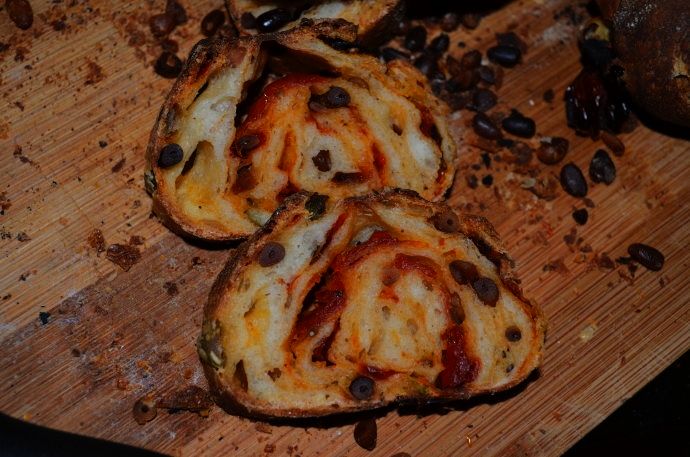 I made them a while ago and only managed to find two pics of them, so...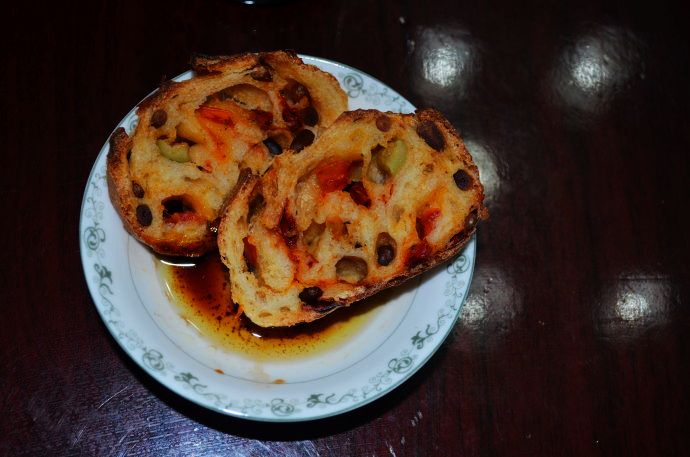 We had them with olive oil and balsamic vinegar, not butter, trying to make my husband eat healthier. The lazy wife just mixed the oil and vinegar together. I hate doing dishes!