Hey TFLers!  
I'm still getting over the jet lag, but I'm back from Poland.  As all of you in the UK know, March was unusually cold over there this year, so we saw a lot more snow and a lot fewer flowers than we expected. Still, we had a great trip.  
More to come! I'm thinking one (short) post in the next couple of days about travelling in Poland, another focused on the food there.  After that, I'm hoping to pick up the site migration/upgrade before my workload gets too heavy and maybe get us switched over by mid-month.  That may be too optimistic... we'll see.
Also, I thought I'd share a picture my first loaves since returning.  I just pulled these out of the oven: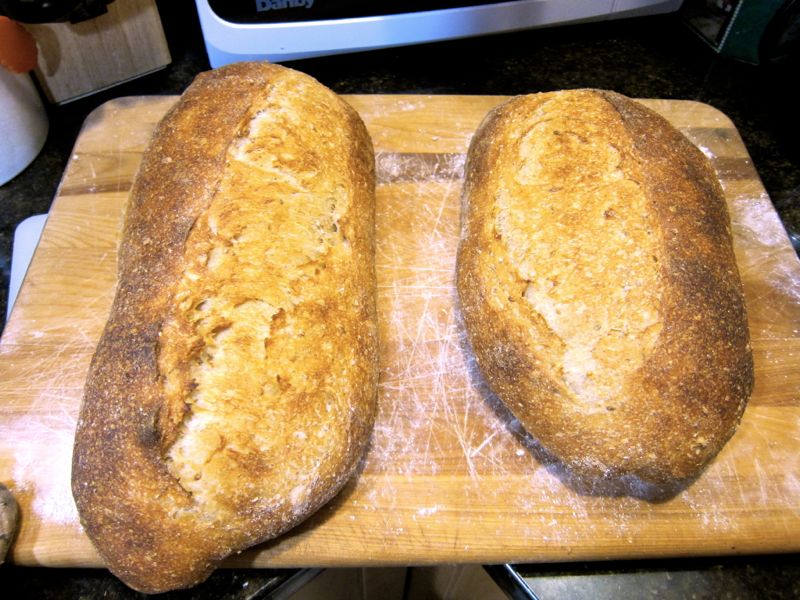 These were using my sourdough starter, which rose like nuts! It was like an eager puppy that hasn't been played with for a couple of weeks. I didn't expect to be able to bake until this evening, but here there are.
What I saw of everyone's Easter baking looked great, BTW.    
Also, I need to update the homepage features.  Any recent posts folks want to highlight?  I'm trying to catch up on everything, but I've missed quite a bit, so let me know if there have been any particularly juicy ones.
Cheers,
-Floyd