WFOven Foccacia with Easter Dinner
I have always been a fan of Cyril Hitz's Focaccia.  It makes a full half sheet pan of a nice, thick focaccia.  
I like it sliced diagonally to use for sandwiches, one of the reason's I chose to bake it today.  
I also roasted a leg of lamb for tonights dinner and tomorrow's sandwiches. 
Everything was cooked in my wfo, except the cherrry pie.  I baked it in my just cleaned ovens.  No mess, I always use a pizza pan for a liner for those bubbly cherry pies.
All was delicious and the lamb roasted up nice and medium the way we like it.  It had a wonderful little smoky flavor.
The focaccia was something I decided to make this morning.  So I adjusted the poolish to fit today's cooking schedule.  It tasted wonderful even without the long overnight fermented poolish.   The oven was a little crowded with the two large roasting and baking pans.  I placed the foccacia very close to the low flames and so it had a fair bit of charring over the top crust..added just more flavor, rather like on a pizza crust.  Focaccia is a bread that bakes and taste very nice, when baked in a wfo oven, without the fire being removed.  
It was topped with olive oil, rosemary, garlic and finished with coarse sea salt.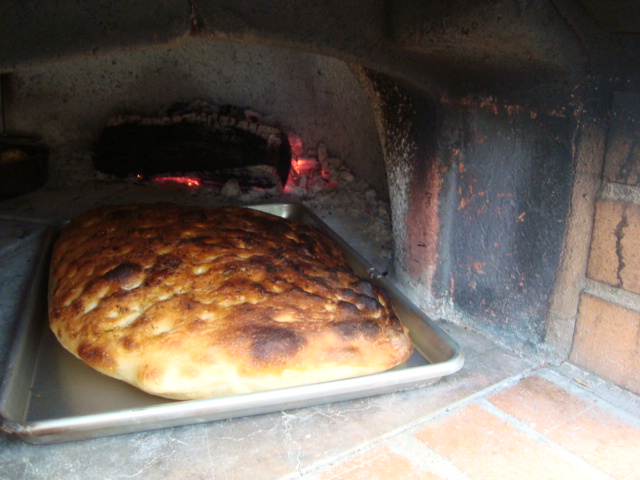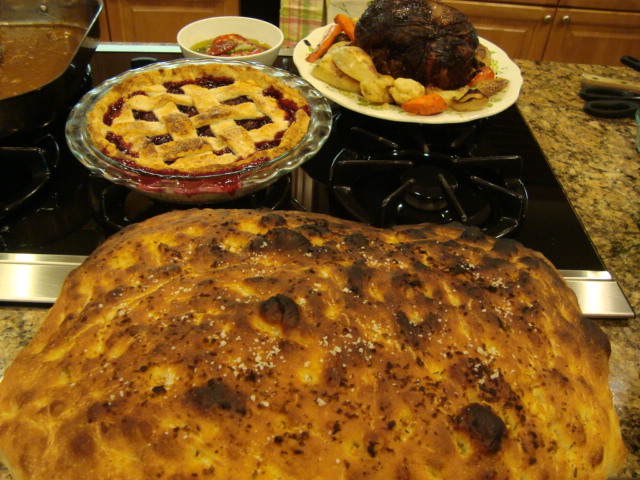 Happy Easter!
Sylvia