Kalamata olive-rosemary bread with cold cuts.
Last week I was getting ready for a short easter break when I realized I still had some kalamata olives, fresh rosemary and an opened pack with assorted italian cold cuts (salami, cured ham...) lying around in my fridge.  It was all a bit too much to eat in one go so I decided to try my hand at a foccaccia-inspired bread that would incorporate all these ingredients.
The result was surprisingly tasty; I didn't have high hopes -especially because I wasn't working from a recipe- but it turned out really well and very tasty.
Preparation and recipe:
a) Spread the fresh rosemary in a baking pan and put in a cool oven (I used 60 centigrade) with air circulation on for a couple of hours.  The rosemary has to be dry but keep temperatures low or you'll lose some of the flavourful organic compounds.
b) Place the cold cuts into an oven dish and put it under the grill until they start getting crispy/crumbly when cooled.  Use tissue paper to blot up the fat that comes out (optional).  Allow to cool and chop/crumble into pieces.  Roughly chop the kalamata olives.  Reserve.
Formula:
- 500 grams white bread flour.
- 300 grams water, room temperature (which in my case was 31 centigrade)
- 7 grams bread machine yeast
- 15 ml (1 TBSP) of fine quality olive oil
- 100 grams roughly chopped kalamata olives
- 100 grams pumpkin seeds
- 50 grams dried and crumbled/cut cold cuts
- 7 grams (1.5 tsp) of rosemary, ground to powder
- Couple of sprigs of dried rosemary to decorate the crust
* No salt was added as the olives and dried cured meats are already salty but this is a matter of individual taste.
Straightdough method.
Combine flour, yeast, water, olive oil and mix well until absorbtion.  Allow to rest for 10 minutes after initial mixing, then knead vigorously for another 10 minutes.
Bulk fermentation until the volume has doubled (in my case, with the generous quantity of yeast and the high ambient temperature this took 25 minutes)
Punch down/fold the dough and roll it out into a rectangle that's about 1.5 cm thick.  Spread the meat, powdered rosemary, pumpkin seeds and chopped olives on the dough, fold closed and give a short kneading to mix in everything.  The objective is to obtain an even distribution but don't knead too long or the olives will turn to mush. 
Shape into a batard /oval shape, roll through some dried rosemary leaves and place in a well-oiled pullman pan (2 liter). Brush on a slight coat of olive oil.  Preheat oven to 210 centigrade.
Bench rest until doubled in volume (in my case once again after a mere 20 minutes), put the lid on the pullman and insert into oven.  Total baking time was 45 minutes, after 25 minutes I removed the lid from the pan so the top crust could brown.  Remove from oven/pan and let cool on a rack.
The result: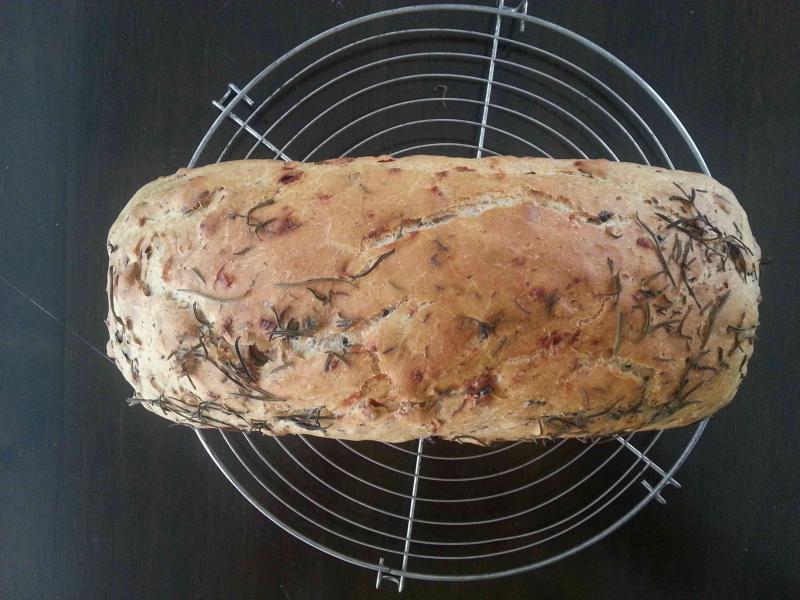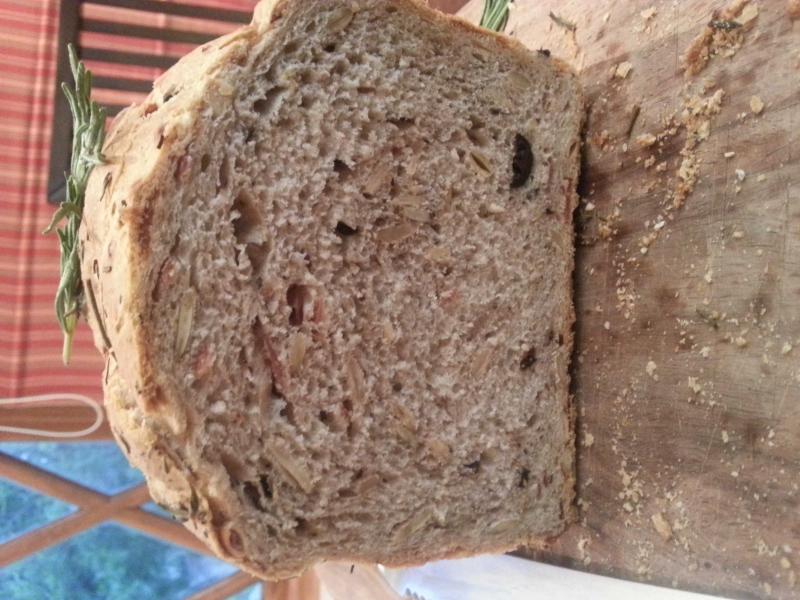 The crust was delicate but very crunchy and the taste and aroma delicious so while it was a hastily improvised experiment I'm quite pleased with it.  Did I mention it tasted fine also ;-)  Of course the quick rise times and absence of pre-ferment precludes any real taste development in the dough itself but in this case that's not an issue as taste was mainly a matter of the rosemary, olives and the meat.