Deli Rye and Spiced Meat Pie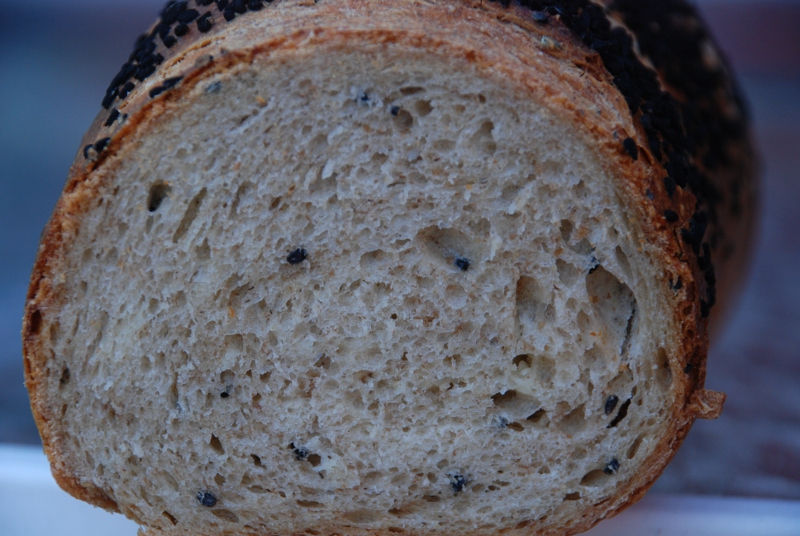 Deli Rye is a favorite of mine, but it's hard to come by well made and authentic versions of it.    Fortunately it was one of the four breads we made at the King Arthur Rye class.   Today, I made this bread with one change - charnushka instead of caraway.   A simple change but wow, what a difference in flavor.   Frankly I was testing the theory that my husband's claim not to like rye was really a dislike of caraway.   He loved this bread, so I guess I'm right.    This is a very mild 20% rye bread with no sour flavor whatsoever.    It has a very nice texture, and the charnushka is just a lovely complement to the rye.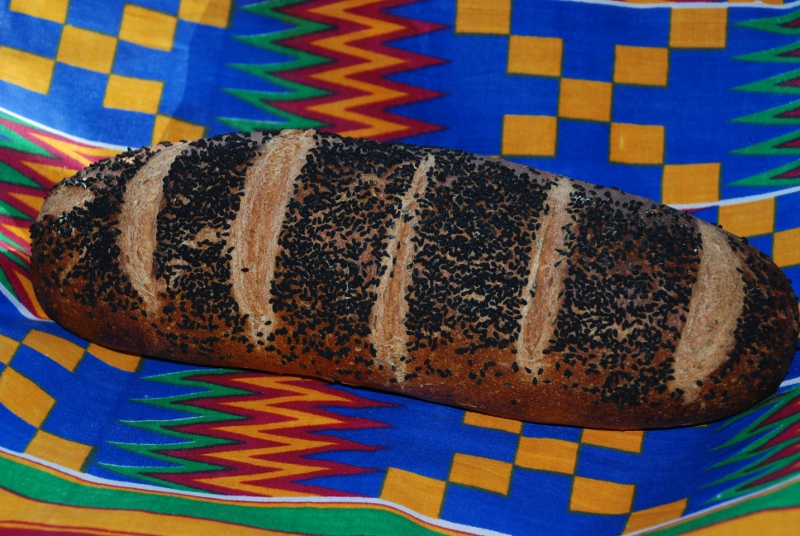 I continue to use the new steaming method recommended by PeterS and I think it makes a big improvement to the crust.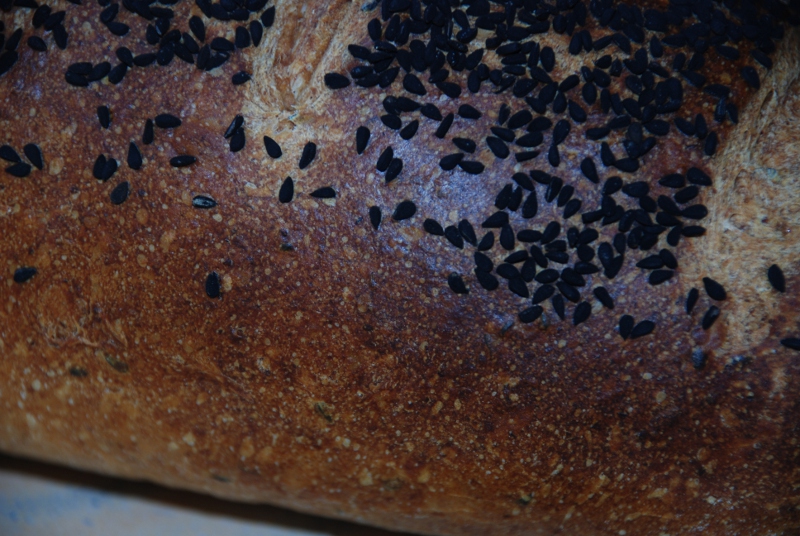 Altogether this is a bread I will want to make again and again.    And so ends my series on the King Arthur Rye Class.   Someone else will have to post on the quark bread.  
Formula and method:
3/16/2013
 
 
 
 
 
 
 
 
 
 
 
Rye sour
 
8:30 PM
 
 
 Total
Seed
50
 
 
 
 
Whole Rye
27
80
 
 
107
Water
23
65
 
 
88
 
 
 
 
 
195
 
 
 
 
 
 
3/17/2013
 
 
 
 
 
 
Final
Sour
Total
Percent
 
Whole Rye
0
97
97
20%
 
KAAP
384
 
384
80%
 
Water
256
79
335
70%
 
Salt
10
 
10
2.0%
 
Yeast
2
 
2
0.4%
 
Charnushka
6
 
6
1.2%
 
Sour
176
 
 
 
 
 
 
 
 
 
 
Rye Sour seed hydration
83%
 
 
Rye Sour hydration
 
82%
 
 
Starter factor
 
0.90
 
 
Total Flour
 
481
 
 
Total Whole Grain
 
20%
 
 
Total Dough
 
828
 
 
Percent prefermented flour
20%
 
 
Hydration
 
 
70%
 
 
Allow starter to ripen 16 hours after last build.   Mix all ingredients - consistency is somewhere in between a dough and a paste.   Bulk Ferment 1 hour.    Shape into stubby batard.   Coat with seeds.   Proof 50 minutes.   Slash crossways 5 times.   Bake 45 minutes at 450 with steam for 1st 5 minutes.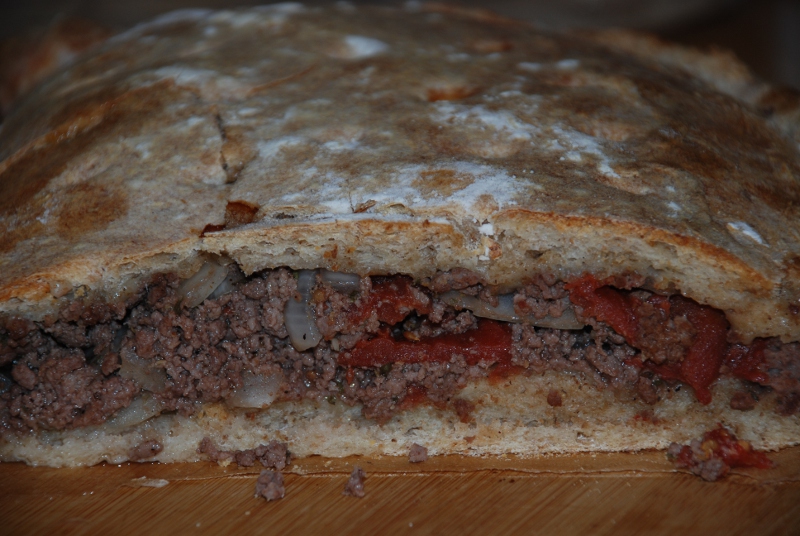 Now from the sublime to the ridiculous.    I have been experimenting with baking with the discard from my daily starter mixes.   I tried crackers - needs work.   Bread - total disaster.  Then I moved on to hot pockets.    First a cheese pocket.   Then a few changes and salami and cheese.   These were promising.    Today, I put together a spiced meat pie.   It came out really nicely.   For some reason the discard starter just works really well on this.    The bread is very sour, but the meat stands up to it so it all seems just right.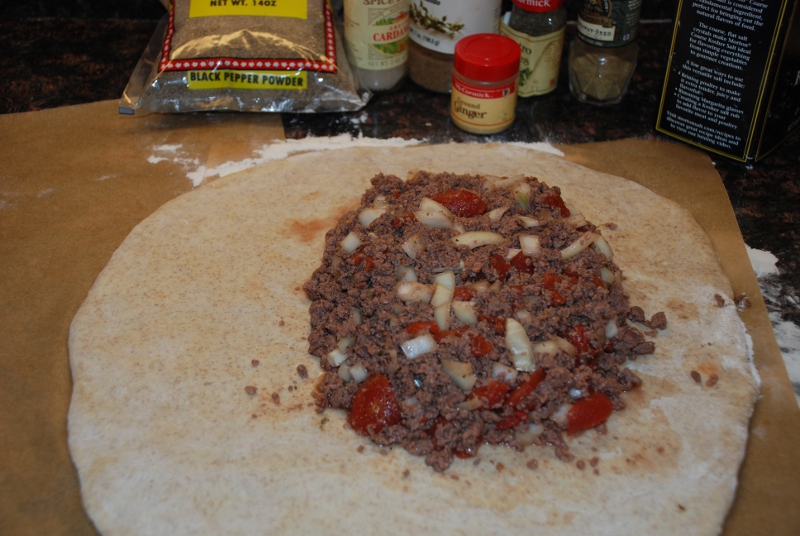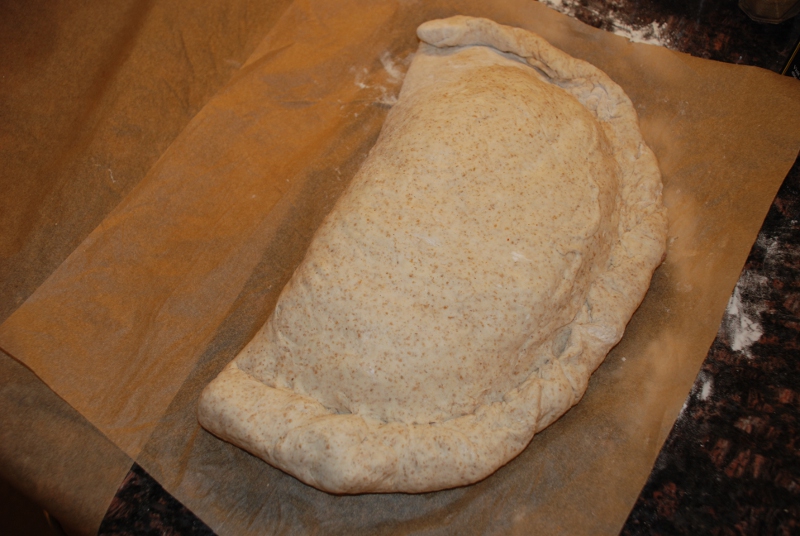 Bread:
Discard Starter (Rye and Wheat starters)    400g   (Rye is 83% hydration, wheat is 67% - together around 75%)
KAAP  300g
Water  200g
Salt   14g
(When I feed my starters twice per day, I put the discard into a lidded container in the refrigerator.   This starter is the product of the last week or so.)
Mix all ingredients until blended and fairly developed (just a few minutes)
Bulk Ferment on counter 3 hours.   
Brown 1 lb ground beef in pan and remove some of the fat.    Do not cook thoroughly.   Mix in chopped onions, italian plum tomatoes (canned around  6 of them without much of the juice) and spice with cumin, cardamon, coriander, ginger, black pepper, cayenne, cilantro, salt.)   Press out dough onto parchment paper on counter until fairly thin (1/4 inch.)  Proof covered around 45 minutes.    Place filling on one side of the dough, fold over and press the edges tight.   Refrigerate until 1 hour before dinner.   Pierce with knife all over.  Bake at 400F with steam for first 5 minutes for around 55 minutes.   Serve.  
Not bad.   Should have used more spices, and sauteed the onion with the meat.    Even though I tried to keep the liquid down, it still got pretty wet and some of it leaked out.