This is an Irish bread very similar to an Irish Soda bread, except an authentic Irish Soda bread only has flour, buttermilk, salt and baking soda in it's ingredients.  
Since I have 'Sylvia's Irish Soda Bread' recipe on my blog.  I wanted to add the Irish Buttermilk Bannock as well.  Here it is a very traditional type bannock, which includes raisins or currants and eggs.  Quick, easy and tasty to whip up to enjoy at teatime or anytime.
Irish Buttermilk Bannock
Pre-heat Oven 350F
4 Cups of All Purpose Flour -  125 gms. = l cup AP Flour  - You can use a little less or more.  
3 tsp. Baking Powder - Fresh
1 tsp. Salt
3/4 tsp. Baking Soda
1 Cup  Currants or Raisins  -  I used golden and dark raisins - fresh and moist
2 Large Eggs
1 1/2 Cups Buttermilk - 1 Cup Buttermilk = 240 grm - 8.5 oz - I used 390 gms and little extra flour
In a deep bowl.  Sift or wisk together your dry ingredients and mix in the raisins.
Mix the 2 Eggs into your Buttermilk.  A large measuring cup comes in very handy.
Make a well in the dry ingredients.
Pour in the buttermilk and egg mixture
Quickly and gently blend until the mixture is moistened and comes just together.
Scrape the mixture out onto a well floured surface.
With floured hands.  Press gently together and give it a very gently kneading...I do about 3, while shaping into a disk.
Shape into about 2-3 inches high disk and place into one lightly greased pie pan.
With a large kitchen knife.  Cut a cross down as far on the sides as you can go.
Bake about 1 hour and a quarter.  Until nice and browned and sounds hollow when tapped on the bottom.  Cool about 15 min. and remove from pan.
I enjoy a slice, while still slightly warm.  Very tasty with jam and butter, plain or toasted.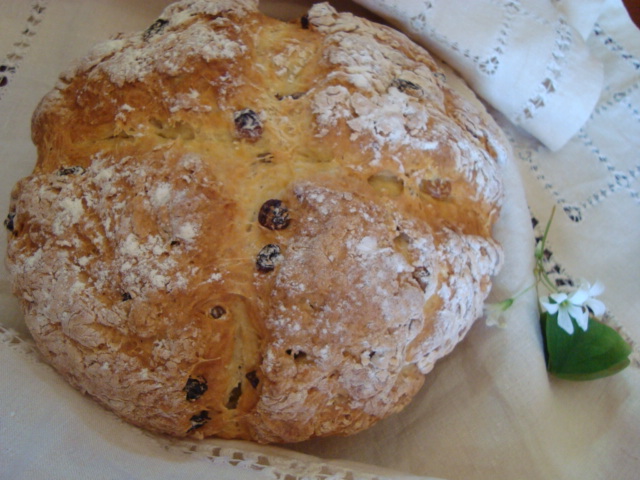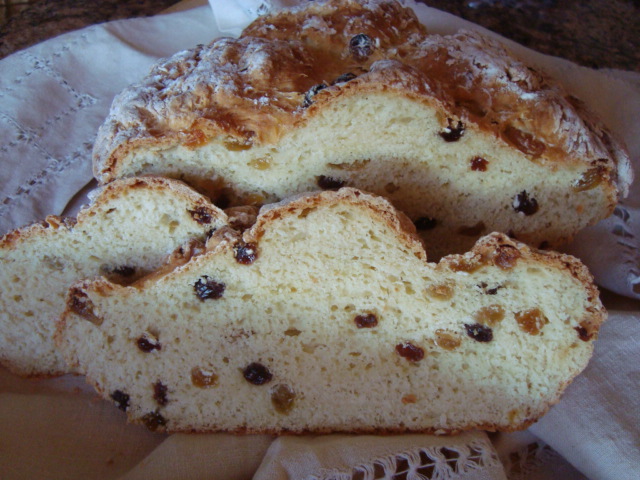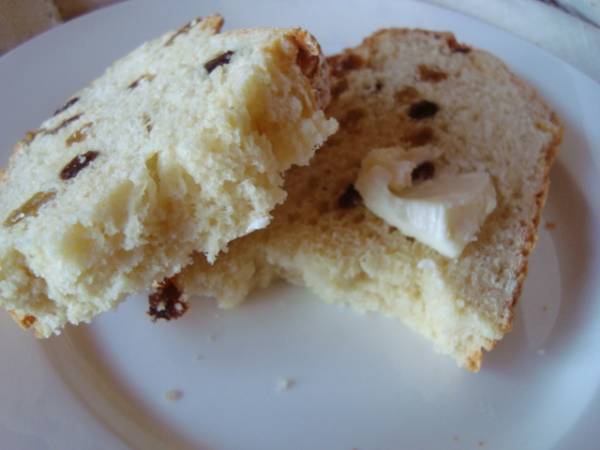 Happy St. Patrick's Day!
Sylvia