Whole Wheat-Spelt Sourdough
There are times when I stare at my pantry and decide to be creative and use leftover flours in bread, this is one of those times.
I had some Whole spelt flour, and Whole wheat flour, and therefore decided to use both in a 50% wholegrain sourdough hearth bread. I made up a formula that benefits from my ripe White liquid starter, here it is:
Preferment:
Bread Flour: 188 g
Water: 188 g
White Starter: 1.5 Tbl
Dough:
Whole Wheat Flour: 280 g
Whole Spelt Flour: 120 g
All Purpose Flour: 251 g
Bread Flour: 103 g
Water: 470 g
Salt: 1.25 Tbl
Total dough weight: 1600 g
Total Dough hydration: 75%
Wholegrain %: 42%
% of Prefermented flours: 20%
The dough was not kneaded, instead, folded in the bowl 4 times every 30 minutes. The bread fermented as expected, with 3 hours initial fermentation, and 2.5 hours final. I baked the bread on stone, with a another stone on a rack above. The dough was quite soft, but behaved nicely after the third fold.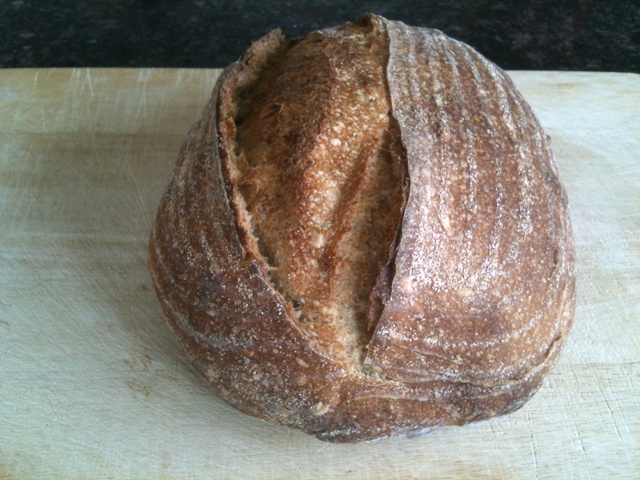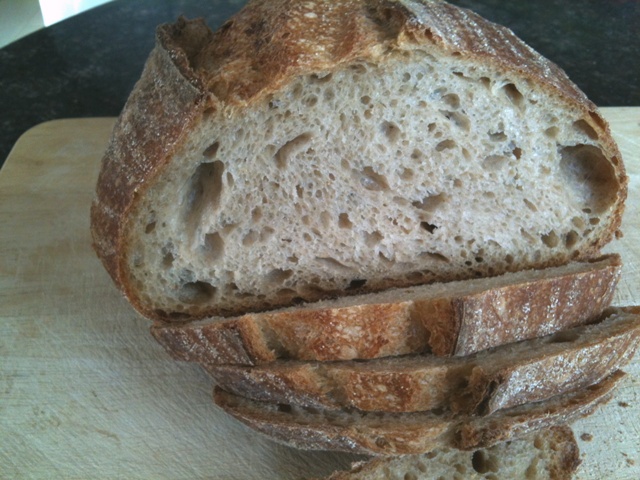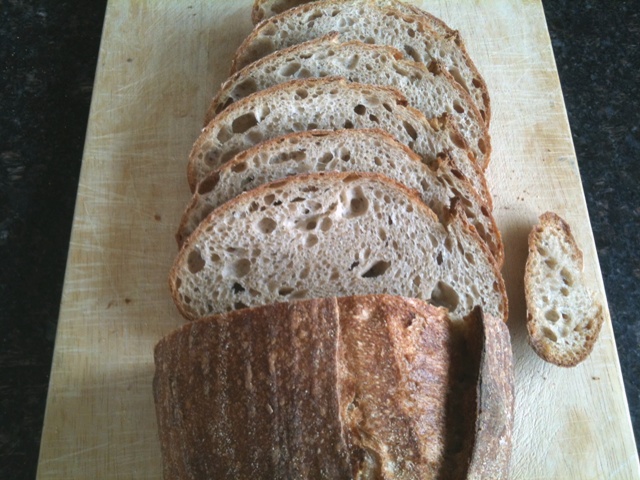 The flavor of this bread is clean, yet isn't sweet-sour as i prefer, and is somewhat bland. The crust was chewy, and crumb moist and tender. In retrospect, I believe that with 42% wholegrain flours, I should have used a levain that contains some wholegrains. The bread was also baked on the same day, and not retarded.  DA, and Ian.. and many others here have come up with lovely tasting formulas because they utilize the wholegrain flours in their levain, thereby enhancing the finished product's flavor. They also retard their doughs, while I'm unable to do so due to timing constrains. The flavor would have been better enhanced if I had used my white levain with a high proportion white flour, but I can't resist adding more wholesome flours. This explains a lot, as Hamelman's wholewheat levain (50% wholewheat) recipe calls for a wholewheat levain NOT white.
Therefore, from now onwards, I'll add wholegrain flours to my levain for high Wholegrain doughs.