February 25, 2013 - 2:15pm
Japanese Rice Ball (Onigiri) Yeast Water Boule
Several days ago I paid a visit to my friend, a German chef / food and beverage manager of a local restaurant. I sought constructive criticsm and wanted his honest opinion regarding my loaf; I'm referring to the Cumin Walnut Cheese Rye Sourdough Bread.
Upon meeting him, I unexpectedly met a group of his friends---a food and beverage (F&B) consultant, an Austrian chef / baker, and an Indian chef.
Offering them a sample of my bread loaf, the following were the essence of their critiques:
The F&B consultant: "It's a failure."
The German chef: "It's not that bad."
The Austrian chef / baker: "It's shit."
The Indian chef: "Not bad."
Amongst them, the feedback given by the F&B consultant was the most detrimental. He meticulously picked apart my loaf, criticizing every little detail, and... It felt as if a hot rod was plunged into my heart, jerking violently with each word spoken. As I sat rock-still on my chair, I did my best to maintain eye contact, fixating a superficial smile across my face.
Amongst them, the most insightful and helpful feedback was given by the F&B consultant.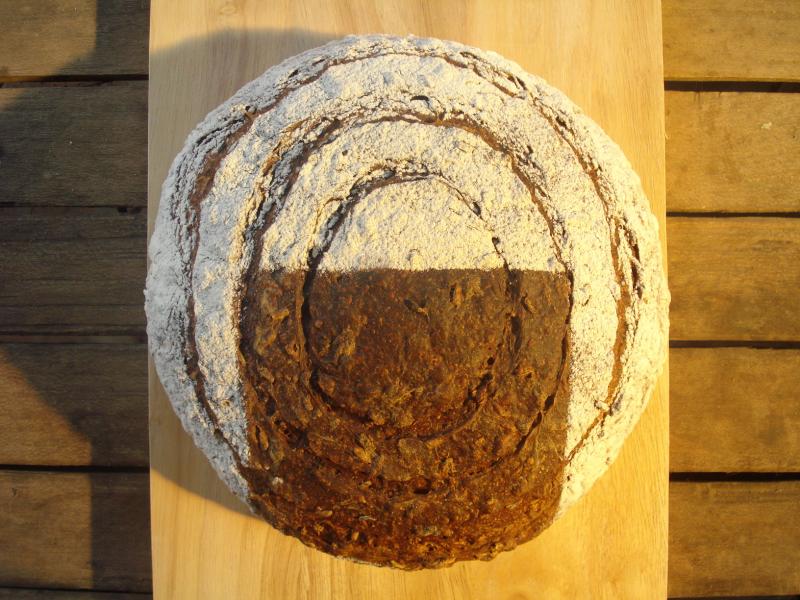 After the aforementioned incident, I thought long and hard about my progress as a baker, pacing back and forth in my bedroom in the midst of the night. However, in the end, I was left with one conclusion: "I'll do better."
Without further digression, I proudly present to you my yeast water boule (above), inspired by the Japanese rice ball (i.e., onigiri). With exception to a few references, the recipe was devised on my own---a first in my undertaking as an amateur homebaker.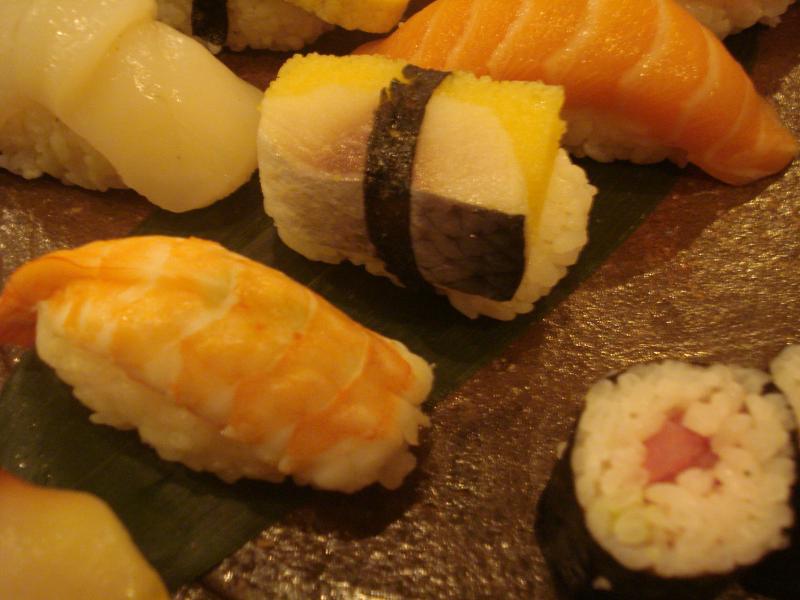 Days prior to baking the yeast water boule, I booked a reservation at a reputable and popularized Japanese restaurant in town (highly recommended by the F&B consultant, I discovered). Possessing little to no familiarity with Japanese cuisine, I felt it was necessary to test a few of their dishes before rendering their food into a crusty bread loaf.
Having done research beforehand, at the restaurant I ordered the tamagoyaki for the appetizer, a platter of nigirizushi (pictured above) for the first course, mazizushi for the second course, and red bean soup (i.e., zenzai) for the dessert.
Overall, I was given the impression that Japanese food was about the balance of delicate to mild flavours, using simpler, fresher ingredients, with their main dishes leaning towards saltiness.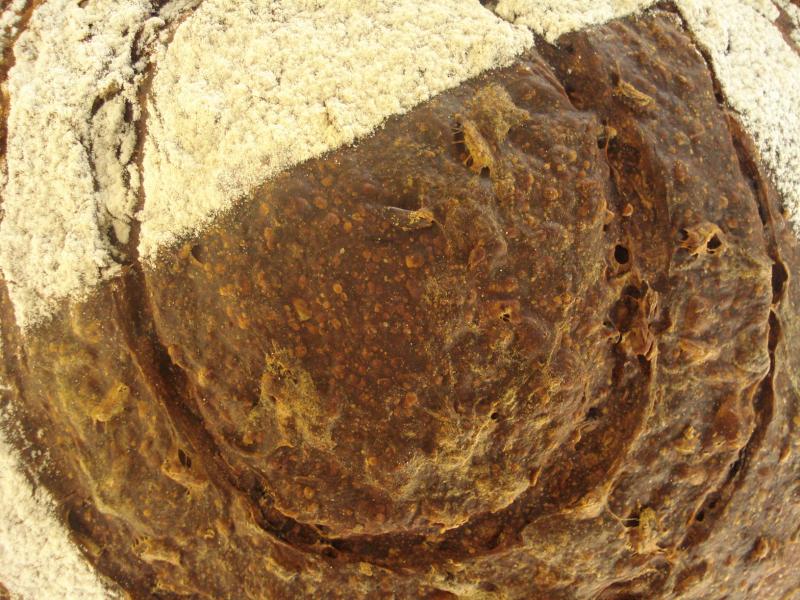 Now grasping a vague sense of "Japanese flavours", I selected the following ingredients for the yeast water boule:

Unbleached all-purpose flour, Type 55 French flour, Partially steamed brown rice, Yeast water starter, Mineral water, Japanese soy sauce (Shoyu), Honey, Toasted sesame seeds, Roasted seaweed (Nori), Bonito flakes (Katsuobushi), Sea salt, and Extra virgin olive oil.
Note: Nearly on a whim, I purchased two different brands of nori for comparison. And what did I learn? One nori was much more flavoursome than the other. Thus, not all similar products are created equally.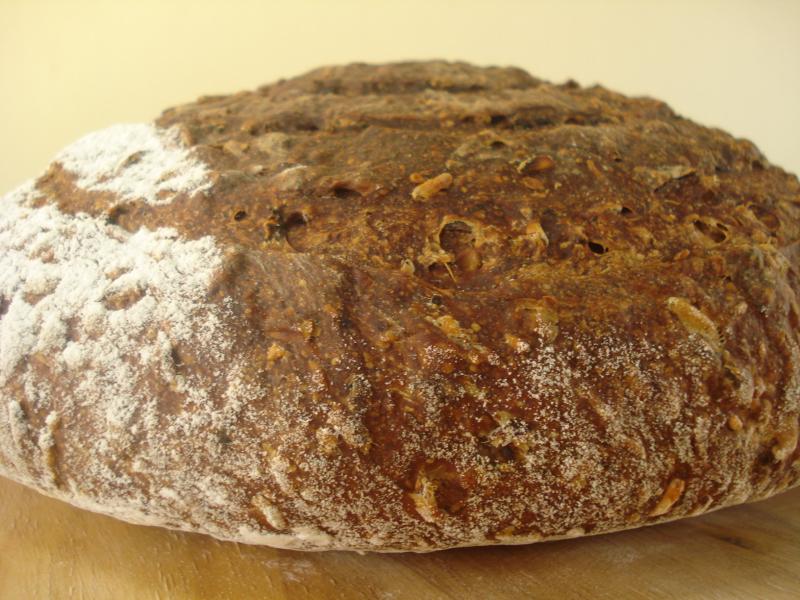 Originally, I intended to shape the dough into a triangle but found it too awkward. The dough kept molding itself into a ball and I took that as a strong indication that the dough was unhappy.
Boule it is, then!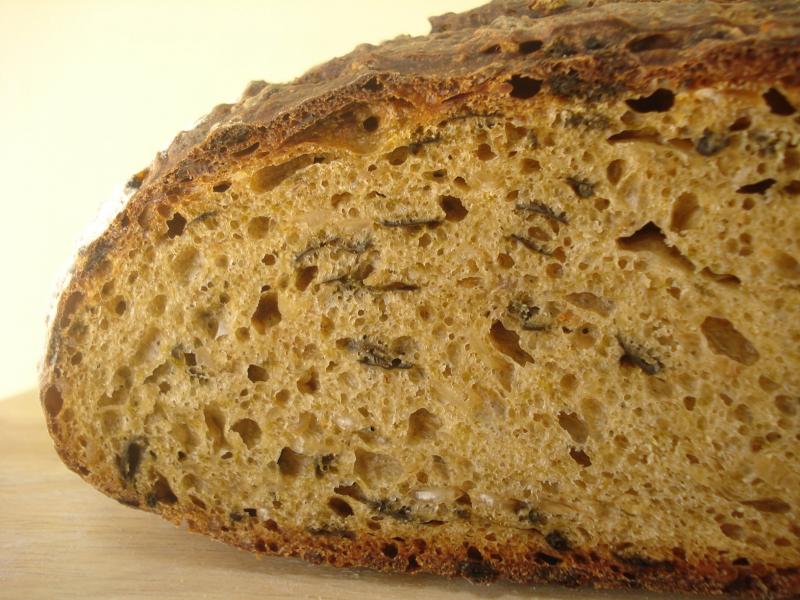 Truth be told, the boule tasted awful---too many unbalanced flavours, with bitterness being the most dominent. (Burnt rice grains were to blame.)
Should I be upset? Nahh, first attempts are rarely successful attempts. It was an experiment after all. On the positive side, the boule resembled a Japanese rice ball, which was one of my primary goals for the loaf.
Before I end this post, I'd like to mention something rather personal, baking-wise:
In the past I had followed the baker's creed of "extracting flavours from the grain to the best of my capability". But as time progressed, I noticed my baking style was becoming more distinctive: 1) I prefer using "natural" or non-artifical ingredients; 2) I concentrate on the aesthetics of the bread, just as much as the flavour; 3) I enjoy incorporating unusual ingredients into the dough.
My dear TFLers, I now abide to new bread baking creed, perhaps one that you may disagree with.
My responsibility as a bread baker is to use flour as the medium. All other ingredients are flavouring components (some with critical functional properties) and must be combined in such a way that is balanced and pleasurable to the palate.
Thanks for reading, all. Farewell and have a happy baking. :)

Zita