February 16, 2013 - 3:01pm
Golden Boule - Experiment with Long Ferment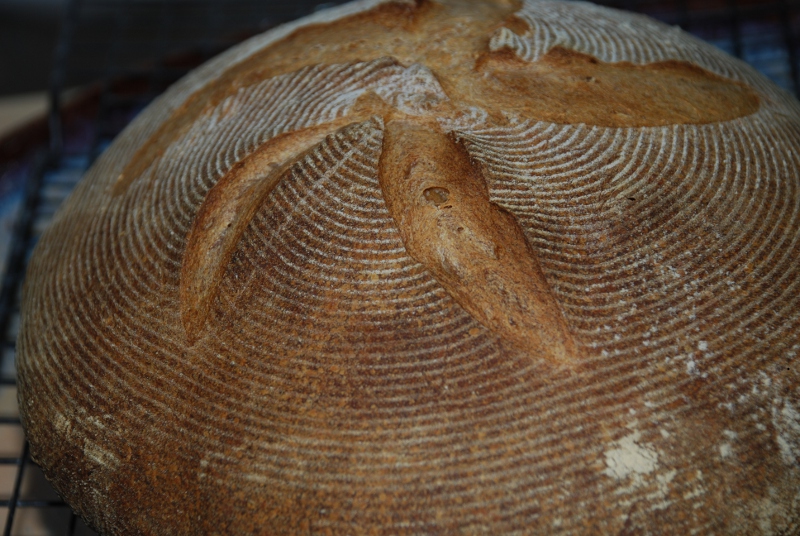 Last week, I had to go out during a bake, and didn't expect to get back in time for shaping.   Usually I would have placed the dough in the refrigerator to suspend operations during my absence, but in the spirit of experimentation, I decided to leave it on the counter in a 70degF kitchen.    When I got back the dough was very soft and bubbly, and I was afraid overfermented, so I shaped (not that easy given how full of gas it was) and proofed but cut the proof short (45 minutes) as I was worried about losing the whole bake.    Long story a little shorter, I underproofed it significantly and got an exploding loaf.    But an exploding loaf with a boatload of flavor.    Today I decided to retrace these steps, but with a normal proof.   I observed two differences between today's loaf and last week's.    One is today's loaf expanded normally in the oven, and two, the crumb isn't nearly as open.   Same rich flavor though.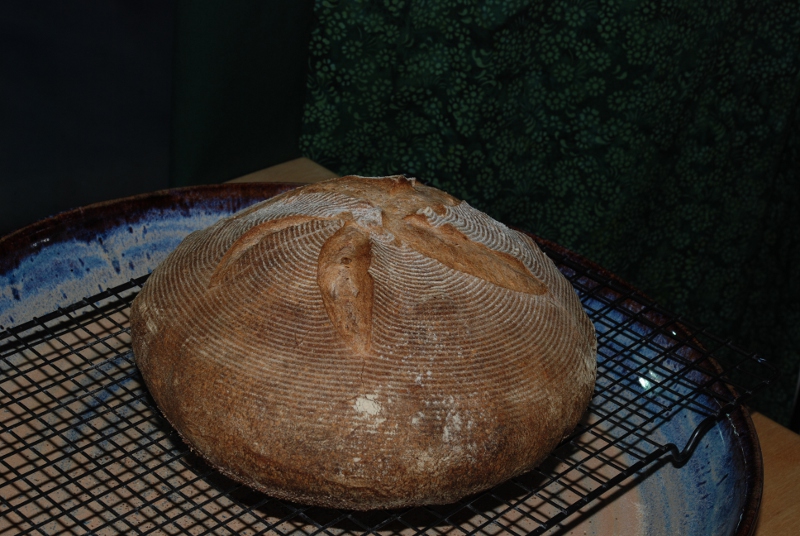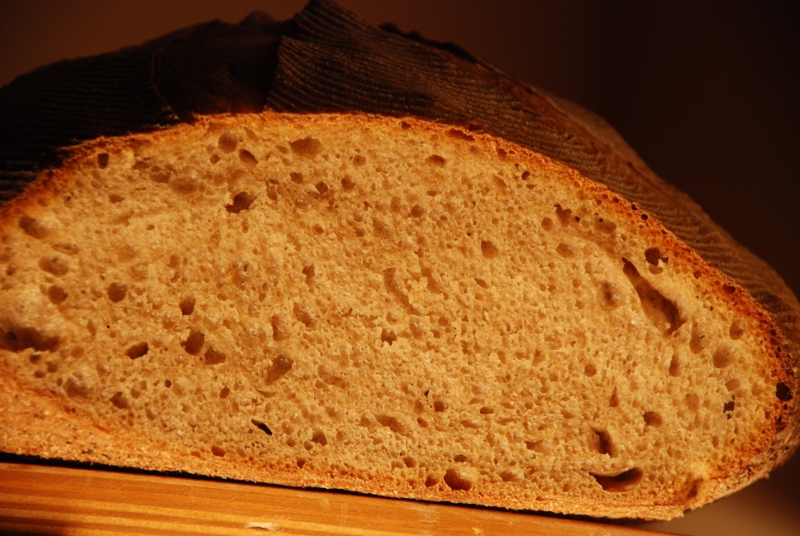 And now, the real reason I wanted to post:
I love this bowl.   It was a poor unwanted reject at the Kohl's housewares sale.   It has a crack in the bottom.    I never grabbed anything off the shelf so fast.    Perfect.   Just perfect.
But back to bread.
Formula and method:
 
 

1st feed

2nd feed

Mix

 

2/15/2013

 

4:15 PM

10:00 PM

9:30 AM

 

Seed

41

 
 
 
 

KAAP

23

75

96

194

95%

Whole Rye

1

5

4

10

5%

Water

17

55

68

140

68%

 
 
 
 

344

8.4

2/16/2013

Final

Starter

Total

Percent

 

KAAP

200

141

341

57%

 

Whole Rye

 

8

8

1%

 

Golden*

250

 

250

42%

 

Water

300

101

401

67%

 

Salt

12

 

12

2.0%

 

Starter

250

 
 
 
 
 

0.73

 

1012

 
 
 
 
 
 
 
 

Autolyse flour and water for 45 minutes

 
 

Add salt and starter and mix until smooth and supple

(Speed 1 around 10 minutes)

 
 
 

BF 45 minutes

 
 
 
 

S&F

 
 
 
 
 

BF 3 hours

 
 
 
 
 

Shape into boule and place in bowl

 
 

Proof until soft but still a bit springy

 
 

Bake at 450F with steam for 20 minutes

 
 

without for 22

 
 
 
 
 * See this post for description