February 10, 2013 - 2:56pm
Hi All
I am new to bread making so am very much at the experimentation stage.
Until recently I only made bread by keeping a little of the dough from one batch to use in the next which certainly improved my bread making it softer and better tasting but as I said I am new to all this and one day when I forgot to keep a little back I decided to try making a little starter of my own.
Having read lots of posts on here and elsewhere about starters I chose one of the methods  and mixed equal amounts of bread flour and warm de-chlorinated water mixed with 10g Clementine juice (couldn't find an orange) and left it in a pot for 12 hours.  At that point I repeated the process and mixed the two sticky mixes together.  From then on I have been mixing 100g starter with 100g flour (Plain or strong white)  and 100g warm water and this is what it produces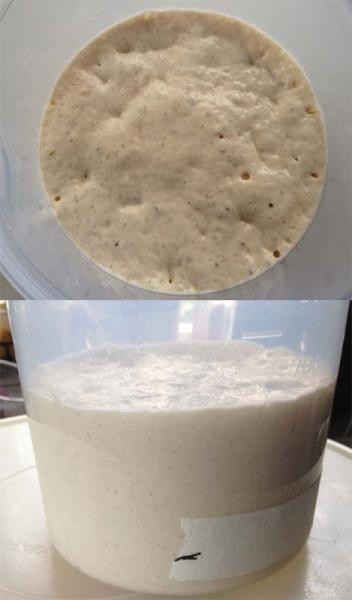 The line on the tape shows where it was when I finished feeding it and as you can see it rises way beyond double and it looks fine, all nice and bubbly with no sign of mold or anything but I have never done this before so I am really not sure if it smells right as it seems very sour to me. 
Is that normal or am I doing it all wrong?
I am now at day 4 and seem to be starting quite a collection.  Is there any way I can use the spares as it seems such a waste to simply throw it away but pretty soon I will have a kitchen full of starter pots.
Could I perhaps refrigerate some of the spares to slow things down so I can revive  them if number 1 dies?
Many thanks