February 8, 2013 - 3:58am
One of our favorite bakes is an Old Fashioned Dundee cake.
@@@@@@@@@@@@@@@@@@@@@@@@@@@@@@@@@@@@@@@@@@@@@@@@
Dundee cake
Ingredients
175g/6oz softened butter, plus extra for greasing
175g/6oz soft light brown sugar
3 tbsp orange marmalade
3 free-range eggs, beaten
225g/8oz self-raising flour
25g/.9oz ground almonds
1 heaped tsp ground mixed spice
400g/14oz mixed dried fruit
75g/3oz glace cherries, halved
2 tbsp whisky or milk
40g/1½oz blanched almonds to decorate
1 tsp granulated or caster sugar, to decorate (optional)
Preparation method
Preheat the oven to 150C/300F/Gas 2. Grease and double-line a 20cm/8in loose-based deep cake tin with greaseproof paper.
Beat the butter and sugar in a food processor for 3-4 minutes, or until very light and fluffy.
Add the marmalade and mix for a few seconds more. Slowly add the eggs, one at a time, beating well after each addition.
Add the flour, almonds and spices to the batter. Mix slowly until well combined, then stir in the mixed dried fruit and cherries with a large metal spoon. Add the whisky or milk and mix until well combined.
Spoon the mixture into the cake tin, smooth the surface and carefully arrange the blanched almonds in circles on top.
Bake for 1½-2 hours, or until well risen, firm and golden-brown. (Test the cake by inserting a skewer into the centre. If the skewer comes out clean, the cake is done.)
Leave the cake to cool for 10 minutes then remove from the tin, peel off the lining paper and set aside to cool on a wire rack. Sprinkle with granulated sugar. Store in a cake tin and eat within 4-5 days.
@@@@@@@@@@@@@@@@@@@@@@@@@@@@@@@@@@@@@@@@@@@@@@@@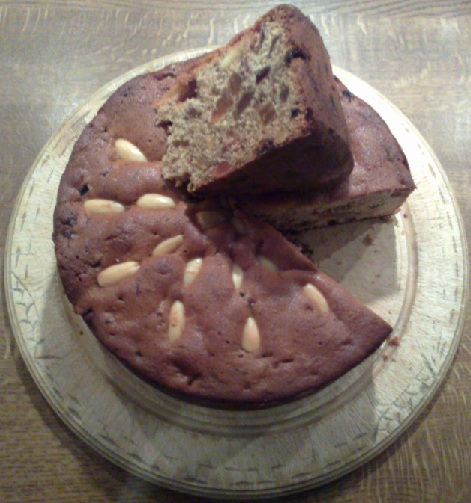 my wife guards it - you have to be royalty to get a slice.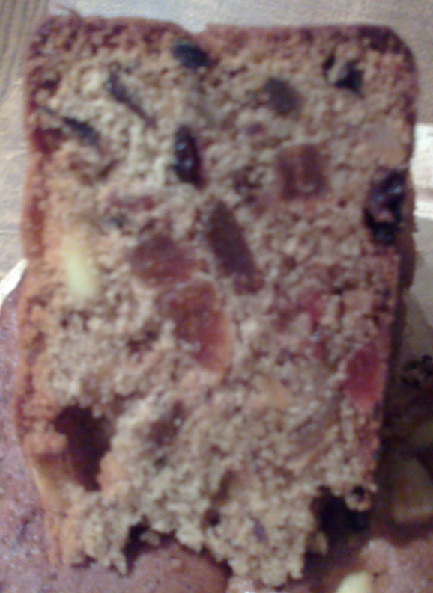 with a cup of Tea or Coffee it goes down a treat.
i have to say i soak the fruit and mixed spice with either dark rum or whisky for two days.
this allows the fruit to soften and it avoids those teeth breaking hard bites of dried fruit.
its also a good way of using up things like dried apricots that are too dry to eat raw.
that's my excuse and i am sticking to it.
Happy Baking.
John