February 8, 2013 - 12:14am
Dried black mission figs, dried white USA figs, turkish dried brown figs, fresh turkish figs and fresh Japanese figs..
In the history of foods the fig is one of the earliest fruits to be desiccated and stored by men.  Sumerian civilization, Phoenicians, Ancient Greeks and old Chinese promoted fig culture and gave it sky-scraping fame. In China it has been grown since one thousand years back. Ancient Greeks offered figs to each other as precious gifts. Greek players used it to increase their potency and muscles.  

 Antediluvian king of Pontus Mithridates had ordered his citizens to use figs everyday to keep them away from diseases. It is said that in ancient Rome and Greek, farmers and slaves were given figs on a daily basis to increase their working capabilities. 

The fruit have both nutritional and medicinal values therefore it is regarded as functional food. It has property of keeping people physically and mentally strong. Dry fig has nutrition values more than its fresh variety. Protein, carbohydrates, calcium, thiamin, riboflavin, potassium, iron and high amount of fibers are its main constituents. It contains second highest amount of calcium after Oranges.  The major section has sugar which forms 51 to 70 %of the whole fruit.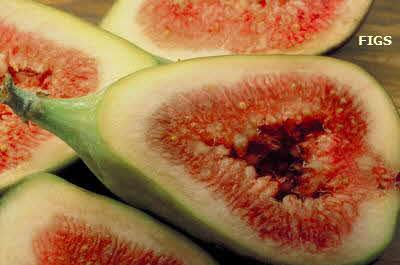 Beauticians recommend it for beautification and personal care. Eating figs prevent cracking of lips and premature wrinkles. It puts off bad breath. The milky juice of green fig has necrotic property and can be applied to soften the thickening of skin of toe (Corn). Its sodium-free, cholesterol free, fat free and high fiber properties make it ideal food for dieters.  For those who are planning to quit smoking, figs can be an alternative. For long time it has been used to treat skin pigmentation, warts, mole and blisters. It is used as a medical dressing which applied on infectious skin to get rid of abscess. Its sugary pulp is ideal for making sweetener for dieters. 
 
Softening and soothing effects of figs provide relief from respiratory tract inflammation, cough, colds and aching throats. In folk medicine it is used as a demulcent for the irritation of soft skin tissues. Due to anti-bacterial properties it can inhibit bacterial growth.

For chefs and bakery product makers fig is a favorite ingredient for making of deserts, jams, jelly, cakes, pies etc. Adding figs to food products enhance both their taste and dietetic values. Presence of a substance known as humectants makes figs useful to keep the bakery products fresh and moist for long time. 

In south East Asia, Anjeer and Guava blended, together to make a healthy and refreshing fruit drink. In Mediterranean countries its extract is added in alcohol and tobacco. Dry roasted figs are pressed and grounded to use as alternative to coffee. In America fig puree is part of many sweet recipes.  Combination of figs and milk ensure sufficient supply of proteins, calcium and iron.  

In western countries green figs are available in can and tin and added to yogurt and cream to make deserts.

Figs are rich source of soluble and insoluble dietary fibers. Soluble fibers help to lower blood cholesterol while insoluble fibers prevent breast and colon cancer and heart attack.
in my case, this is how i enjoy fresh and dried figs...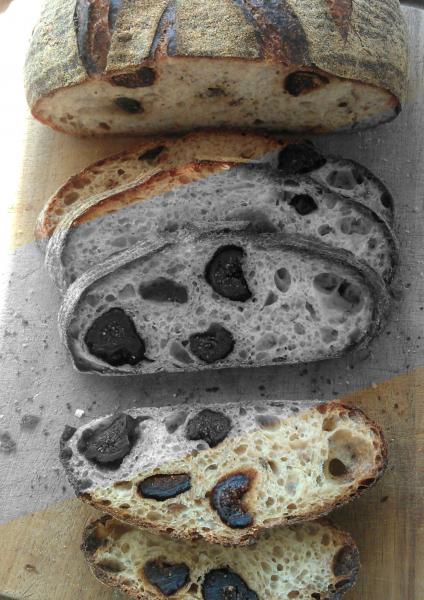 Black mission figs in country boule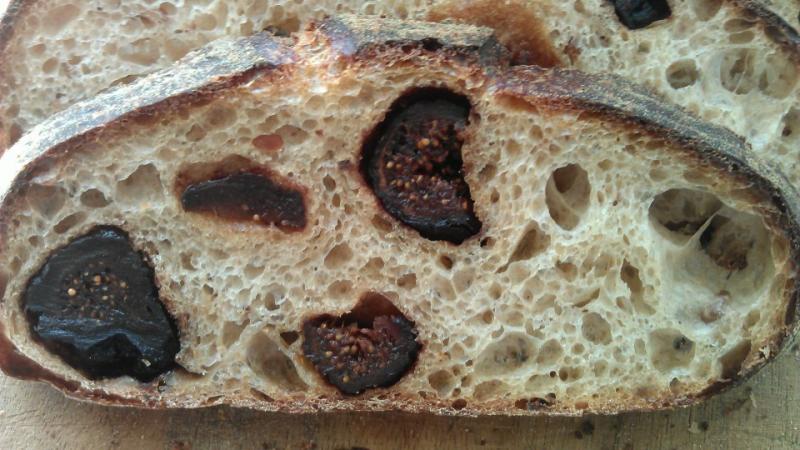 black and white..in flaxseeds sourdough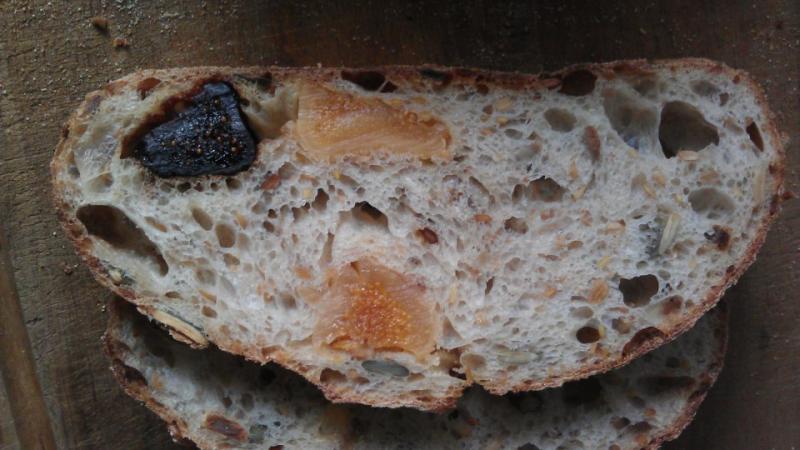 fresh turkish figs on toasted sourdough bread with walnuts and swiss chard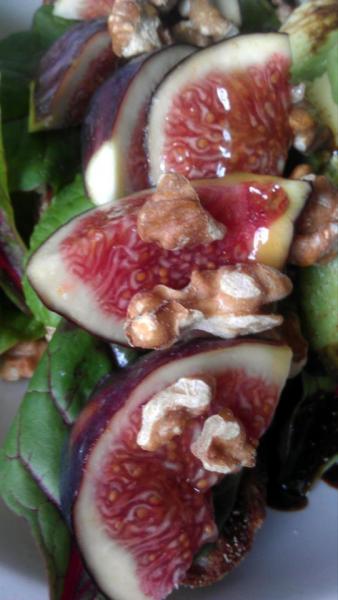 Japanese fresh figs on toasted sourdough bread with grilled gorgonzola and smoke salmon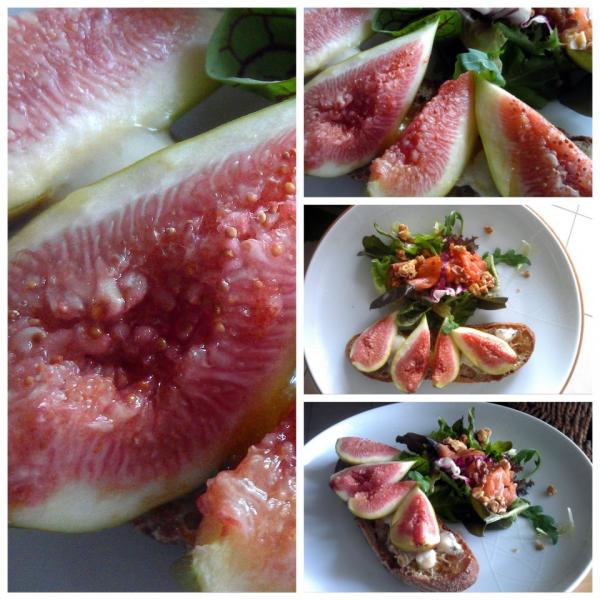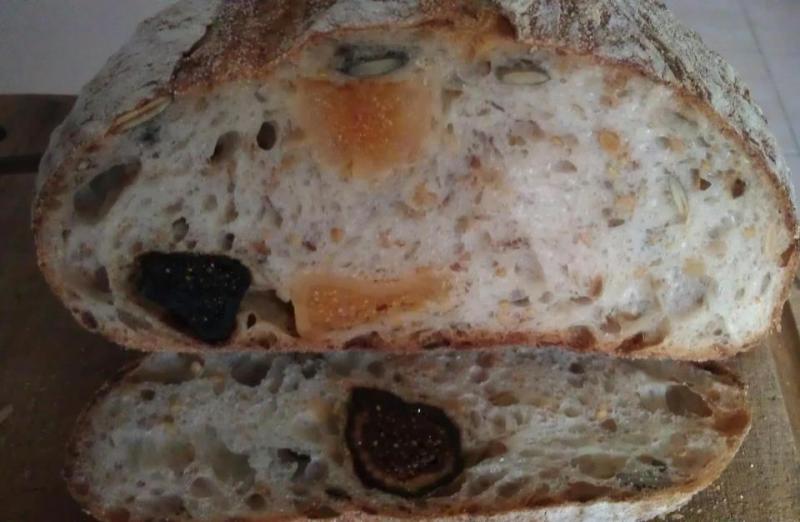 Health benefits of figs
Fig fruit is low in calories. 100 g fresh fruits provide only 74 calories. However, they contain health benefiting soluble dietary fiber, minerals, vitamins, and pigment anti-oxidants that contribute immensely for optimum health and wellness.

Dried figs are an excellent source of minerals, vitamins and anti-oxidants. In fact, dried fruits are concentrated sources of energy. 100 g dried figs provide 249 calories. 

Fresh figs, especially black mission, are good in poly-phenolic flavonoid anti-oxidants such ascarotenes, lutein, tannins, chlorogenic acid...etc. Their anti-oxidant value is comparable to that ofapples at 3200 umol/100 g.

In addition, fresh fruits contain adequate levels of some of the anti-oxidant vitamins such as vitamin A, E, and K. Altogether these phyto-chemical compounds in fig fruit help scavenge harmful oxygen derived free radicals from the body and thereby protect us from cancers, diabetes, degenerative diseases and infections.

Furthermore, research studies suggest that chlorogenic acid in these berries help lower blood sugar levels and control blood-glucose levels in type-II diabetes mellitus (Adult onset) condition.

Fresh as well as dried figs contain good levels of B-complex group of vitamins such as niacin, pyridoxine, folates, and pantothenic acid. These vitamins function as co-factors for metabolism of carbohydrates, proteins, and fats.

Dried figs are excellent source minerals like calcium, copper, potassium, manganese, iron, selenium and zinc. 100 g of dried figs contain 640 mg of potassium, 162 mg of calcium, 2.03 mg of iron and 232 mg of potassium. Potassium is an important component of cell and body fluids that helps controlling heart rate and blood pressure. Copper is required in the production of red blood cells. Iron is required for red blood cell formation as well for cellular oxidation.
enjoy... a fig a day keep the doctor away too :)
evonlim