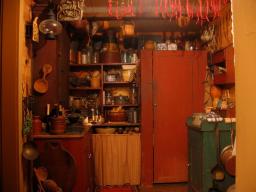 I'd be happy to give the recipe for this pizza. I did bake it on the sheet pan shown. The pan is oiled lightly. The pizza never sticks and it browns beautifully on the bottom. It put the pan right on my stone to bake.
2 CUPS LUKEWARM WATER
2 tsp. INSTANT YEAST
4 CUPS UNBLEACHED FLOUR
2 - 3 tsp. SALT
1 TBLS. SUGAR (OPTIONAL)
Mix yeast, 2 cups of the flour, salt and sugar. Add water. Mix briskly about 2 min. Add remaining 2 cups of flour and stir for another 2 minutes. The dough will be fairly wet and tacky but when it pulls away from the sides of the bowl and forms a loose ball, you know it's been stirred enough. If it seems too sticky add another 1/4 - 1/2 cup flour.
If you're going to make pizza the same day, cover bowl and let rest 30 - 40 min. I put ex.virgin olive oil on the 13" x 18" sheet pan. Preheat the oven to 500º. When dough is ready I turn it out right onto the pan, divide it in two and using oiled fingers I spread them out to fill the pan leaving a space to separate them. If the dough fights you just give it a couple min. rest but it usually takes just a quick shaping. I use my fingers to make deep indentations all over dough. I top it like any pizza with sauce, cheese etc. or to make Focaccia I lightly oil it with ex. virgin o. oil and sprinkle on chopped fresh rosemary and sea salt. No need to let it rise unless you want a thicker crust. Just give it 10 or 15 min. rise for the thicker crust. Put pan in oven. I put the pan right on the baking stone, second shelf from bottom. TURN HEAT DOWN TO 450º, bake 15 to 20 min. till nice and golden brown on edges and topping is cooked.
If you don't want to make pizza or focaccia the same day, refrigerate overnight or freeze the dough.
This recipe makes the BEST Focaccia. The recipe is so easy, comes together so well and is very forgiving. It's always cooked through with no raw dough anywhere. Hope you give it a try. I'll cook up a couple of more things I do with this dough and post some photos. Enjoy