February 1, 2013 - 4:40pm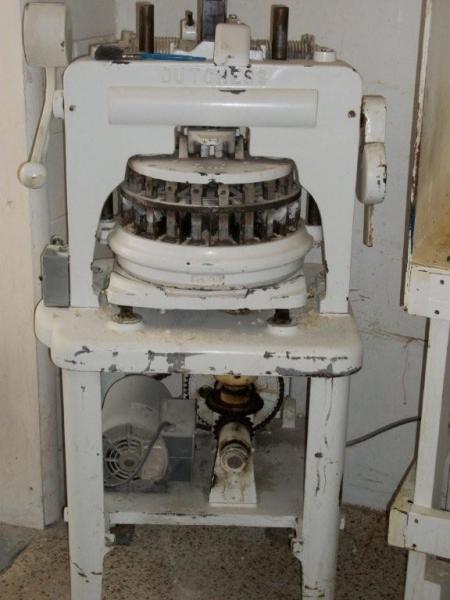 Well here I go again with a winter project.  Buy an old piece of bakery equipment (cheap) then clean and fix it up.
This is a Dutchess Model RR-36 Combination Roll Divider/Rounder I'm thinking about 25 years old.  This picture makes it look small-ish in fact this is the picture he sent me to show me the machine.   SO NOT TRUE!!!  It is nothing but heavy cast iron and lots of steel.  After I bought it I discovered it's estimated weight is 900 lbs.  ( good thing I own heavy equipment to move it)
It has been sitting in my kitchen for a number of months and life only allowed a quick glance at it now and then.
Today I decided to start this thing. It was cold, snowy, wind blowing outside so what's better then a nice indoor project.
I decided to start with the head and dismantle it then clean and put back together.  This is the part that squishes the dough to spread it out in the ring then the cutters chomp down and cut the dough into equal portions.  Then flip a switch and it makes the cut portions round.  So this part gets quite intimate with the dough.
Now this was being used by a bagel shop when I bought it.  They sold the bagels to the public (you and me) this is what I found when I removed the center pressing section.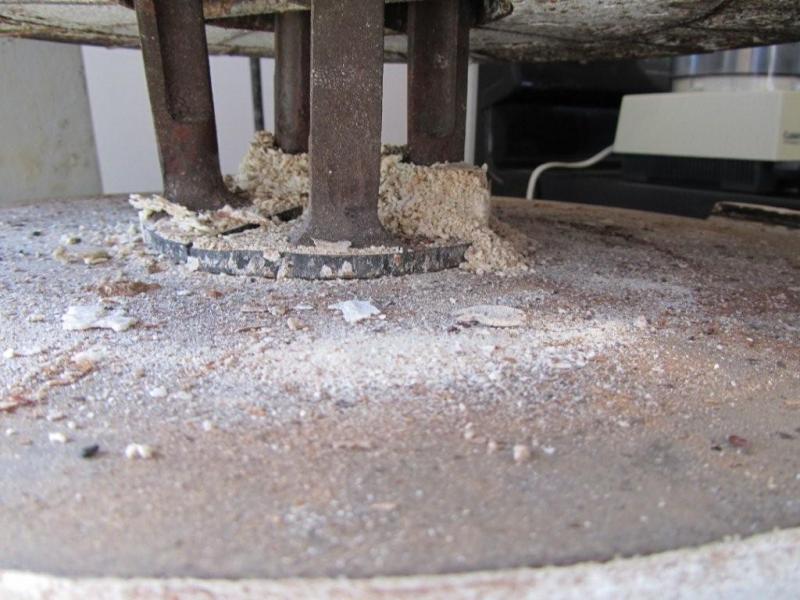 Very old crusty dough and mouse droppings.  This is just from one small section the rest was just as bad.
Just what I want hidden in my food...Yuck
This looks like a fun but heavy project  Everything is mechanically sound so this is a dismantle and clean, paint project and I expect not to need any parts to make it operational.
Things I do for fun.  Feel free to call me crazy.
Faith