January 31, 2013 - 4:57pm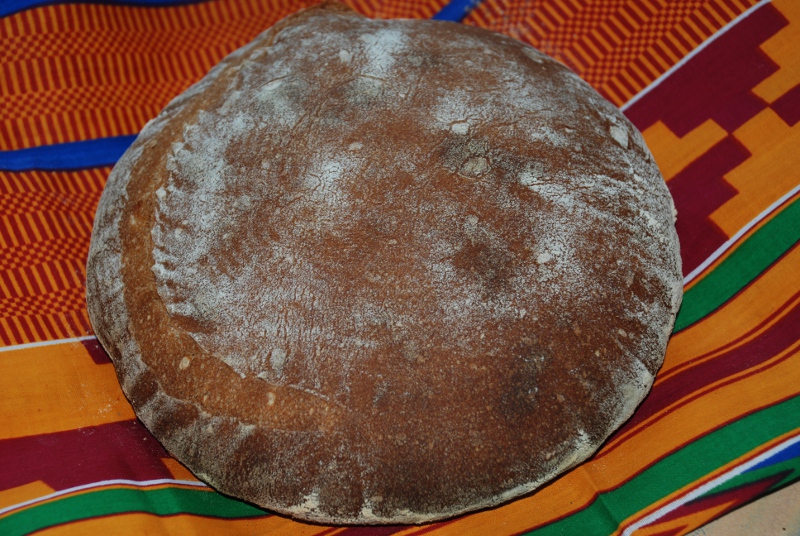 Today's bake is a miche made with home milled high extraction flour.   I have been working on this for awhile, but ran into some problems with overheating the flour while milling, which led to some notable failures.    Today, I was extra careful, and kept the flour cool throughout.   The dough was very tacky at 73%, and seemed to lose its shape every time I turned my back on it.   It held together enough to make bread though, so I declare it a success.   The crust had that mottled look that only wet tacky doughs seem to get.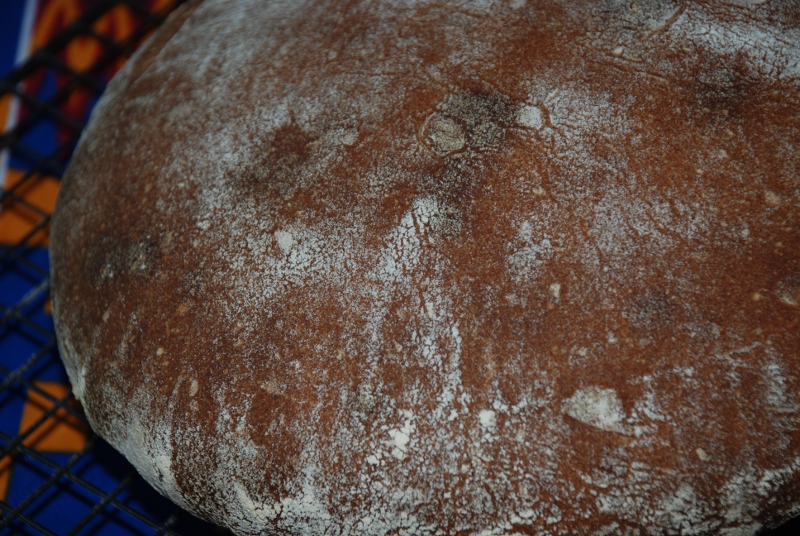 And the crumb came out ok notwithstanding the mouse hole.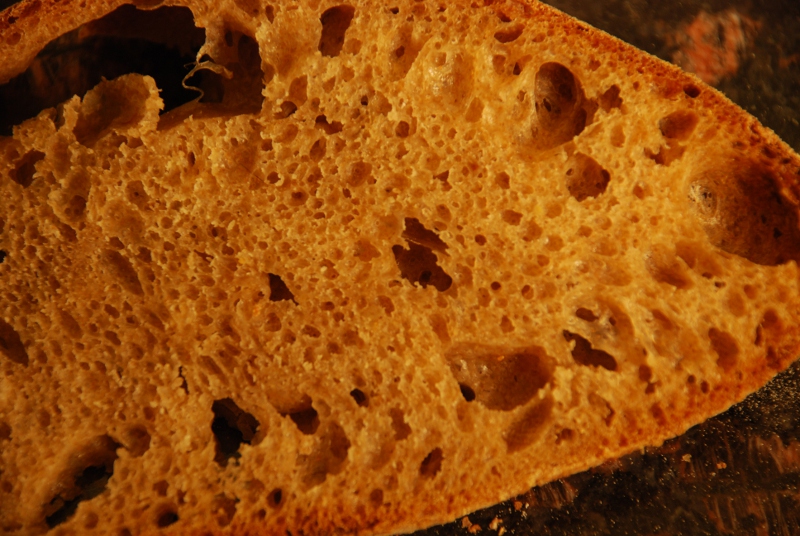 We always seem to photograph slices, but what about the morsels we actually eat?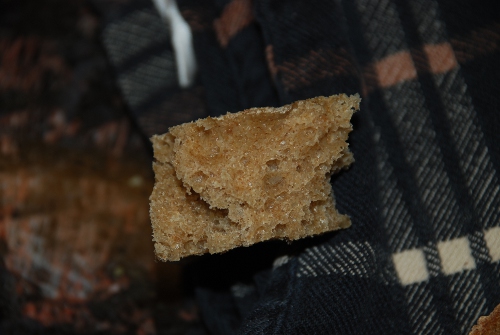 I almost forgot to say something about the taste.   This is very hearty, almost like an unenriched whole wheat loaf, but without the bite back of the bran.   I sifted out around 1/3 of the bran, and used only the powdery flour and not the coarse farina.   Altogether a very pleasant flavorful loaf.  
Formula and Method:
 
 

1st feed

2nd feed

mix

 
 

1/30/2013

 

7:00 PM

10:00 PM

10:30 AM

Percent

 

Seed

23

 
 
 
 
 

KAAP

13

65

90

168

95%

 

Whole Rye

1

 

9

10

5%

 

Water

9

43

67

119

67%

 
 
 
 
 

297

12.9

 

1/31/2013

Final

Starter

Total

Percent

 
 

KAAP

 

136

136

25%

 
 

Whole Rye

 

8

8

1%

 
 

Golden*

401

 

401

74%

 
 

Water

302

96

398

73%

 
 

Salt

11

 

11

2.0%

 
 

Starter

240

 
 

26%

 
 
 
 
 

954

 
 
 

Starter Factor

0.8

 
 
 
 
 
 
 
 
 
 
 
 

Mix flour, water, starter until just blended.

 
 
 

Let sit for 1.5 hours

 
 
 
 
 

Add salt, and mix (by hand) until blended plus a little more.

 
 

Bulk ferment 2 hours stretching and folding every 20 minutes

 
 

the last two on the counter, the others in the bowl.

 
 
 

Shape into boule and place in banneton.

 
 
 

Proof for 1.5 hours until dough softens.

 
 
 

Bake at 450 F for 20 minutes with steam

 
 
 

and 22 without.

 
 
 
 
 
* Golden flour is the part of the milled wheat that can get through an extra fine sieve.   It is the part of the endosperm that mills to a fine powder (the inner core) plus tiny flecks of bran which gives it a  golden color.   With the technology I have available, I cannot separate out the bran from the powdery flour to get white flour as that requires use of controlled airflow which lifts out the lighter particles of bran from the heavier flour.   The golden flour does not include the coarse meal from the outer endosperm aka farina.   With multiple fine millings a lot of the farina can be crushed and so can pass through an extra fine sieve, but I didn't do that this time, and just took the flour that resulted from medium to coarse settings of my Komo.
Bonus photography lesson:
Winter posting can be frustrating as it can be so hard to get a good picture of the crumb.   By the time this loaf was ready to cut, daylight was gone.   Today, after giving up on getting a good photograph, I remembered that my husband has some very bright work lights.   So I fished one of them out of the basement,  and gave it a try.   I pointed the light at the wall, rather than at the slice, to avoid a bright light bouncing off the bread.   But just to demonstrate the difference between regular indoor light plus the camera flash versus a really, really bright light: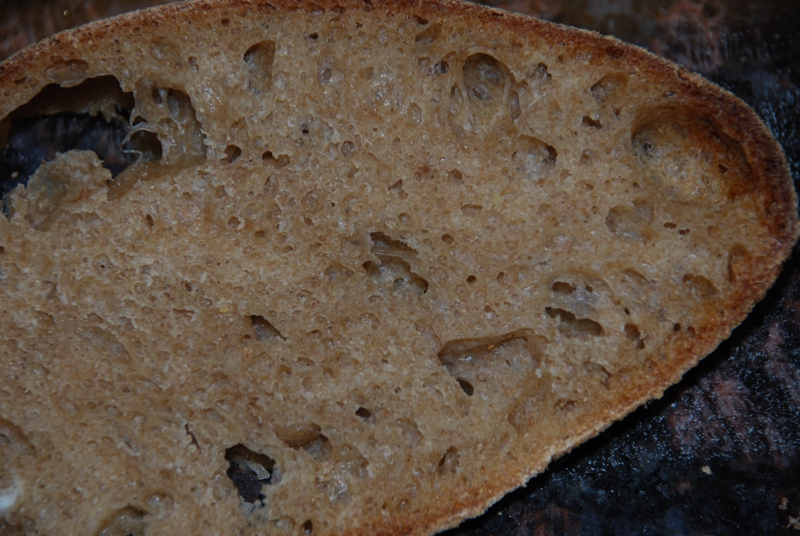 Yes, that's the same slice of bread as pictured above.
Here is the light in all its blinding glory: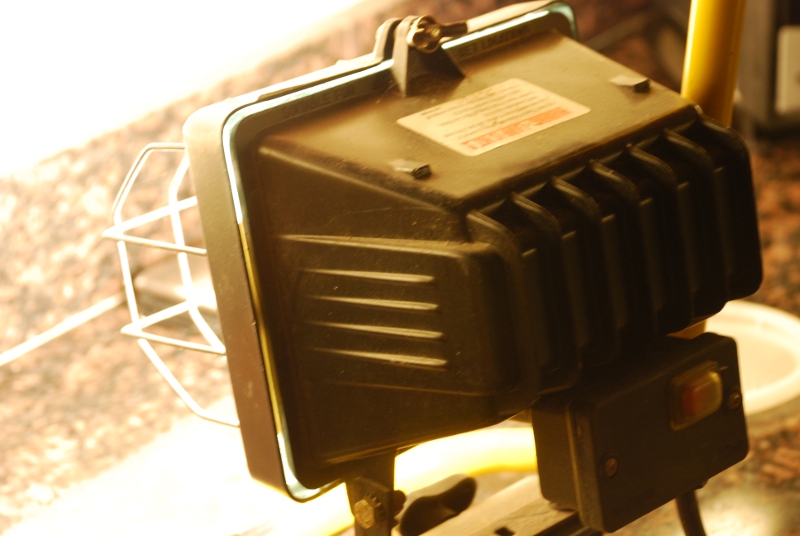 Final question:   Why is it that when I preview the post, I can see the formula table with borders around the cells, but when I post, the borders disappear?   Any way to fix?