January 31, 2013 - 2:13pm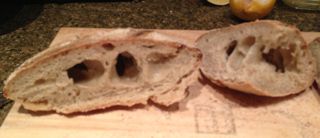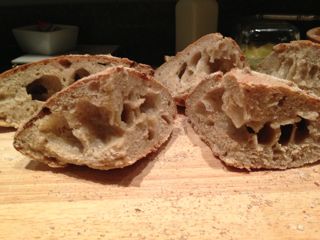 I am having terrible trouble with my sourdough and I'm about to give up.  The recipe is the Richard Bertinet white flour and spelt sourdough from his Crust book.  The flour is Waitrose Leckford estate and an organic wholemeal spelt, so I don't think there are any problems there.
First time I proofed for 18 hours at room temperature after moulding, as per the recipe.  I ended up with a huge flying crust.  The bread also ended up shaped like a flying saucer instead of having a flat base and a rounded top.  The cuts didn't work either.  The dough was very wet and it just spread out in the oven instead of bursting.
I read another post on thefreshloaf from someone having similar issues, and one suggestion was that the dough was overproofed. So, I tried the bread again and left it to proof again for 18 hours, but this time in the fridge at 2 degrees, plus one hour to come back to room temperature.   Things looked like they were going better - the dough wasn't as wet and didn't spread out as much so I was able to do better cuts.  But by the time it had been in the oven half an hour it was back to the same problems.  The bread lifted at the edges and cracked on the bottom.  I had the same problem with the cuts spreading out and rising to be smooth on top.  The biggest problem is the gaping holes in the middle (see pictures).  It's slightly better than last time - they seem to be holes this time instead of the crust completely pulling away from the crumb, but the improvement is marginal.
Complicating factors:
My oven is not great - it only gets to about 220C
I'm not convinced my starter is right.  I got it from Bertinet, so it was definitely ok to begin with, but a few days after I refresh it, it rises a lot and starts drying out on top.  Underneath it still has a nice web and is stretchy, so I've kept using it. 
Does anyone have any idea what I'm doing wrong?!