January 27, 2013 - 10:12am
Questions from a new bread baker
I am very new to baking bread, and I have some questions!  Bear with the strange mixing of measurements, I am still trying to get the hang of weight vs. volumn.
I am using the first recipe in Floyd's book, and am tweaking it a bit:
Poolish:  30 grams whole wheat flour, 1/8 tsp. instant yeast, 1/4 water - let sit overnight
Dough:  225 grams AP flour, 45 grams whole wheat flour, 1 tsp sugar, 3/4 + 1/8 tsp instant yeast, 3/4 cup of flour - mix and let autolyse 30 min.  Mix in the poolish and 1 1/2 tsp kosher salt.  I was using my KA to knead the first few loaves of bread that I made, but decided I was missing out on the fun of having my hands in there, so I have been using the french flold technique to knead.  I have found that I have to keep my hands very wet while doing the french fold and while the dough does get stretchy and sort of smooth, there are still little tears/blisters in the dough.  Is this right?  The dough does not behave like this using just AP flour, but the addition of the WW seems to really change things up.  What should the dough feel and look like?
Now onto the stretch and fold questions:  How many times do you do it?  I have read that you just do it once every 30 minutes during bult ferment, I have read that you do it 6 or 7 times every 30 minutes.  Whats up with that??  Is that the difference from making bread with commercial yeast vs. natural yeast?  The more I read, the more confusing things get.
Onto crust:  why does it blister?  The bread made with AP flour did not have surface blisters, yet the bread with some WW in does.  Is it the flour or my techniques? 
Thanks for any help that folks can give me.
Okay, I baked and here is what it looks like, ugly but tasty.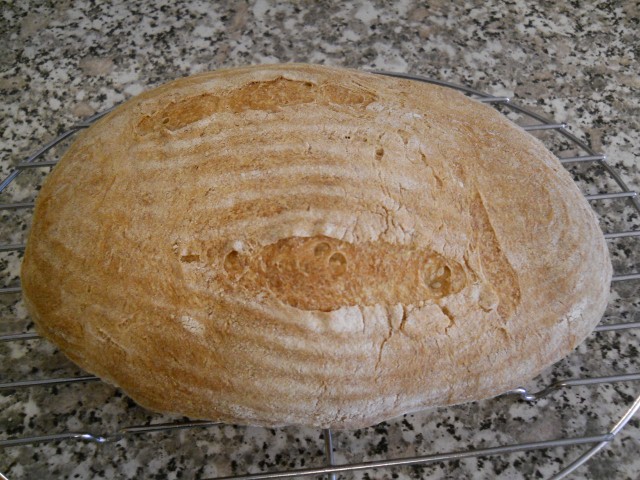 The blisters are there on the crust again - next shot is the crumb