January 27, 2013 - 7:38am
Hi all,
I have only been making bread for a month so I am very new at all this but hubby bought me two bread baking books for Christmas (one of which didn't arrive until 10 days ago) and both books recommend keeping a little of the dough back for use in the next loaf as a starter or mother dough.   
I remember my dad doing that when we were kids and he baked traditional Maltese bread which was wonderful so I thought I would do the same.
I have to say my loaves taste and keeps much better since I have been doing that but I still wonder if I am doing it right since the dough I hold back can get awfully sticky and much stickier than the dough that I make fresh which has roughly the same hydration; I can still work with it but it is really quite icky which transmutes to my new dough making it stickier than normal.
Initially I didn't give much thought to any of this and just followed the instructions but I wonder if the reason is something to do with the recipe I am using.
Both books gave recipes using just flour, water, yeast and salt for their basic sandwich loaves but my attempts using that combination created very dense bricks brick so I looked for a solution and found lots of advice online all suggesting using milk, butter and syrup/honey or sugar to produce a softer sandwich loaf 
As a result the recipe I am actually following is this - all done by weight rather than volume.
Soft white bread
Take dough saved from last batch out of fridge and leave to come to room temperature.
Mix together 350g warm milk (43 degrees C), 20g golden syrup and 25g melted butter in a jug.
In large mixing bowl put 300g strong bread flour, 200g white all purpose flour and 3g instant yeast and mix..
NOTE  that changes slightly when you different yeast. For fresh yeast the method is the same but you need 10g but for active dried yeast you need 4g which you mix with the warm milk and syrup solution and keep the warm butter back until this next stage when you mix everything together.
Mix liquids with the dry ingredients before adding 10g finely ground sea salt.
Thoroughly mix in the salt, cover bowl and leave shaggy dough to rest for around 10-15 minutes.
When rested knead for approx 10 minutes using Bertinets French fold method using absolutely NO extra flour on the table.
Add the mother dough from last time and knead in - when you can do window pane test put your dough ball into a bowl that has been lightly sprayed with olive oil cover and prove in warm place until it doubles in size.
Turn out on to work surface that has been very lightly floured press dough down with finger tips or heel of palm to relieve some of the gas, remove 100g and put into plastic bag for next time. Divide rest according to needs and if making loaves fold each piece top to middle, bottom to top, left to centre, right to left and then in half seal and put into baking tins sprayed with oil, cover and leave to rise in a warm place till dough doubles in size.
Meanwhile put baking stone, oven thermometer and pan for water in oven and heat to about 240c/450f which in my case is about as hot as it will go.
When dough is ready pour boiling water into baking tin in bottom of oven and as soon as temperature comes back up slash top of loaves with sharp knife, and place tins on baking stone then spray oven sides and over loaves with water.
I use a fan assisted that I can't turn off so I turn off my oven for 3 minutes to stop fan and allow even oven spring (but do not do that if using traditional oven as it won't return to heat quickly enough).  Turn heat back to 220C and leave another 7-8 minutes then remove pan used for steam, cover loaves with foil and bake for 30 minutes at 180C.
When loaves are ready turn out onto wired cooling rack, go over tops with butter to soften and leave to cool.
Put bag containing 100g left over dough in fridge (don't seal it closed) and if it is not used in 48 hours take out of fridge bring to room temperature, make a new dough by mixing of 200g flour with 140g warm milk or water then gently knead the two dough balls together, cover and leave to rest for 20 minutes or so then place back in fridge. You are supposed to repeat this every two days if the dough isn't used before then but I bake every 3-4 days so I don't get to do it a second time.
As I said so far it has worked fine producing really nice loaves,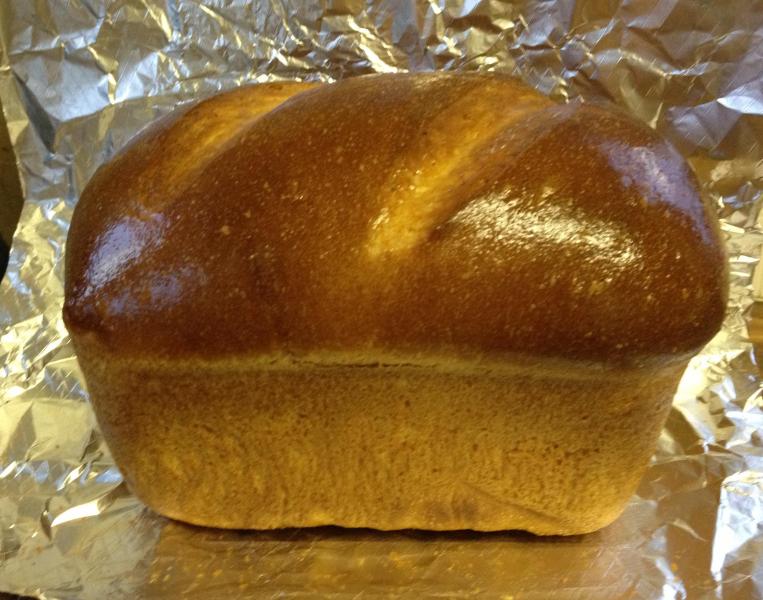 we are both still alive and well,  the bread tastes great and lasts really well as my last batch was made on Thursday, I have just had a jam sandwich which was delicious and hubby will be using the last of it for sandwiches tomorrow when I will make and  bake my next batch.
However  I do wonder whether I should be using milk to feed the dough as I keep reading how the dough cultures like to have an acidic base with a ph of around 4.5  and surely milk which has a ph of 6.5 is perhaps too neutral so would I get better results using water in my feed or should I even add a little fruit juice to counter the milk already in the dough???
Can anyone with more experieince please advise.
Many thanks Jean