January 24, 2013 - 7:57am
First Sourdough Loaf - Comments Please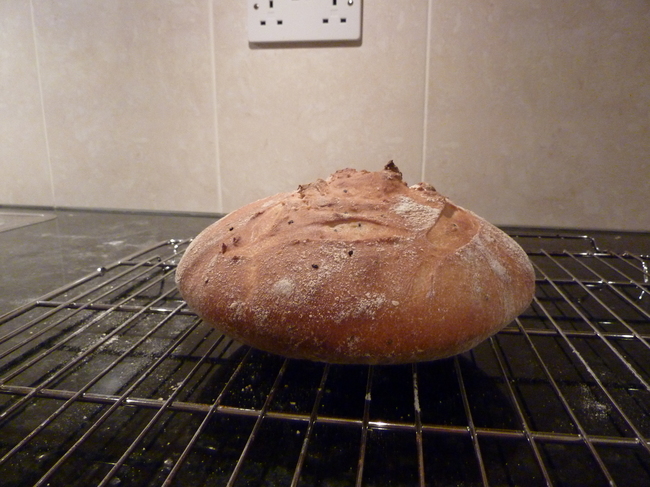 Here is my first attempt at a sourdough bread. Overall, I'm happy that I got a rise and that the bread is edible, though far from great in general quality, crumb texture and flavour.
The result is from 1:2:3 where the starter was 100% hydration all made with white bread flour. I feed the starter and allowed this to peak at about 2 hours. I mixed 450g flour with 300g water by hand and added the salt into the mix at 1.5%. I then added 150g of sd starter followed by ~20g of olive oil. The whole was mixed well. I allowed this to stand for about 25 minutes at which point it dawned on me I forgot the sugar so added 20g of honey and mixed this in with a few stretch and folds. I allowed this to stand for about 40 minutes and again s&f a couple of times. Trying not to be rough with this new to me type dough. Again at about 40 minutes and few s&f's. Again allowed to stand. I suppose the total time for the bulk ferment was about 2 hours.
Next I did another couple of stretch and folds and achieved a good shape. I then placed it into my floured kitchen towel lined kitchen colander and was going to give it another couple of hours for proofing. The rise was far less than expected after 2 hours and it was getting real late in the day so I placed it into a slightly warmed oven. About 30 minutes later, again little additional rise so I though blow it, I bake it now.
On removing the risen loaf from the towelled colander I damaged to loaf top as it stuck to the towel (generally not a problem). Probably due to moisture being drawn out in the oven trying to rise it more. Anyway, I'm having a disaster now but remain determined to proceed. The top slashing  ended up another disaster as the load top was now fractured. 
The loaf goes into the preheated oven and I did the usual steam bit. Low and behold, I get an oven rise like never before so I'm again pleased with the deformed looking loaf. I baked for my usual time for a ADY loaf and then remove from the oven and tap the base. It sounded hollow but the underside of the load appear undercooked so I put it back into the oven for another 10 minutes and remove follow and allow to cool.
Semi please, this morning I cut the loaf in half and was less than impressed. The crumb feels moist and in particular on the bottom and the crumb is very dense with irregular holes. I don't use a baking stone and this was made on a tray. I'm sure the birds will enjoy a sourdough.
Comments from the experts please. What were my mistakes.