January 19, 2013 - 9:12am
If I had to pick a favourite type if bread it would be Granary as there is something about the aroma, malted grains and the nutty flavour that is just too glorious for words- it is simply mouth wateringly delicious and the kind of bread that makes you keep wanting to come back for more – definitely not one for the dieters!
But alas I am very new to bread making and I don't have a bread making machine so all I have tried making myself are a few variations on the white loaf.   So while I am at the stage where I can produce quite a nice white sandwich loaf I have yet to try making a fully wholemeal or multi grained loaf
Anyway Sainsbury's (One of the UK Supermarkets) currently has the Hovis Granary bread mix on offer for just 60p which seemed too good to miss.  
I have never used a mix before so I didn't know what to expect and I couldn't find anything on here but I did find one or two favourable reviews on other websites so I felt it was worth a try.
The mix contains everything except the water and optional butter and the instructions on the package are simple enough;  mix the contents of the package with 320ml warm water and 25g butter if desired, knead the dough for 10 mins, shape, put in pan, cover and leave to rise for 1.5 to 2 hours then bake for 30 minutes at 220C or 200 if using fan assisted. 
I found the mix really dry even though it works out at around 64% hydration but then I am used to working with at least 70% so I put it down to that; all the same I didn't find it at all easy to knead.  
I usually do the French fold but it was far too dry for that so I ended up combining some traditional kneading with gentle stretching and a number of folds but I have to admit that while I noticed some change to the structure of the doughit wasnt particularly elastic, there was no way I could get anything like a babies bottom texture or do anything resembling a window pane test and it didn't seem very springy at all but I really don't know if that is normal for a wholemeal grained bread or whether its just down to my inexperience.
The package says the mix makes one large or two small loaves so I went for the small loaf option and when it was ready I weighed and divided it into teo equal portions, one to make rolls and another for a small loaf. The dough for the loaf produced a small log that sat in the bottom of my 1lb bread pan and seemed incredibly small so I really didn't hold out much hope for that changing but it was a pleasant surprise that after about 45 minutes it came closer to actually filling my pan - this was it at that stage.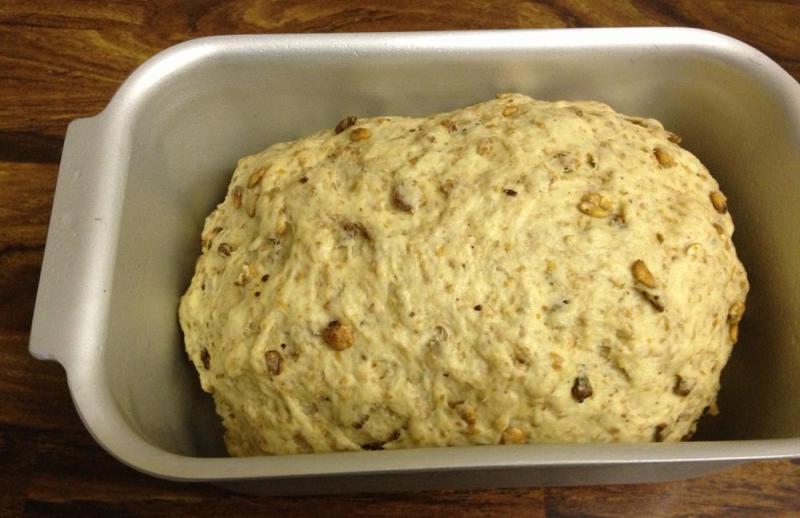 However even after leaving it for the remainder of the prescribed time it didnt  grow much larger than that and alas when I scored the top it seemed to sink a little so when it was ready for the oven it was still on the small side.
As usual I used my baking stone,  put another pan into the oven on a lower shelf so that I could add steam and sprayed the inside of the oven just before I put the bread into the oven at the same time adding water to my lower pan but despite adding steam there was no oven spring at all so the loaf that came out looked very much like the one that went in but instead it was brown.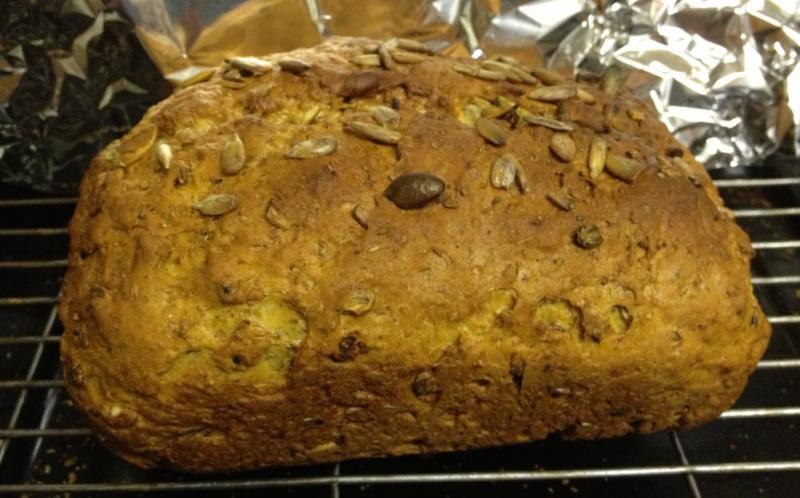 This picture makes it look bigger than it really is as the whole thing is just under 7 inches long and just about 2.5 inches tall.
My initial thoughts were  'Oh no looks like I've made a brick but once it cooled enough to be sliced I was in for a pleasant surprise since it really tasted great, the crumb is soft and not at all dense and it has a lovely crust – not what I expected looking at it so in that respect I am overjoyed.  The rolls were equally small but also tasty so much so that they disappeared before I could take pictures!
So it was quite a success, all the same it leaves me with a few questions
1)     Are multi grain breads always that difficult to knead?
2)     By following the instructions on the packet the dough seemed to be far too dry and it wasn't easy to mix everything in. I am not sure if that just me as I am used to slightly higher hydration dough's but I wonder whether I could have got away with adding a little more water than the instructions called for or would that have brought its own problems?
3)     I really don't think my dough managed to double in size even after leaving it for the full time as prescribed on the packet so has anyone else made up this mix and did their dough rise much or was it just down to my inability to knead it properly.
4)     Has anyone used the Hovis granary mix and succeeded in making anything that looks even remotely like the Granary loaves you can buy?
5) is there anything I can do that will make the appearance match the taste?
If anyone can offer any insight or advice it would be much appreciated
Regards, Jean