January 16, 2013 - 1:13pm
Schwaebische Seelen (spelt rolls)
A commuter-friend travelling with me to London on the train used to live in Ravensburg, in a region in Germany called Oberschwaben.
One day he told me he really misses a speciality from there called Seelen.
They are rolls with an open crumb and a slightly chewy crust, sprinkled with caraway and coarse salt.
Searching the internet I found a number of recipes, and some descriptions of the "original": a roll made with spelt, using high hydration, long fermentation, and a wet, hot bake.
The recipes I found were all nothing like the original description, so I decided to improvise, and I am very happy with the result: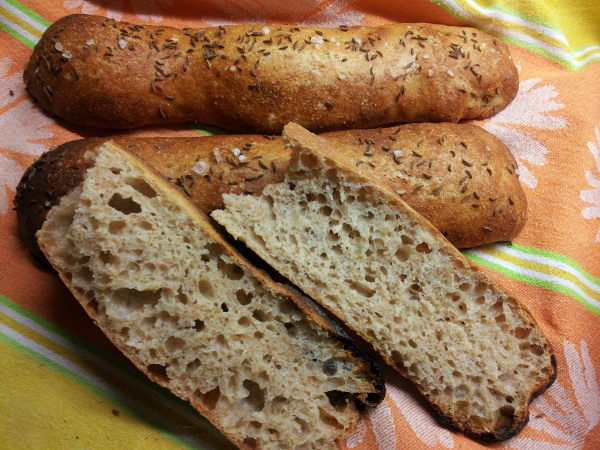 Here the formula and instructions (1000g for 6 rolls):
Schwaebische Seelen
 
 
 
Expected Yield
1000
 
Factor
5.5066079295
 
 
Percent
Weight
Preferment
 
 
Wholegrain Spelt Flour
30
165.2
Water
24
132.2
Yeast (Instant)
0.2
1.1
Salt
0.6
3.3
 
 
Dough
 
 
White Spelt Flour
46
253.3
AP Flour / Strong White Flour (UK)
24
132.2
Water
56
308.4
Salt
1.4
7.7
Yeast
0.2
1.1
Preferment
54
297.4
Yield
181.6
1,000.0


 
 
Processing instructions
Dough temperature was about 22C all the time
Mix Preferment, leave at room temperature for 2 hours and then refridgerate until used, best is overnight,
Let Preferment come back to room temperature, mix with other ingredients and work dough gently. It is very slack.
Let the dough rest for amout 2 hours, with 3 sets of stretch and fold during the first hour. Towards the end big bubbles should be forming.
Make your work surface thoroughly wet and turn out the dough onto the wetness. Prepare some baking parchament for the rolls.
Forming an oval with your wet hands scrape of a chunk of dough, then make a circle with your thumb and index finger, pull the dough through and put it onto the baking parchament.
Let it rest for another 30 minutes,
Sprinkle with Caraway seeds and coarse salt,

Bake in a very hot oven with steam, ideally on a stone, mine needed 20 minutes at 230C

** UPDATE **
Here some pictures of the production process from a bakery in Schwaben: