December 16, 2012 - 4:48pm
First attempt at panettone
With an Italian heritage, we've always had panettone in the house around the Christmas but it's always been bought from a variety of Italian delis. Since I started baking with sourdough a few years ago, I've thought about trying to make one but was always slightly daunted by the idea.  But this year, I decided to have a go...
I used foolish poolish's recipe (which was originally on TFL) as a basis since its method specifically mentioned that it could be done by hand.  And then tweaked it a little - mine had a little more butter, Aroma Panettone and chocolate rather than fruit.  And I doubled it...
My sourdough starter (Sammy) is about 3.5 years old and works well despite hiberating in the fridge for 2-3 weeks at a time. In preparation for making the panettone,  I fed him twice daily from Monday to Thursday.  On Thursday night, I converted him to a stiff starter (50%) from a 100% one.  I'd never kept such a stiff starter and I confess it was a bit of a shock.  
On Friday, I fed my new starter at 4 hourly intervals (8am, 12pm, 4pm) before getting everything ready to get started around 8pm.  My 50% starter is in the white bowl.  For the rest of the flour, I used an equal split of Waitrose Canadian Extra Strong Flour and an Italian 00 flour.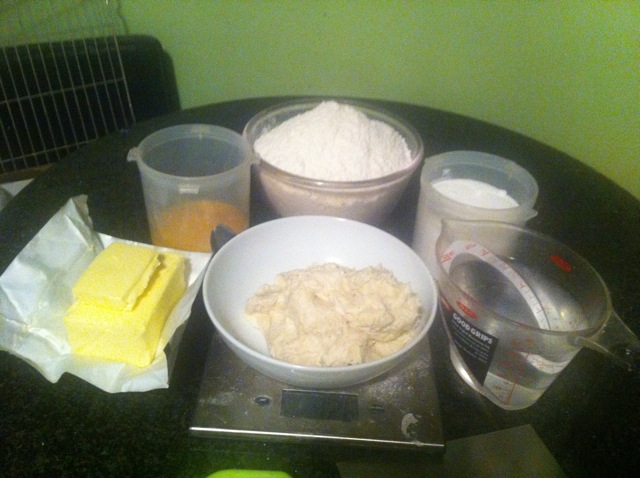 Most of my ingredients were in lovely round 400g multiples except the butter/water.  I got the butter right but inadvertently added extra water (only about 50ml).  
It looked a little drier than I expected but figured I'd already added extra so carried on.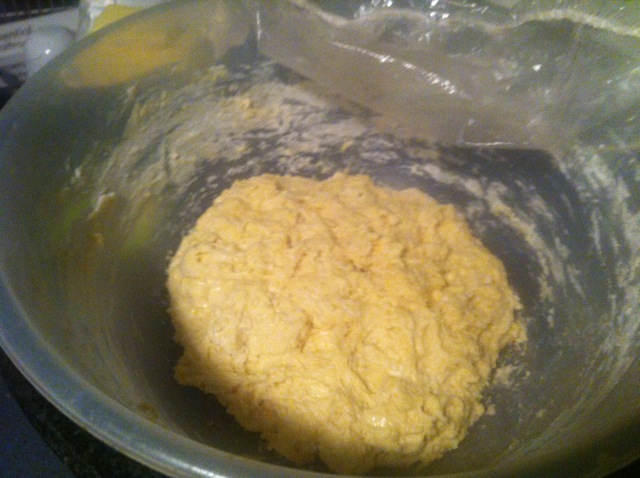 My usual sourdough is one of Dan Lepard's ones which is minimal knead.  So, lacking a stand mixer, I investigated Bertinet's slap and fold method and got kneading.  After about 20 minutes, I heard a knock at my door.  My neighbour had come up to check that I was OK since she was a little concerned... Ooops!
The recipe called for adding the sugar very slowly. Adding 400g in 10g multiples while kneading did take some time.  I got a little worried when I added the butter in (again in small doses) that I'd inadvertently 'curdled' the dough but it came back together and looked good when I left it to rest.  By now it's just after 11pm so I need to rest too!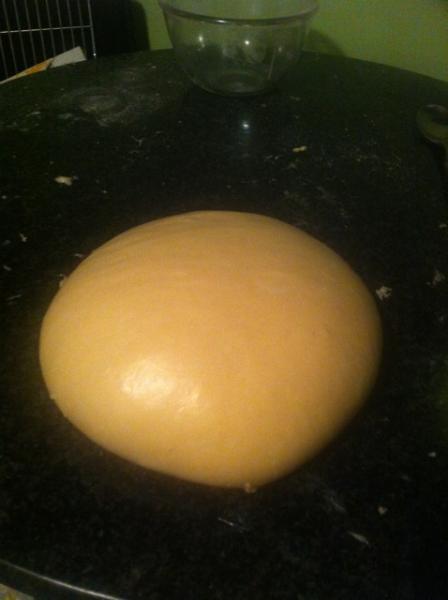 I confess to waking up around 3am and sneaking into the kitchen to check it out.  It was rising so I felt good.  I woke up around 8, grabbed some breakfast and then went off to make my second dough.  Again, adding the sugar was what took the time and it wasn't until nearly 11am that I was ready to mix the two doughs.  By this time, my first dough had quadrupled.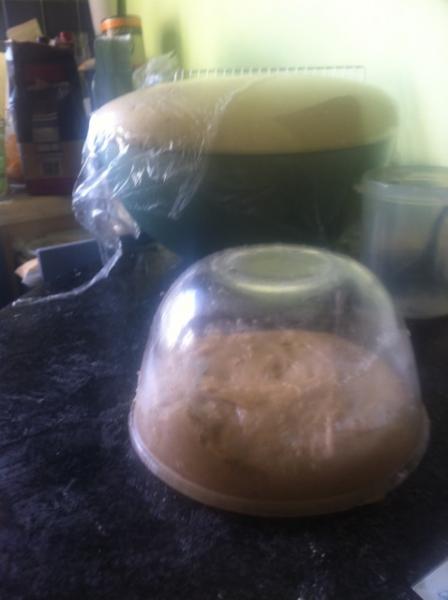 Mixing the two doughs was surprisingly easy by hand.  I just stretched both out, laid one on top of the other and started kneading until they were indistinguisable... and then for a little longer.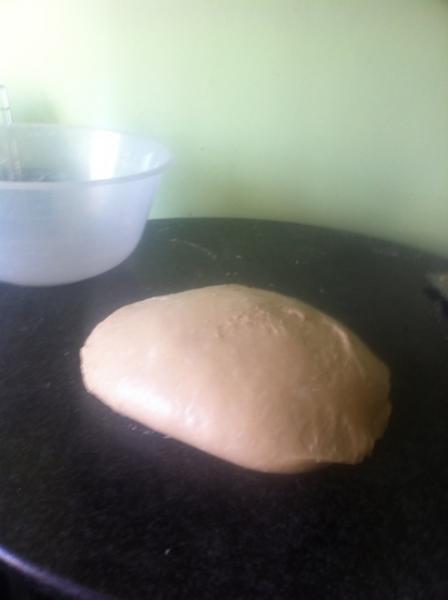 Time to add the butter and then knead to windowpane consistency.  This was where I really would have liked a stand mixer.  I kept thinking "One more song on the iPod and then it will be there" but I finally got it to a good latex glove stretch.  Sadly I couldn't get a picture since I was all alone in the house.
So... all I need to do now is add a little honey and then the chocolate.  Easy after all the stress, right?  Um no... I added both - folding the chocolate into the dough rather than mixing.  And then when I started to split the dough into portions for my cases, it turned into a greasy mess with virtually no structure any longer.  Believe it or not, the picture below had had some basic shaping done as I weighed them out. I was horrified!  I'm still not sure if it was just too much butter, whether the room was too warm or what happened.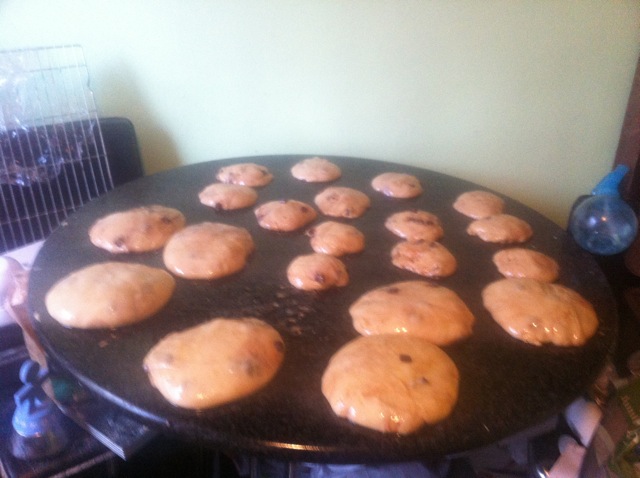 But I persevered.  I skewered my cases while the dough rested and then tried reshaping them and putting them into their moulds (100 and 300g sizes).  By now it was around 1pm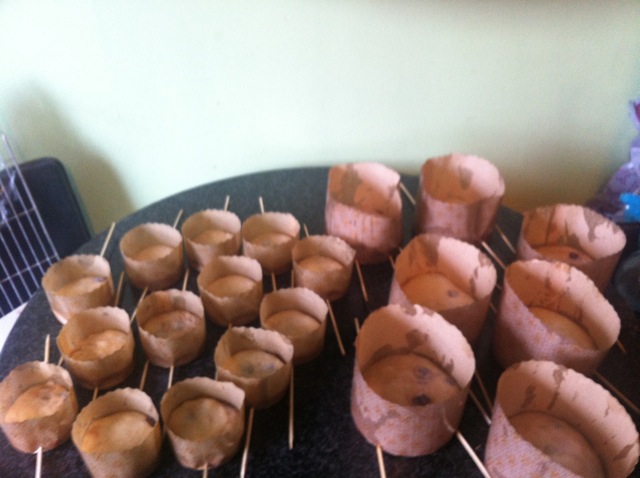 And then I waited to see whether my dough would salvage itself or stay stubbornly flat.  I read so many horror stories online about non-rising panettones that I was fearing the worse.
But, by around 5pm I dared to go and check and things were looking promising.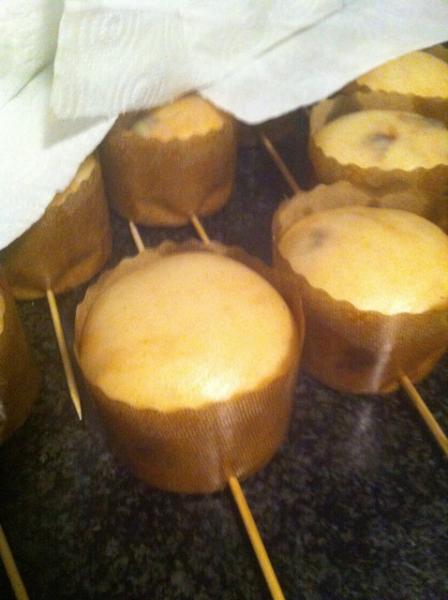 I waited til around 8pm and then put the first batch into the oven.  I figured that with 4 oven loads, I'd rather have the smaller ones be slightly under-proved than risk the larger ones being over-proved by waiting.  I baked the smaller ones for 25 minutes and the larger ones for 35 minutes at 160C fan.
The last batch went in at 10pm.  My cover wasn't airtight and they'd developed a slight skin so I felt that they weren't really going to rise much more in the next two hours.  The small ones had all reached the top of their cases and the larger ones were nearly there - or about an inch or so from the top.  I glazed them with a sugar/cocoa glaze rather than just butter since the dough felt quite pale - and sprinkled them with pearl sugar.  I did put almonds on some but they tended to fall off when I inverted them.  I did slash them but, probably because of the slight skin, they didn't expand much.  I did get pretty good oven spring though.
I did find an inspired solution to hanging them.  My clothes airer really came into its own.  It was a really neat way to hang 18 panettones!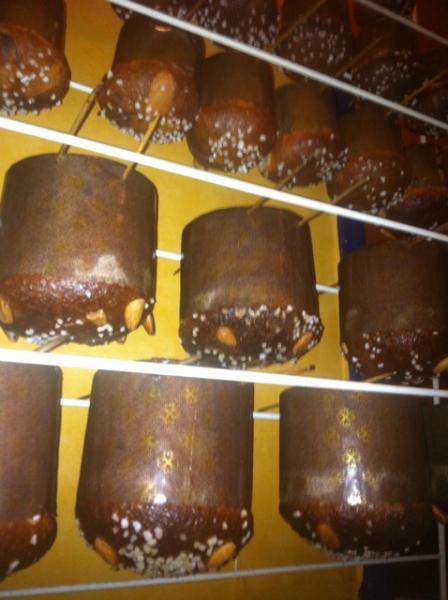 My flat smelled amazing all last night as I restrained myself from trying one out. And this morning, I lined them all up in preparation for trying them out.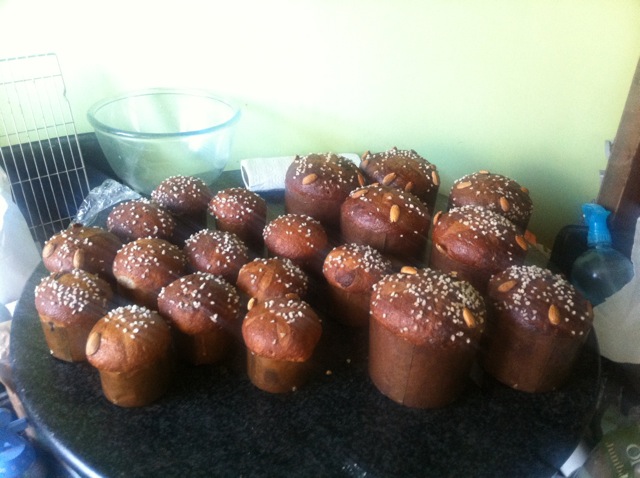 And then, at last, it was time to try one for breakfast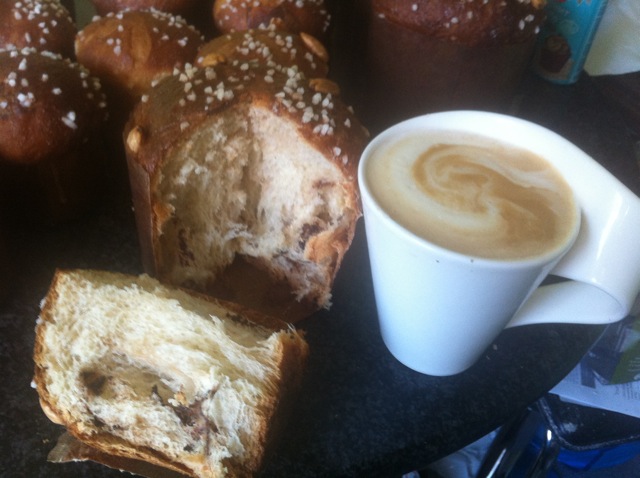 I was really pleased with the results.  It's got that lovely shreddable texture even though that slight skin made the dome a little more dense.  The Aroma Panettone was surprisingly strong.  It says 1-2 tsp per kg of dough.  I put 5tsp into 3kg of dough and it's almost too much.  Next time I'd probably do 4tsp in 3kg.  
Now I've wrapped all the small ones in cellophane ready for my colleagues tomorrow.  Any suggestions as to what their shelf-life is likely to be?  Should I warn them to eat in the next 2 days or might they last longer?  I have a larger one where the recipient is now off until next weekend.  Has anyone had any success freezing panettone?  Or given that shop ones sit around for months, will a home made one last a week?  
All in all, I really enjoyed making my panettone even if my shoulder blades and forearms were screaming towards the end of the butter kneading phases.  I'll definitely do it again next year!