December 12, 2012 - 9:15pm
My Second Attempt at Peter Reinhart's Whole Wheat Multigrain Struan
How long ago was it?...
Oh, yes, I remember. I remember it well. Three months ago I happened upon Khalid's (mebake) multigrain struan on TFL---a bread loaf heavily enriched with grains and seeds, topped with a luscious field of poppy seeds. Tantalized by the thought of crafting such a fine loaf myself, I dove ahead, not knowing that I'd fail despite using the best ingredients that I could afford, despite my patience and greatest effort.
The crust, pale and feeble. The crumb, dense and damp. And the flavour, vile rancidity.
Deeply disheartened by my failed attempt, self-doubt plundered my body of motivation throughout the course of a week, bringing me to the brink of cease and desist. In other words, I wanted to quit baking.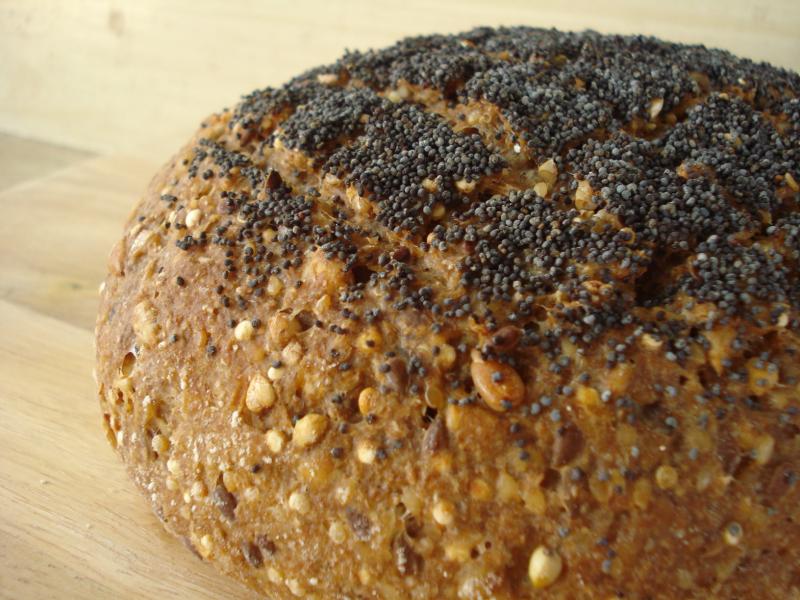 So, why didn't I quit baking? Well, on that bleak day, my heart became enlivened, resuscitated by a bolt of insight. My failed loaf incited so much distraught because of one reason: I was passionate about bread.

During the subsequent months, I progressively honed my bread baking skills by experimenting with sourdough starters, higher hydration dough, kneading, folding and shaping techniques, as well as steaming and baking methods---all learnt to one day confront and slay the recipe that nearly slaughtered my baking spirit.

With great honour, I now present to you my second attempt at Peter Reinhart's whole wheat multigrain struan.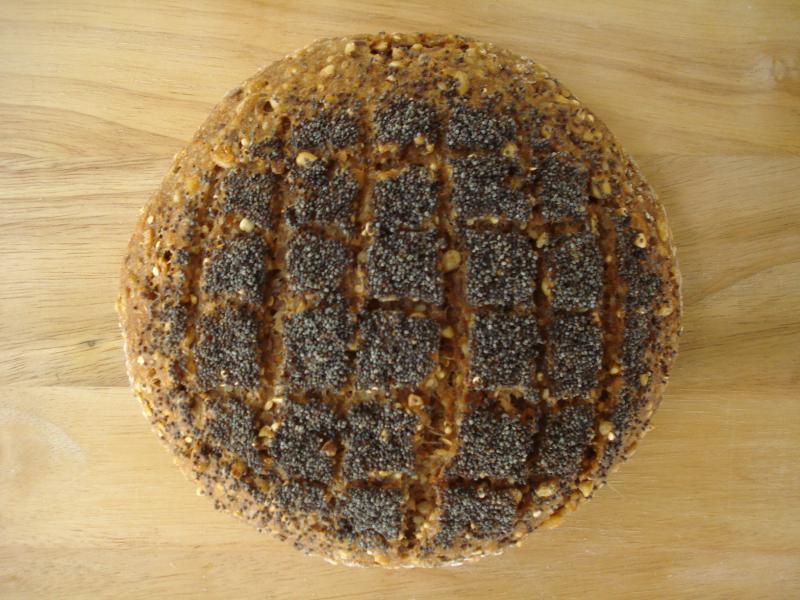 My second attempt deviated from the first attempt in many ways. Most notably, I substituted the biga with a whole wheat sourdough starter, retarded the bulk fermentation via refrigeration, and implemented the "Dutch oven method". Technically speaking, it was thick metal pot, not a Dutch oven.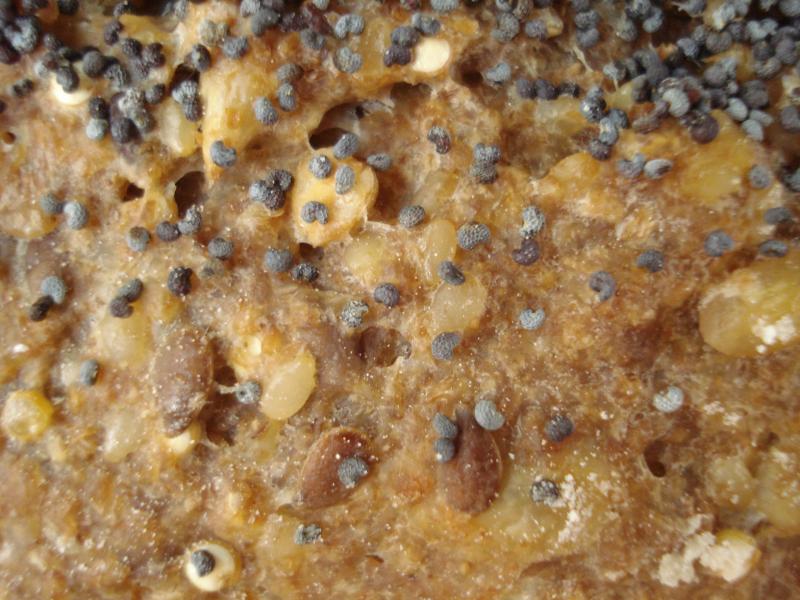 In equal parts, this particular struan was packed---really packed---with pearl barley, buckwheat, quinoa, flax seeds, white sesame seeds, and sunflower seeds.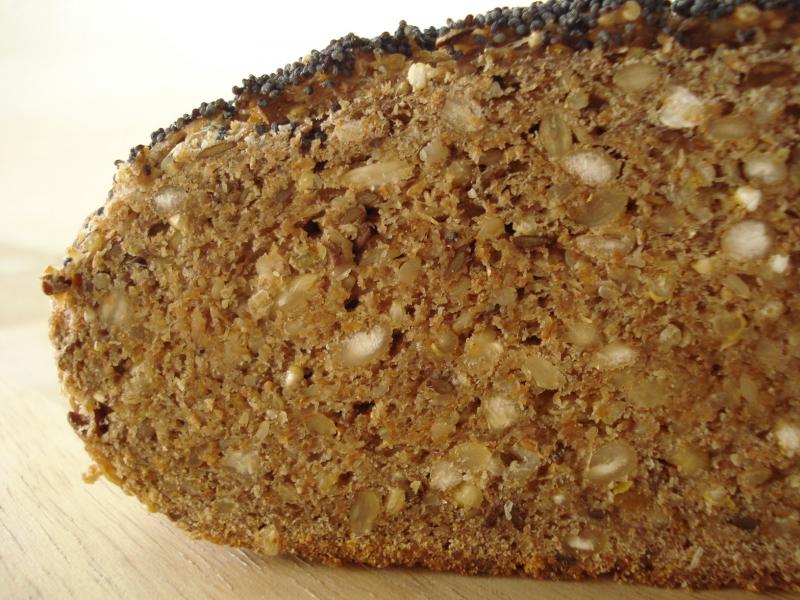 See? I wasn't kidding---it's packed! I admit, this wasn't intentional. In all likelihood, my darn-ol'-wonky mechanical kitchen scale displayed false readings. But hey, no harm done. As they say: more grain, less plain. (Okay, I just made up that phrase on spot.) 
The flavour: Cooled for nearly twenty hours, the tender yet firm crumb bursted with nuttiness in my mouth, followed by subtle notes of butteriness and bitterness (likely caused by the uncooked quinoa and buckwheat), finishing with a progressively sharp but mild tang. Approximately nine hours later, just after work, the flavours of the struan coalesced into a smooth symphony of taste notes. It was truly wonderful, minus my immediate craving for butter. 
Final comments:

Thank you Khalid for inspiring me to bake whole wheat / whole grain breads. Thank you Karin for helping me troubleshoot my failed struan. Thank you Mini Oven for your posts on how to create and maintain a sourdough starter. And lastly, thank you to the members of TFL who've taken their time to share their knowledge, wisdom, and passion with us. It is immensly appreciated.

:) Have a happy baking,

Zita 

P.S. Please feel free to critique my loaf. It will only lead to improvement---and who doesn't want that?